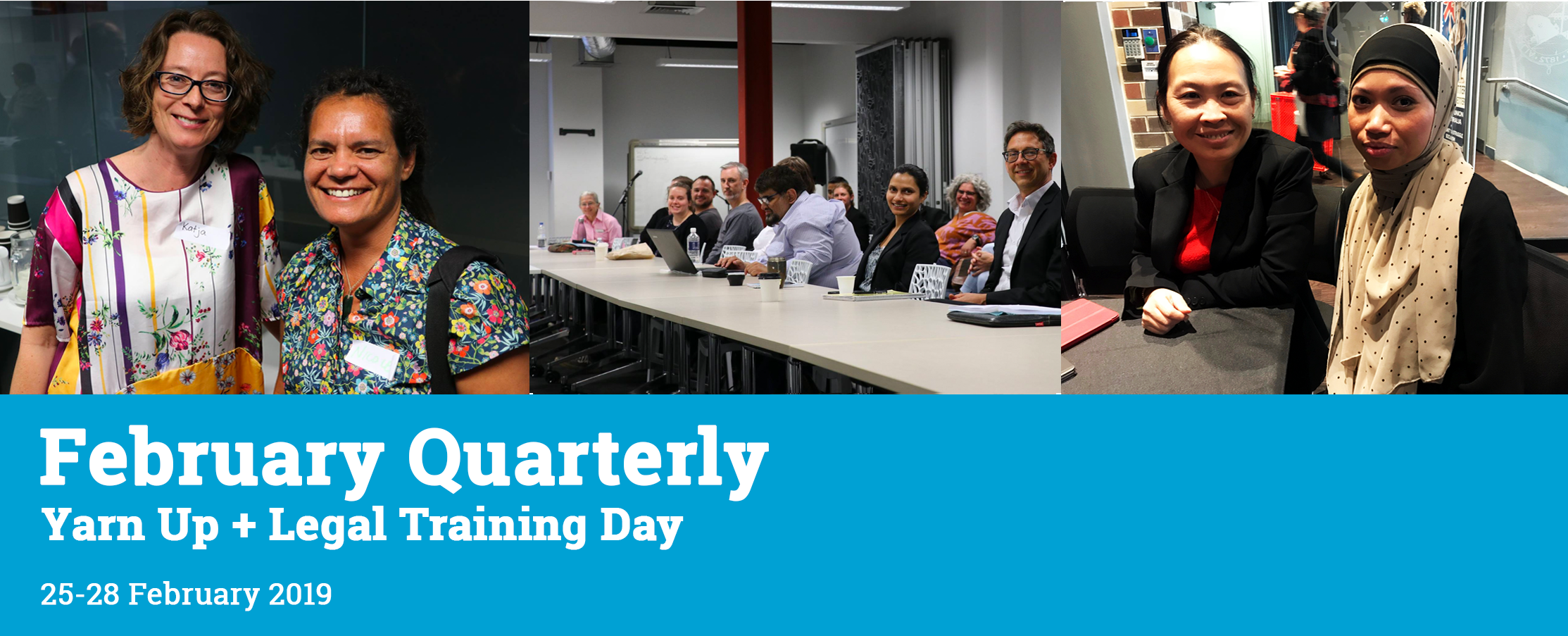 The Community Legal Centres NSW Quarterlies are three-day community legal centre sector network and training opportunities held in Sydney four times a year. 
Dates
Scroll down for the full program. 
Venue: ACON, Level 3, 414 Elizabeth St Surry Hills. 
Day 1 | Monday, 25 February 2019

Day 2 | Tuesday, 26 February 2019

1.1 Network Meeting
Aboriginal Legal Access Program and Aboriginal & Torres Strait Islander Rights Working Group
Convenor: Zac Armytage (ALAP Coordinator, Community Legal Centres NSW)
Room 3.01
This network supports community legal centres operating Aboriginal Legal Access type programs by sharing experience and knowledge.
1.2 Network Meeting
Employment & Discrimination Law Network
Convenors: Alexandria Robinson (Senior Solicitor, South West Legal Centre) and Sharmilla Bargon (Solicitor, Redfern Legal Centre)
Rooms 3.02-3.03
Employment and discrimination lawyers discuss current issues in relation to employment and discrimination law.
Possible CPD*: Substantive Law
1.3 Network Meeting
Domestic Violence & Victims Compensation Network
Convenors: Karen Mifsud (Senior Solicitor, Women's Legal Service NSW) and Natalie Ross (Solicitor / Clinical Supervisor, Kingsford Legal Centre)
Rooms 3.07-3.09
This network discusses issues affecting DV/VC policies and legislation, and makes recommendations to government and non-government bodies.
Possible CPD*: Substantive Law
1.4 Network meeting: 
Coordinators & Directors Network 
Convenor: Arlia Fleming (Managing Principal Solicitor, Elizabeth Evatt Community Legal Centre) and Robert Pelletier (Exective Officer, Macarthur Legal Centre)
Rooms 3.10-3.12
Coordinators & Directors discuss key policy positions. Agenda includes a national update from Nassim Arrage (NACLC). 
Day 3 | Wednesday, 27 February 2019

Legal Training Day | Thursday, 28 February 2019

Additional Information

Welcome and introduce speaker.

Ensure remote participants are included throughout the session.

Liaise with volunteer / CLCNSW staff member at the session regarding technology. • Manage Q&A section of session.

Monitor time, keeping the session to time limits.

Thank the speaker and close the session.