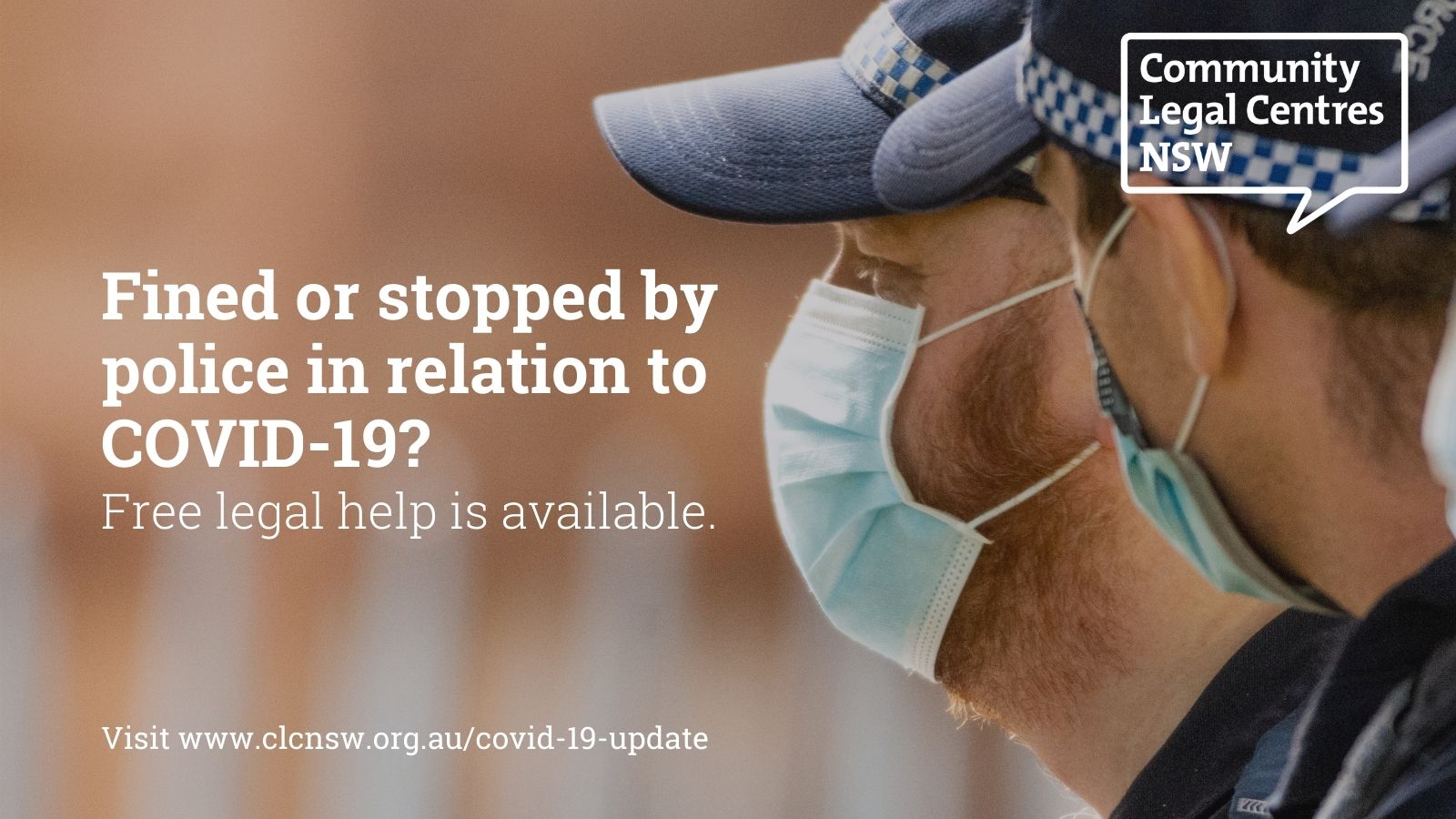 Have you been fined or stopped by police?

Redfern Legal Centre is providing free legal advice to people in New South Wales that have been issued a COVID fine, or who just want to seek advice about the laws. You can contact Redfern Legal Centre by using this online form or call 02 9698 7277.
If you need to find free legal help, call LawAccess NSW on 1300 888 529. This is a free government telephone service that provides legal information, advice and referrals for people who have a legal problem in NSW.
For free legal help with fines and other legal issues, find your local community legal centre. Community legal centres provide advice and information on a range of issues, including fines.
If you are Aboriginal, you can call Aboriginal Legal Service (NSW/ACT) on 1800 765 767.
If you want free legal advice on making a formal complaint about police conduct, or if you have been issued a COVID-19 fine, contact Redfern Legal Centre on 02 9698 7277 or www.rlc.org.au.
If you wish to share your story anonymously, visit COVID Policing . You may also want to seek free legal advice.
If you are under 18, call Legal Aid Youth Hotline on 1800 10 18 10.
Need help understanding NSW's lockdown laws?

New South Wale's COVID-19 public heath orders are complex, and continue to evolve rapidly. It's important to stay informed about ongoing changes.
Stay up to date with the latest COVID-19 rules. 
Redfern Legal Centre and Western NSW Community Legal Centre have produced some helpful guides, accessible below, on understanding the COVID-19 restrictions and lockdown laws. 
Service update: Community legal centres

All community legal centres across New South Wales are still operational and still here to help you. However, in keeping with public health advice on COVID-19, some services have had to temporarily pause face-to-face consultations.
Below is a list of changes to specific community legal centres across New South Wales.