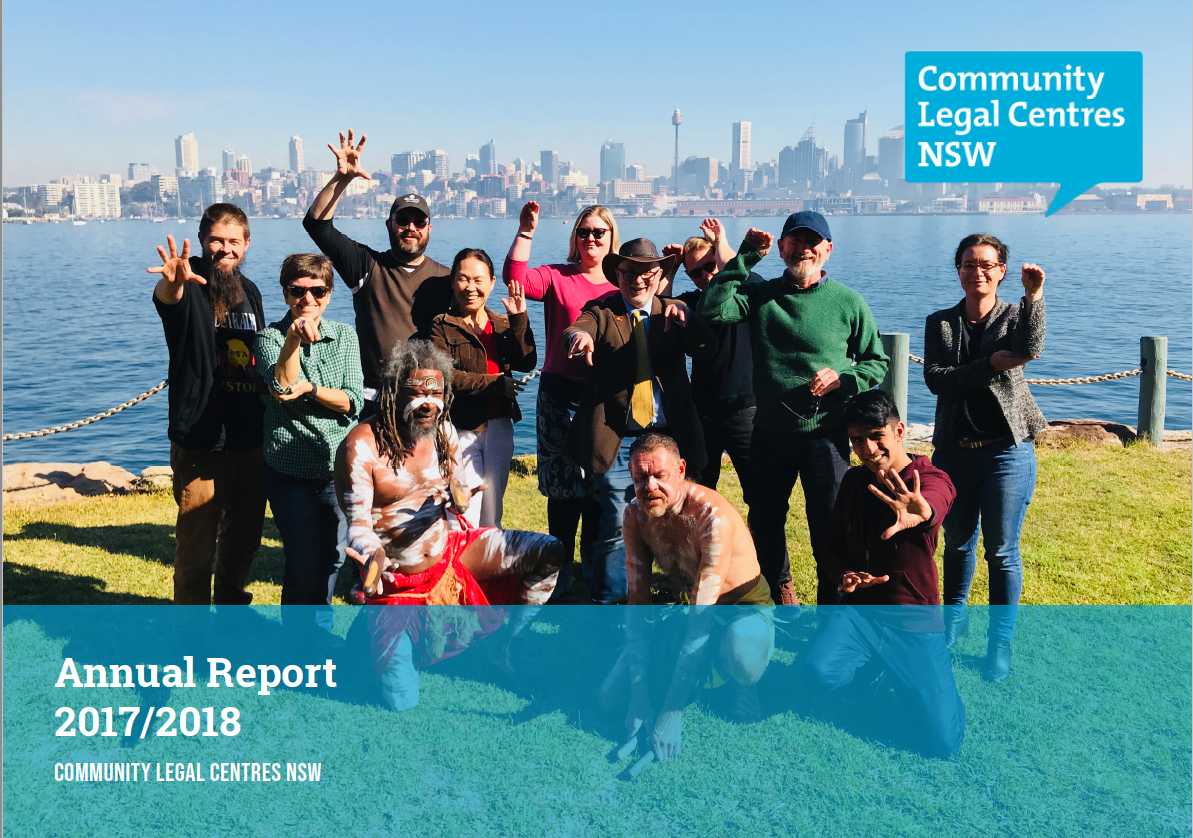 2017-18 was an important year of review, transition, and ongoing achievements.
We played a key role in the sector's response to a major review of community legal centre services in NSW, launched a new ICT project to increase digital capability for community legal centres, developed a Reconciliation Action Plan, and supported critical law reform and advocacy work by the sector.
We're on an even stronger footing for 2019. We'll work to ensure that social justice issues are part of the conversation during both state and federal elections. We're also kicking off the new year with a consolidated Community Legal Centres NSW Financial Service, funding stability, and a stronger advocacy and law reform team.
Highlights: 2017/2018
Cameron Review submission
We coordinated a thorough submission to the Review of Community Legal Centre Services. Our key recommendations were that:
no community legal centres receive funding cuts;

additional recurrent funding be provided to allow centres to meet the gaps in geographic coverage, priority client groups, and priority civil law areas;

the Aboriginal Legal Access Program be provided with further funding; and

community legal centres be able to select the most appropriate range and design of service delivery options to their clients and community (including legal advice, representation, community legal education, and law reform).
Reconciliation Action Plan 2018-20
In February 2018, we launched our 2018-20 Innovate Reconciliation Action Plan. It reaffirms our commitment to growing and maintaining strong relationships with Aboriginal and Torres Strait Islander communities, and to continuously develop partnerships that strengthen and empower Aboriginal and Torres Strait Islander peoples and communities. Our Plan will help us deliver on our commitment to supporting centres to be culturally supportive, safe and accessible places for Aboriginal and Torres Strait Islander employees and clients.
Advocacy and Law Reform
In consultation with community legal centres and other sector organisations, we worked on a range of important law reform and advocacy campaigns. These included:
abortion law reform;

amendments to the Births, Deaths and Marriages Registration Act 1995 (NSW) in relation to trans people and members of the Stolen Generation;

justice for victims of domestic violence and sexual assault;

reducing incarceration of Aboriginal people;

access to justice for renters;

culturally safe mediation services;

introducing a human rights framework for NSW;

fairer laws for people with debts;

reforming the child protection system; and

improving laws regarding people with cognitive disabilities.
ICT Project
In April 2017, we kicked-off an ICT project to build digital capability for community legal centres in NSW. The project includes an online directory of community legal centres, systems for building low-cost websites for community legal centres, and creating an online knowledge base to facilitate information exchange and cross-organisation conversations.
Snapshot of community legal centres in 2017/18
Centres collectively assisted over 54,000 clients across the state.

Community lawyers

provided 33,696 pieces of legal information, made 68,470 referrals and completed 73,158 legal advice/tasks to people across a variety of age groups, to people experiencing financial hardship and discrimination.
The top legal problem across the sector was immigration law

,

an indication of both legal need and the amount of assistance provided by members such as the Refugee Advice and Casework Service (RACS), and the Immigration Advice and Rights Centre (IARC).

The other major legal problems were family law parenting arrangements, housing (tenancy only), credit and debt, and consumer complaints, consistent with previous years, signifying the general areas of legal need across NSW.
Around half our clients identified as women and almost a quarter spoke a language other than English at home.
Full Report
For a digital copy of the full annual report, click here.