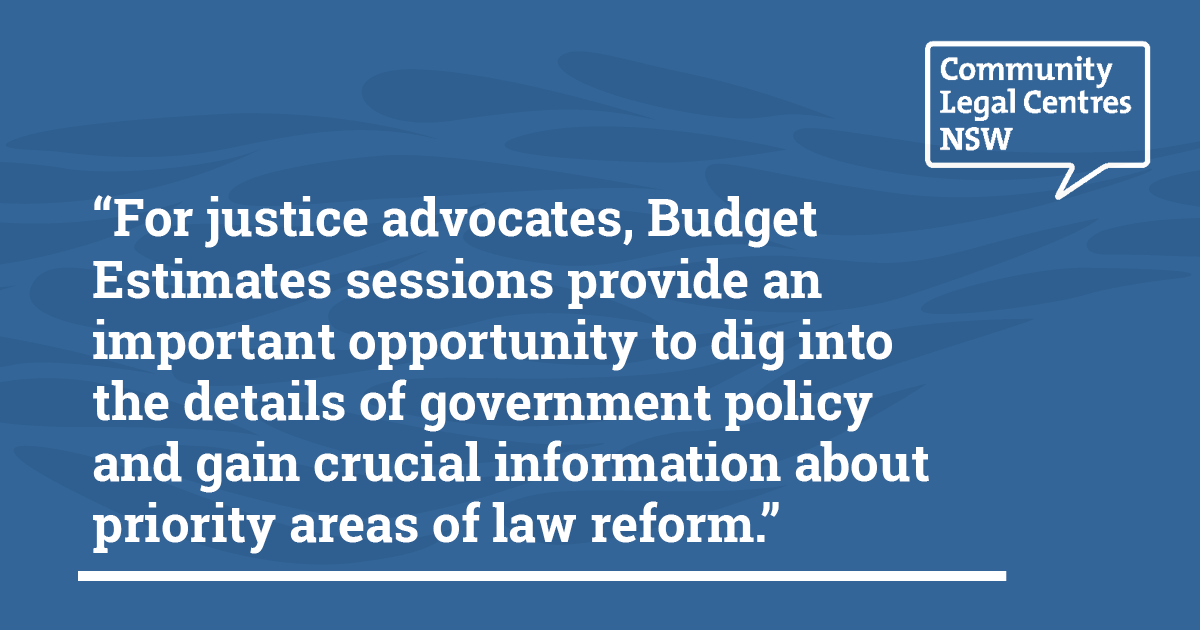 According to the NSW Parliament website, the NSW Legislative Council Budget Estimates hearings are 'a key process for government accountability and transparency. The Budget Estimates inquiry involves detailed questioning on the decisions, actions and advice of ministers and public servants.'
Initial hearings for 2019-2020 will be held from Thursday 29 August to Friday 13 September.
Supplementary hearings will run from Monday 28 October to Friday 1 November 2019.
These supplementary hearings are a new feature of Budget Estimates, and are a consequence of new balance of power relationships in the NSW Upper House following the March 2019 NSW State Election (more on that here). 
For justice advocates, Budget Estimates sessions provide an important opportunity to dig into the details of government policy and gain crucial information about priority areas of law reform. 
CLCNSW: Putting access to justice on the agenda
Community Legal Centres NSW has been working with our members to prepare Budget Estimates Questions in a variety of key areas. These include in relation to:
Funding of Community Legal Centre Care Partners
General sector funding following Cameron Review and tender process  
The Age of Criminal Responsibility
Elder Abuse
On the spot fines for young people
Arrests for breach of bail
STMPs
Victims Services
We've been working closely with a variety of different Labor and Greens MPs to get these questions asked, either in the hearings themselves or as questions on notice.
As the hearings progress we will update this page with relevant information about the outcomes of the hearings.
Key dates for August/September 2019 hearings
The hearings run over two weeks and not all of the sessions are relevant to community legal centre work. Here are dates for the relevant portfolio sessions.
Police & Emergency Services
Thursday, 29 August (9.30am-12.30pm)
Aboriginal Affairs
Friday, 30 August (9.30am-8.30pm)
Attorney-General and Prevention of Domestic Violence
Monday, 2 September (9.30am-8.30pm)
Regional Youth and Women
Tuesday, 3 September (9.30am-8.30pm)
Families, Communities and Disability Services
Wednesday, 4 September (9.30am-8.30pm)
Corrections
Monday, 9 September (9.30am-8.30pm)
Seniors
Thursday, 12 September (./30am-8.30pm)
The full schedule and room details are available here.
Next Steps/Actions
Watch the webcast of relevant hearings online here, or attend the hearings in person.
Prepare public media statements based on relevant answers.
Send any follow-up questions immediately after the sessions to Mark or Emily at Community Legal Centres NSW.
Once answers to questions taken on notice are returned, prepare follow-up advocacy based on the information.
Prepare follow-up or new questions for the October/November supplementary hearings. 
Tips
Here are some tips for preparing questions.
Questions do not have to directly be about the budget and can be about policies or other areas of Ministerial or Departmental responsibility.
Each question should include the Minister/Department it should be directed to (if known).
A little bit of background is helpful, a lot can be confusing.
Questions should generally seek information rather than opinions. The Ministers can be asked opinions but are only present for a part of each hearing. Public servants are generally constrained to factual answers (that is, ask 'how many time have breaches been identified?', rather than 'do you think it's appropriate to keep breaking the law?'.
Expand all acronyms in questions and background information (including CLC).