Justine O'Reilly, Principal Solicitor, Shoalcoast Community Legal Centre, writes about her experience of visiting bushfire-ravaged communities on the South Coast in January 2020.
17 January 2020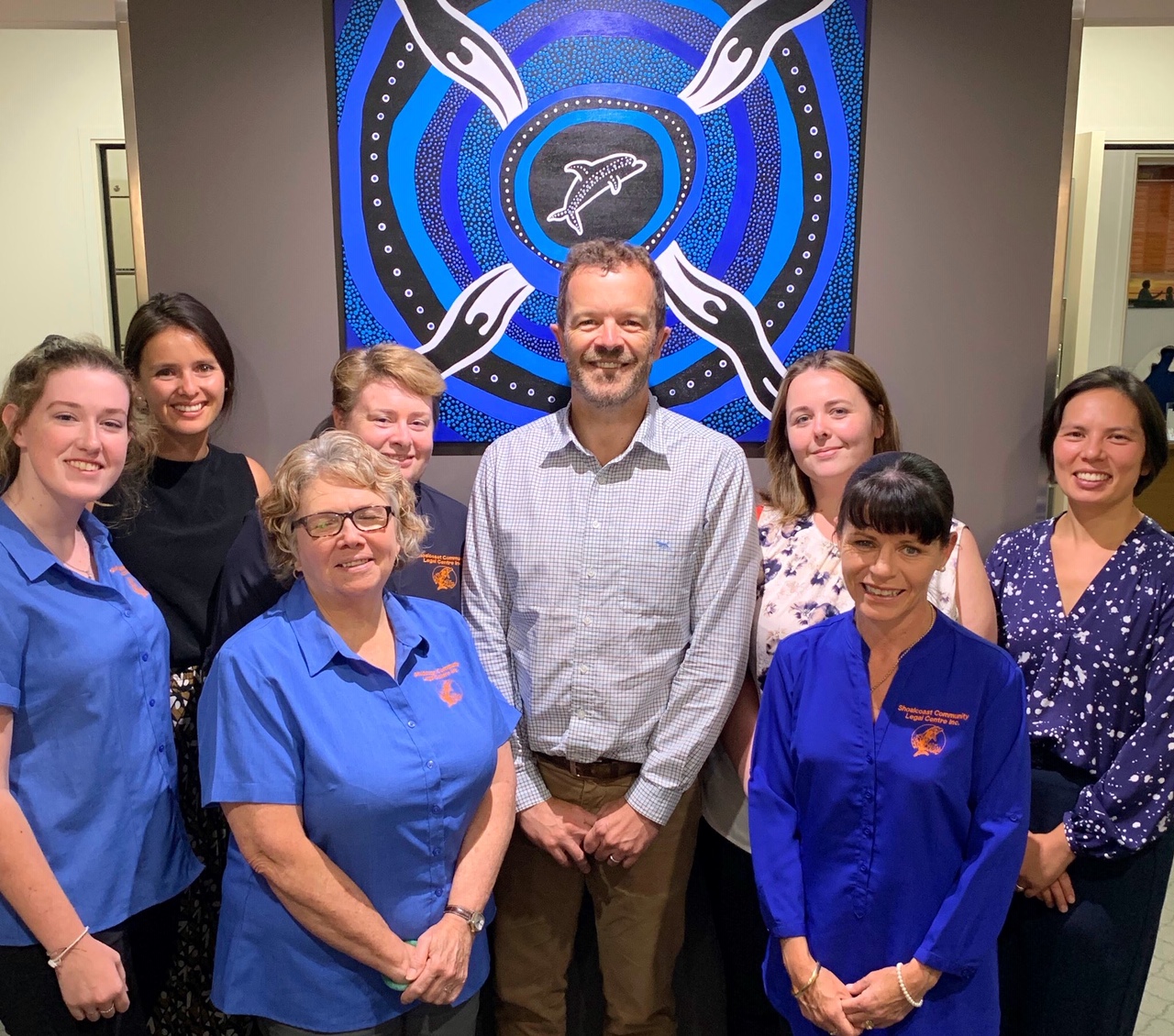 Pictured: NSW Attorney General Mark Speakman visiting the team at Shoalcoast Community Legal Centre, picture from @MarkSpeakman on Twitter.
On the 14th and 15th of January I took a trip down to the South Coast to see for myself the bushfire devastation, to talk to community members, and to distribute Shoalcoast Community Legal Centre pamphlets. I visited the Eden Access Centre, the Disaster Recovery Centres (DRCs) in Bega and Batemans Bay, and the evacuation centres in Cobargo, Narooma and Moruya. 
The evacuation centres in Narooma and Moruya were being closed at 5pm on 15 January, and people who were affected by the bushfires were being redirected to the DRCs in Bega and Batemans Bay. Residents were not happy about this: many do not have cars, and public transport in the far south coast is dire.
The evacuation centre in Cobargo remained open due to the high numbers of people still unhoused and using the Cobargo showground as their home. The warehouse on the showground was packed full of donated food and supplies which were being distributed, and the kitchen was being run by local volunteers.
The Disaster Recovery Centres in Batemans Bay and Bega were being managed by the local Councils and acting as hubs for all services assisting those affected by bushfires, including: DWA, Red Cross, Services NSW, Centrelink, NSW Small Business, Safework NSW, NSW Fair Trading, NSW Health, EPA and Legal Aid. These hubs will exist for the next 2-3 months.
The DWA and local volunteers I spoke with at the evacuation centres said the main complaints people had were about the eligibility for the disaster relief grants (e.g. you had to have lost your house, which doesn't take into account the many people down south who are tenants). People were in a state of shock and just needed money.
Legal Aid's Disaster Recovery Unit and Legal Aid Nowra would like to work with Shoalcoast CLC to assist those affected by bushfire, through:
Giving us access to their Disaster Recovery Training package which has a lot of information about helping people with their insurance issues.

Sharing the attendance at the DRCs.
Sharing the attendance at community meetings: OEM is organizing evening community meetings in affected villages. 
It was a very sobering experience travelling down south. The destruction is massive – not just to the individuals' properties but to the whole economy. The South Coast depends on tourism and the summer is the biggest time of the year: summer months tide businesses over during the quieter winter months. South Coast businesses have had very little business this summer. The motel I stayed in in Merimbula was down 75% from this time last year and the manager was getting cancellations for Easter as people "didn't want to take the chance". Cafés and shops are already starting to close down. They are having to let go of staff. I fear that the South Coast, which is already disadvantaged, will become even more disadvantaged. 
 Community legal centres need to be ready for an increase in enquiries from bushfire affected clients regarding insurance law, debt, employment and tenancy. We particularly need to increase our knowledge of insurance law, and to collaborate with Legal Aid and pro bono solicitors. I also encourage everyone to think about visiting the far South Coast to support local businesses.