Article provided by Terri King and Sandy Watt, North & North West Community Legal Service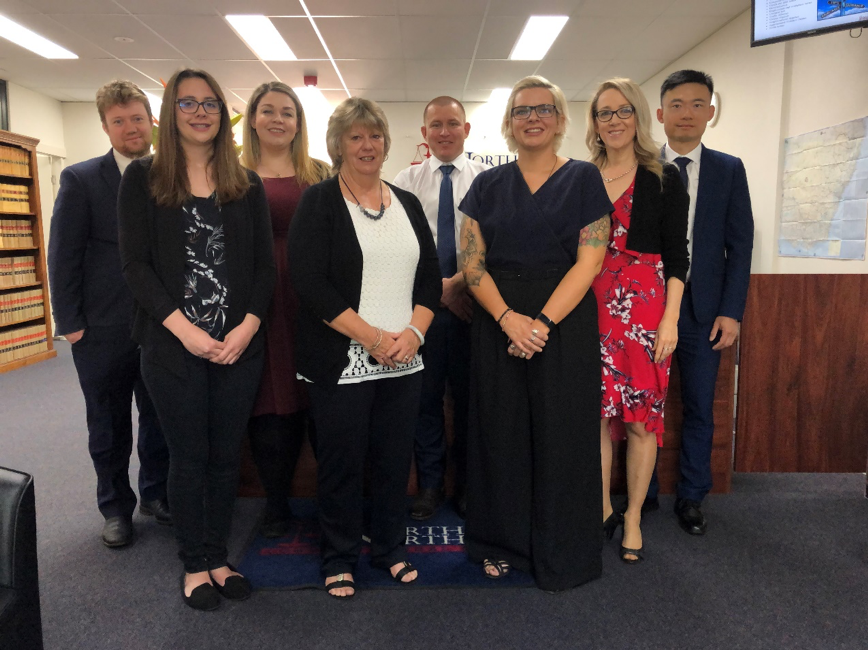 North & North West Community Legal Service staff based in Armidale. L-R: Nick Forrest (Solicitor), Natasha Carey (Administrative Trainee), Terri King (Principal Solicitor), Donna Gilbert (Legal Support Officer), Niel van der Linde (Solicitor), Bailie Rolff (Administrative Assistant), Sandy Watt (Coordinator), Stanley Tao (Solicitor).
The North & North West Community Legal Service is currently working on opening a second office located in Moree NSW.  Moree is in the north-west region of our catchment, with a population of 7383. We aim to have this office operational from early January 2020. 
The office will employ a solicitor and a legal support officer.  As a generalist legal service, we can work through this office with other legal service providers in the region whose clients' needs fall outside their areas of work and within ours. 
The Moree office will be able to provide generalist support to the community for matters including: Family Law issues (excluding property settlement and child support matters), power of attorney and enduring guardianship, wills (without real property), consumer complaints, credit and debt issues, discrimination, employment and workplace issues, criminal law, traffic offences, victims support, neighbourhood disputes, Apprehended Violence Orders, youth issues and domestic and family violence assistance.
Our research indicates that free assistance with estate planning is a significant gap in the Moree region, which our service can help to address. Our number 1 area of assistance within our service is drafting wills, power of attorney (POA) and enduring guardianship (EG) documents. Our community legal education project that is most widely given to community groups and organisations is similarly on wills, POA & EG. We look forward to more readily promoting and delivering this type of assistance and education in Moree.
Moree ranks second in NSW for domestic violence related assaults and third for ADVO breaches. Our recent stakeholder feedback aligns with these statistics in that it indicates that DV and ADVO education would best assist clients. We currently assist with ADVO education in our Court Liaison Program in the Tenterfield and Armidale regions and look forward to increasing knowledge in the Moree region, through education and frontline client assistance, to reduce any risks of breach of ADVOs. 
Our most recent domestic and family violence project in Armidale – "DV affects all, even the small" – was delivered to early childhood educators. Its success was such that we would like to take this project to other locations in our catchment to educate participants on: 
what domestic violence is and what it looks like for children;

impacts of D/FV and the cycle of violence;

facts and figures;

what an ADVO is and how it impacts children;

Family Court Orders; and

how best to deal with disclosures. 
Through the Moree office, we are looking forward to connecting with interagency meetings throughout the western regions of our catchment, including involvement in the CLSD meetings at Moree. We're excited to strengthen pathways for clients between ourselves and other service providers, and work to eliminate escalation of issues and thus secure timely and positive outcomes for clients.