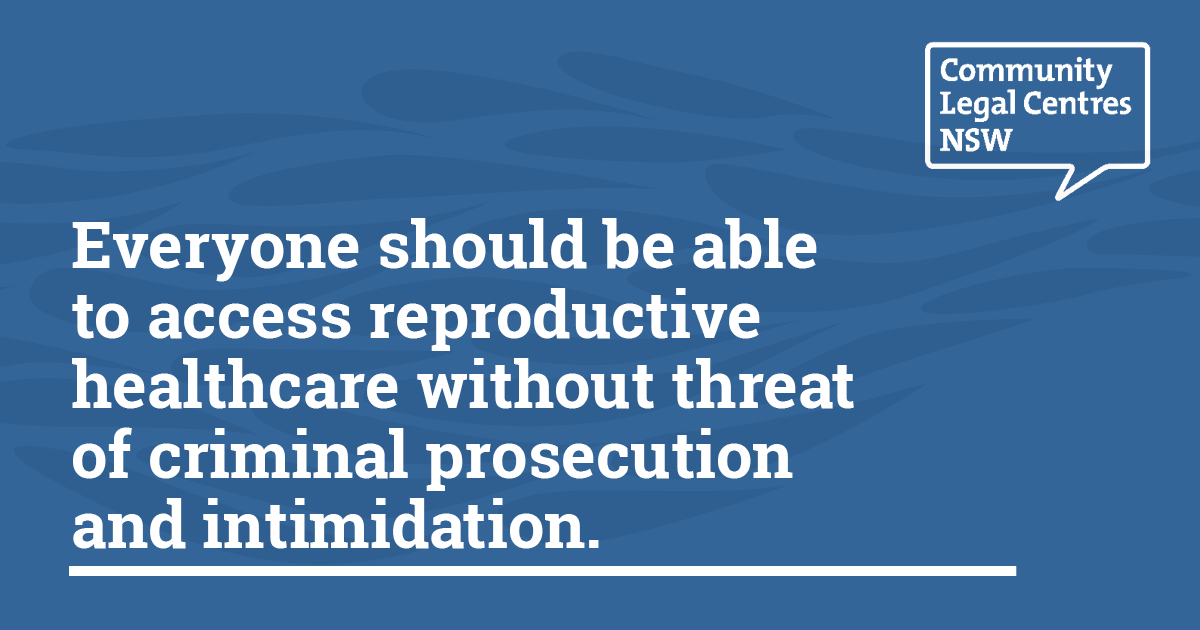 Not all people in New South Wales are able to access reproductive healthcare in a way that is safe and fair. Criminalisation of abortion does not reflect modern medical practice or social expectations regarding reproductive health and autonomy. All patients should be able to access abortions in the same way that patients access other medical and surgical procedures – safe from the threat of criminal prosecution and harassment.
This means that:
Obtaining and providing abortions should be decriminalised so that all people can access health care without fear of prosecution – repeal of sections 82-84 of the Crimes Act 1900 (NSW); and
Foetal personhood laws should be opposed due to the impact such laws would have on abortion services.
In 2017, a 28 year old woman in Sydney was prosecuted after she bought termination medication on the internet and administered it to herself with the "intent to procure her miscarriage". Her pregnancy was 28 weeks in duration. The woman had five children at the time and was urged by her boyfriend to terminate the pregnancy.
The judge said "the ongoing debate regarding pro- and anti-abortion is a polarising issue within the community" but it was his job to apply the law rather than "express views either way".*(1) The woman was convicted and given a three year good behaviour bond.(2)
(1) See https://www.smh.com.au/national/nsw/sydney-woman-prosecuted-for-taking-abortion-drug-20170814-gxvoqd.html.
(2) DPP (NSW) v Lasulado [2017] NSWLC 11
There is one reproductive health clinic that provides abortions in Albury-Wodonga which serves a catchment area of over 300,000 people. Picketing of the clinic by the Helpers of God's Precious Infants for over a decade and non-consensual filming of patients has led to people (particularly teenagers) being too afraid to attend the clinic and in some cases has caused people to self-harm or attempt suicide as they feel trapped by the situation - unable to have the procedure done within Albury, and lacking the resources to travel elsewhere.
Conduct of the anti-abortion protesters has included:
kneeling down to pray as garbage trucks drive past to collect the bins, implying that the clinic has been throwing foetuses in the garbage;
handing plastic foetus-shaped dolls to people entering and leaving the clinic; and
printing graphic images onto placards and placing them around the entrance to the clinic.
This type of behaviour by anti-abortion protesters has created large amounts of conflict within the community in a number of different areas. At the clinic there are regular confrontations between protesters, with members of the community actively going down to 'protect' people entering and leaving. On a political level there is also a high level of conflict between the two sides, with Albury based charity 'Rights to Privacy, Albury' being created to fight against the filming of individuals around the clinic.
Related articles