Article by Isabelle Reinecke, Founder and Executive Director of Grata Fund.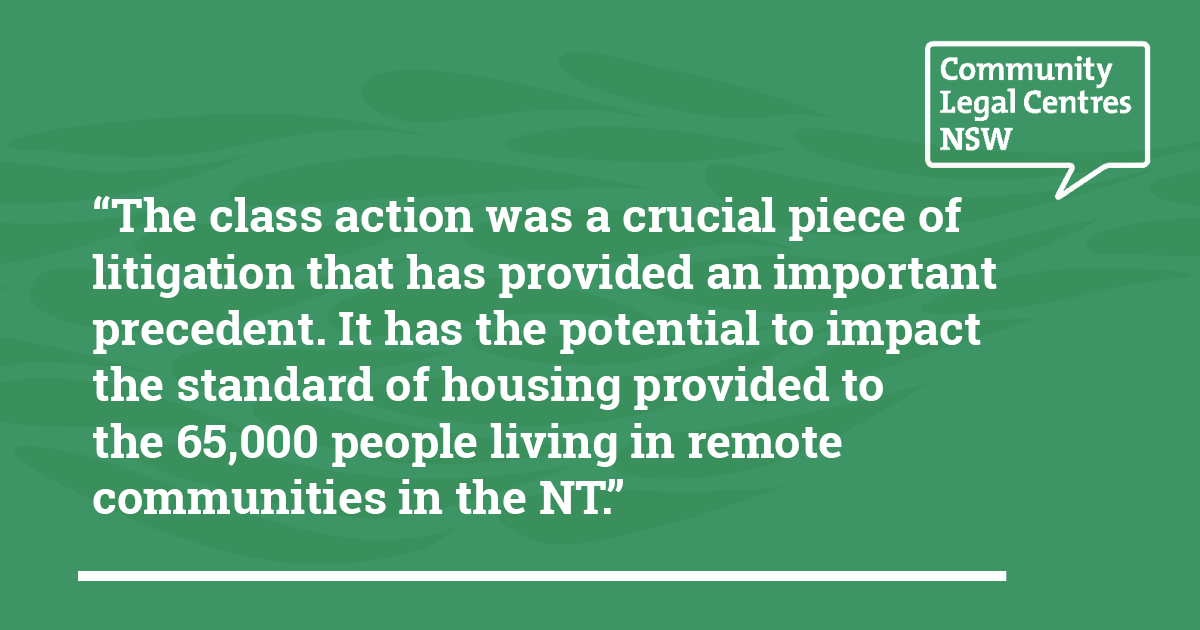 We often think of the law as a tool of justice. Many of us have built our careers around that concept. At the same time, our law continues to be used as a tool of injustice against First Nations people.
We can however learn from our First Nations leaders, who have used that same law to secure some measure of justice. From the recent $190 million stolen wages settlement in Queensland, to the cases brought by Eddie Mabo and the Wik peoples, Aboriginal and Torres Strait Islander leaders and their non-Indigenous allies have taught all Australians how we can use the law for good. These wins by no means outweigh the injustices caused by our laws, but they do show us that – in the right hands – law can be used as a tool for justice.
The Eastern Arrernte community in Santa Teresa, near Alice Springs, recently did this when they used the Northern Territory's residential tenancy laws to secure human rights in relation to the quality of remote housing, which has been in a dire situation due to government neglect. While proceedings are ongoing, the case has set an important precedent, with the potential to impact the standard of housing provided to thousands of people in living in remote communities in the Northern Territory (NT).
Northern Territory Remote Housing
The dire state of housing in remote parts of Australia is no secret. For decades remote housing has been neglected by successive governments, with First Nations communities forced to pay exorbitant rents for abhorrent housing.
Many houses have serious structural issues that pose significant safety risks to residents, including dangerous electrical wiring, non-functioning sewage and drainage, a lack of running water, faulty electricity supplies, windows that are boarded up and kitchen appliances that are not fit for cooking.
In 2007 the Ampe Akelyernemane Meke Mekarle ("Little Children are Sacred") report estimated that, in order to reduce overcrowding to a maximum of seven people per home, the Northern Territory would immediately need 4,000 new dwellings, with an additional 400 houses per year for 20 years to keep pace with demand (p. 95).
The report quoted the United Nations Special Rapporteur on Adequate Housing Miloon Kothari's statement that, of all the factors causing the severe housing crisis, "Most disturbing is the absence of adequate and comprehensive participation processes for Indigenous communities in decision-making forums, resulting in some cases in culturally inadequate solutions." (p. 95).
In spite of these strongly worded concerns, during the infamous Northern Territory Intervention later that year, the NT Government forcibly removed control and responsibility for remote housing from communities.
Since then, successive NT Government landlords have demonstrably failed to ensure housing is habitable for the First Nations people and families that are residents. Aboriginal Peak Organisations Northern Territory (APONT) reports that since the NT Government took over control of housing, not only have housing conditions not improved but "management approaches are contributing to a greater sense of alienation and lack of local control" (p. 5).
Housing plays an intersectional role in the disadvantage First Nations people face, with studies linking it to poor outcomes in health, mortality, education and contact with the justice system. The Australian Human Rights Commission's 2018 Closing the Gap report found that poor housing was undermining efforts to close every gap in health, education and employment. Despite the tireless work of First Nations activists and organisations, no government has yet shown leadership and commitment to overhauling the housing system in a culturally appropriate way.
The courage of Santa Teresa's residents and tenancy legislation as human rights instrument
After repeatedly requesting 600 urgent repairs to be completed since 2015, residents of the Santa Teresa community were left with limited choices. Led by Eastern Arrernte woman and young mum Jasmine Cavanagh and supported by pro bono lawyers at Australian Lawyers for Remote Aboriginal Rights (ALRAR), the small community of Santa Teresa decided to take the NT Government to court.

Photo: Jasmine Cavanagh, one of the leaders of the legal action against the NT Government. (Photo credit: Tom Hearn, BushTV.)
By bringing a suit under the Residential Tenancies Act 1999 (NT), the community sought to secure human rights protections for all NT remote communities. ALRAR and barrister Matthew Albert from the Victorian Bar argued that, despite the NT Government's objection, housing in remote communities sat under the Act and therefore, the NT Government was obliged to provide housing to remote communities to the same standard as that required by any other landlord.
The suit was enough to inspire the NT Government to send contractors to attend to many of the repairs that had been ignored for years. However, when the community continued their claim for compensation under the Act, the NT Government responded by counter-suing residents for what would have amounted to about $2 million in alleged rental debts.
When Jasmine and her community were running out of funds to keep the case going, ALRAR reached out to Grata Fund for funding and advocacy support. The Grata Fund Community chipped in to support the Santa Teresa co-plaintiffs to continue their fight, funding disbursement costs for the final stage of proceedings.
While the case is ongoing, the community has already had significant impact.
In February this year, the Northern Territory Civil and Administrative Tribunal (NTCAT) found that the Residential Tenancies Act does apply to remote housing. The decision means the NT Government is now legally obliged to provide housing that is 'safe and habitable'. Compensation was also awarded to residents of Santa Teresa for the period of time housing was not at this standard.
ALRAR lawyer, Dan Kelly said, "Aboriginal communities, including the people of Santa Teresa, have fought long and hard to protect their rights while the Government has continued to fail to meet its basic responsibilities as a landlord in the community."
"The NTCAT decision has cemented the rights of the Eastern Arrernte people of Santa Teresa under residential tenancy law - just like anyone else who rents from a landlord - despite the Government's attempts to shirk its obligations," he said.
Photo: ALRAR lawyer, Dan Kelly. (Photo credit: Grata Fund.)
The class action was a crucial piece of litigation that has provided an important precedent. It has the potential to impact the standard of housing provided to the 65,000 people living in remote communities in the NT.
Community leaders Enid Young and Robert Conway are hoping to take their community's win even further. This October they will ask the NT Supreme Court to find that the accepted standard for habitable housing means 'reasonably comfortable and humane', not merely the standard of 'safe' accepted by the NTCAT. ALRAR and Mathew will also argue that the remote rental agreements Enid and Robert were signed up to are 'unconscionable'. A win in the NT Supreme Court would set this higher standard for housing across remote NT communities and potentially lead to the invalidation of all remote rental agreements entered unconscionably entered into by the NT Government.
Grata Fund: working to Remove the cost barriers to justice and create lasting change
Grata Fund's work, like the work of community legal centres, straddles two worlds. On the one hand, we work through the courts - a centre of traditional power. On the other hand, we work with people who are seeking to protect or advance the rights of their communities, often without any power at all. At Grata, we bridge these worlds by providing the funding necessary to tackle the access gap and by working with people to integrate their cases into broader strategic campaigns that build power in their communities while challenging power in the court.
Grata Fund was created to remove the adverse cost and disbursement barriers to public interest litigation, by bringing together a movement of people who can make contributions to ensure that affected communities have the opportunity for their matters to be heard in courts, free from the fear of crippling debt.
Adverse cost risk has a profound impact on access to justice, according to Justice Connect. Their estimates suggest that 9 out of 10 meritorious cases aren't reaching the courts, simply due to the financial barriers caused by the risk of adverse costs orders.
But Grata is about more than just breaking down cost barriers to justice. Our organisation supports plaintiffs and their legal teams to merge traditional legal advocacy strategies on public interest cases with 'new power' campaigning strategies like digital engagement, and the organising strategies of social movements. We do this by working with affected communities and their lawyers to amplify the opportunities and outcomes presented by litigation and by leveraging them to achieve structural changes beyond the courtroom. In addition to ALRAR, Grata has worked with a number of community legal centre partners including the Public Interest Advocacy Centre in Sydney and Fitzroy Legal Service in Melbourne.
Further information
Grata Fund's priority areas are human rights, climate and democracy
Applications for adverse cost protection or disbursements can be lodged online here