Written by Simon Crase at Hume Riverina Community Legal Service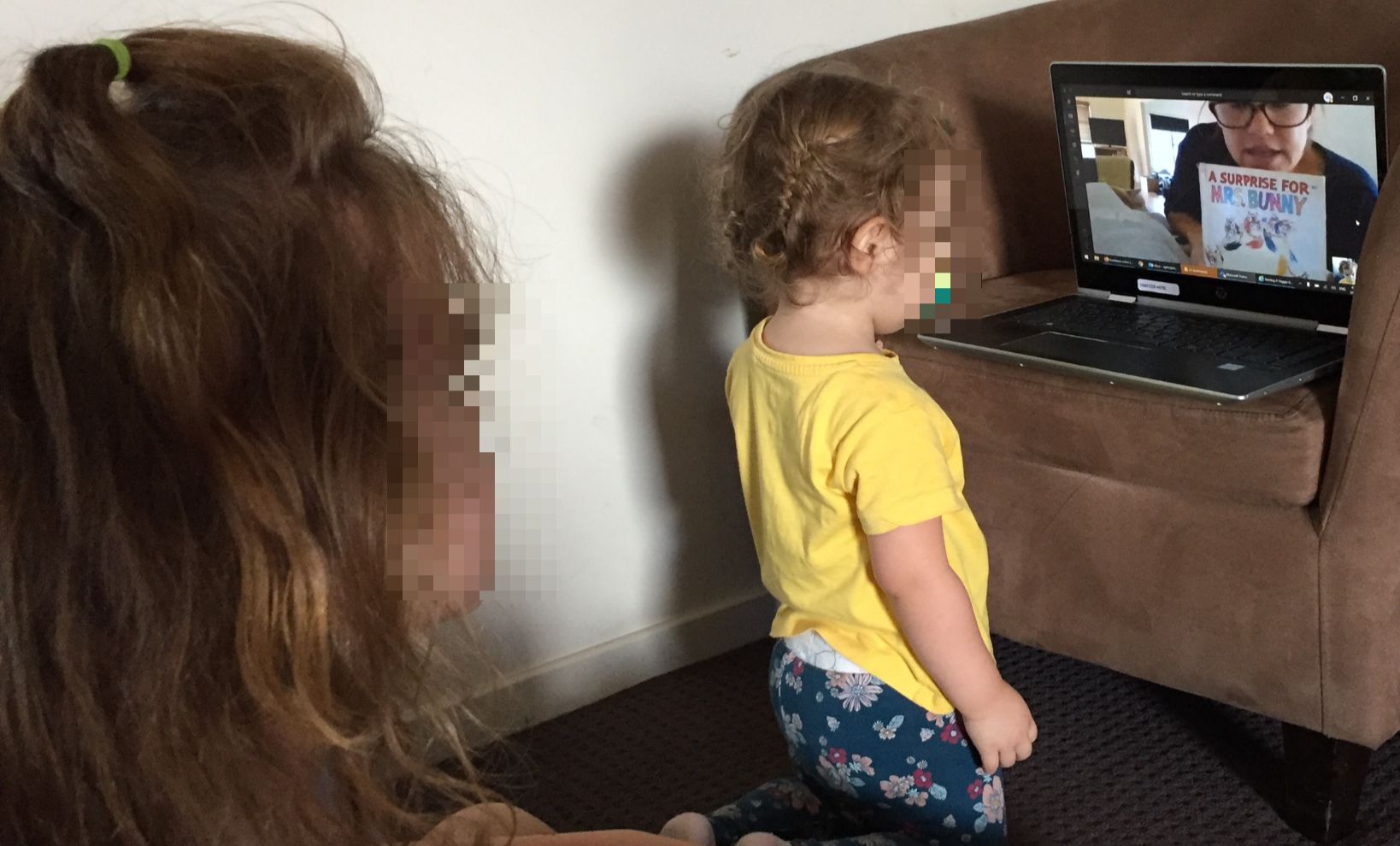 Pictured: e-storytime from one HRCLS employee to another's two young children
How do you go from a bustling office environment surrounded by caring colleagues to sharing a room with a clock, computer screen and snoring dogs? From having a choice of secluded interview rooms to putting up with an incessant horde of neighbourhood mowers making it nigh-on impossible to make a phone call?
Thrust into a new WFH world of self-isolation, the HRCLS crew created a new office on Teams, now the fourth most used word in the English language, behind COVID, social distancing and self-isolation (tie for second) and Zoom.
Lawyers listen to plenty of people share their story, and one HRCLS lawyer also know when telling one can come to the rescue. So it she jumped in with a storytime session on Teams for a colleague's two young children (pictured above), holding their attention with 'A Surprise for Mrs Bunny' while mum could get some pressing work done. We are checking with the CLASS hierarchy to see if this can be counted as a CLE stat. We believe it should be, as the surprise was identified and explained in Plain English, and participants educated on the steps to take to avoid more surprises. 
The e-playground has become an unprecedented petri dish of connection and shenanigans, and allowed staff to share what was happening in their day, as they would normally. First came the flurry of canine images, and they did a fine job hiding their excitement of having a daily "Bring your human to home" day, and the week was bookended with photos of felines staying on the (suit)case and keeping files warm. This was followed by images of the newly created or adapted work spaces, including one lawyer who has taken up residence in a barn.
A beanie competition helped knit the team spirit, and a tip o' the hat to everyone who joined in. The decision left some competitors wondering whether the judges had the wool pulled over their eyes, while others felt stitched-up.   
WFH conditions weren't about to stifle a farewell for a beloved colleague who left to have her third baby (the name will NOT COVID-related), and we e-celebrated as best we could to give her a memorable send-off. Planning is afoot for a e-welcome to the lawyer now on board in the mat leave position.
An awards ceremony closed out the week. Every staff member received an e-certificate of participation for their spirit and support, and joint winners were chosen, one for leadership in charted and very fluid waters, and the other for answering 100 million IT/office questions to help bailout her colleagues. 
In between all this, lawyers were busy on the phone giving people advice on how to fix their legal problems. Some things haven't changed.