For over ten years, three community legal centres have provided free legal advice to women in prison. The program helps women to stay connected to their communities and families while in custody, but it has never received government funding. By Community Legal Centres NSW.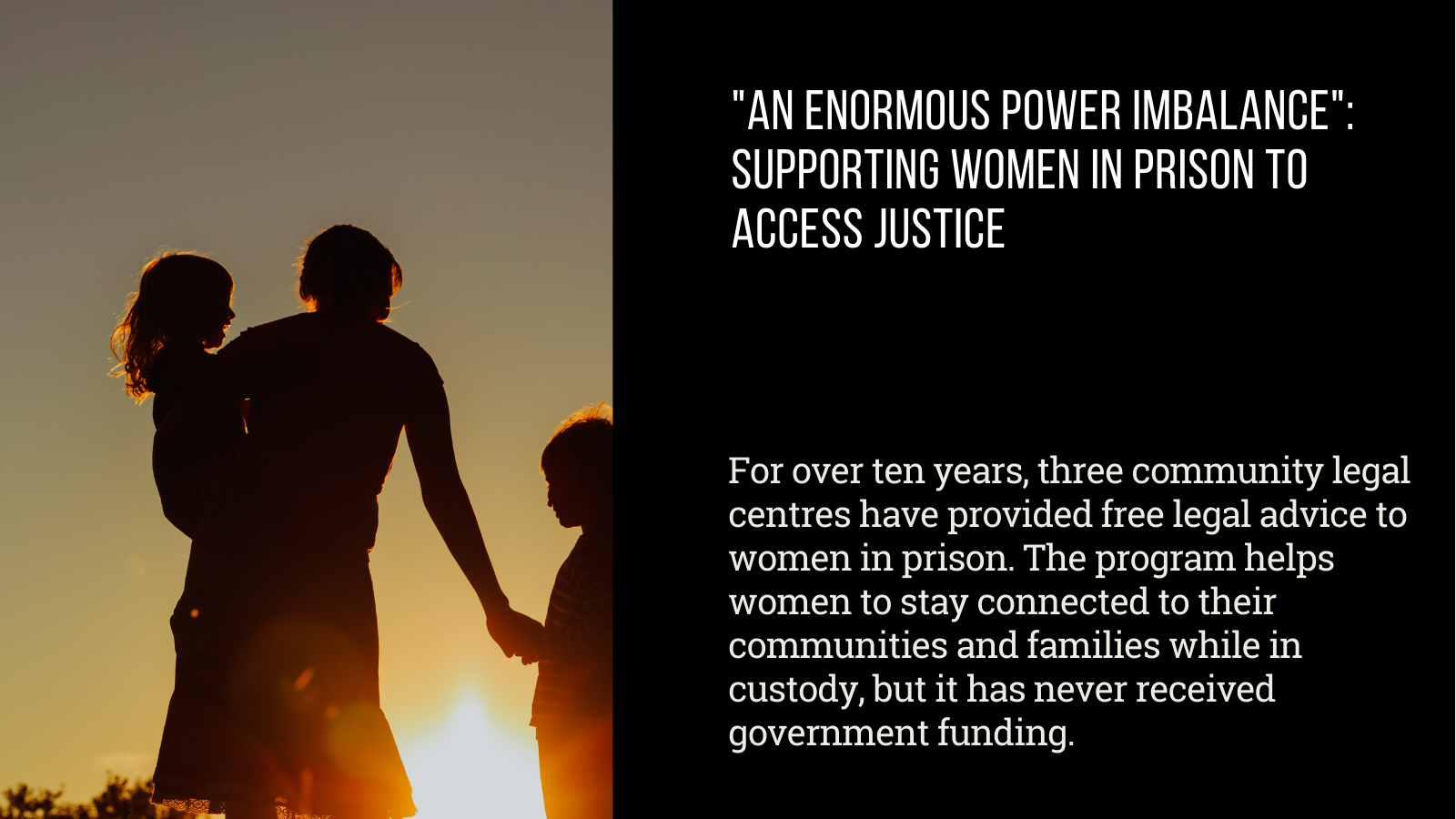 Between 2009 and 2019, the number of women imprisoned in Australia grew by 64%. More than half of those women are parents of kids under 18-years-old. About a third of women incarcerated in NSW are Aboriginal and Torres Strait Islander women. 
One of those women is Michelle, an Aboriginal mother who spent time incarcerated at Emu Plains Correctional Centre. The Department of Communities and Justice (DCJ) had removed her baby son Jacob from her care due to past substance abuse. Over the course of seven months in prison, Michelle only got to see Jacob twice, even though she'd stopped using drugs for some time.
"Michelle came to us because she wanted to spend more time with her son and to be a part of his life," said Kathryn Farrar, a solicitor in the Legal Education and Advice in Prison (LEAP) for women program at Wirringa Baiya Aboriginal Women's Legal Centre. "At first, we successfully negotiated with DCJ for Michelle to have monthly visits with Jacob."
DCJ had placed Jacob in out-of-home care with Michelle's brother and his partner, who she didn't get along with. However, the couple soon sought a Court Order for guardianship of Jacob, which would mean that he'd remain in their care until he turned 18. Because of their strained relationship, Michelle was worried that if the state granted her brother and partner guardianship, they might prevent her from seeing her baby son.
Michelle's story is indicative of the enormous power imbalance between criminalised women on the one hand, and the criminal legal system, child protection agencies, and carers on the other hand, according to representatives from the LEAP.
In 2009, three community legal centres – Wirringa Baiya Aboriginal Women's Legal Centre, Women's Legal Service NSW, and Western Sydney Community Legal Centre – started LEAP to address that power imbalance. The program assists imprisoned women, like Michelle, to enforce their human rights and access justice.
"Women in custody are amongst the most marginalised and disadvantaged people in the community," said Carolyn Jones, a LEAP solicitor from the Women's Legal Service NSW. "It is also very common for our LEAP clients to have been misidentified by police and the courts as offenders when they are actually the person most in need of protection", Jones added.
According to recent research by the Australian Institute of Health and Welfare, women in prison experience disproportionately high rates of sleeping rough, unemployment, chronic illnesses, mental health issues, and drug and alcohol addiction.
To add to that, "the majority of women in custody have experienced sexual violence and domestic and family violence since childhood," said Christine Robinson, the Coordinator of Wirringa Baiya Aboriginal Women's Legal Centre.
"These experiences of violence and its related trauma result in disrupted connections to family and community. In many cases, it can lead to the removal of children from their care or criminalisation. First Nations women are disproportionately impacted, and they're also subject to systemic racism at the hands of police and government agencies," Robinson added.
People who work in the LEAP program regularly provide free legal advice clinics in three women's correctional centres across Sydney: Dillwynia, Emu Plains and Silverwater Women's Correctional Centres. Anyone in a women's prison in NSW can also contact LEAP lawyers by telephone for free legal advice.
 The LEAP lawyers specialise in providing free legal advice and support in family law, child protection, domestic violence, sexual assault, victims support, police complaints, and civil law matters (like housing, fines, and debt).
For Michelle, that support meant that she could maintain a relationship with her son. A Solicitor from Wirringa Baiya Aboriginal Women's Legal Centre urgently drafted an Affidavit for Michelle in response to the Court Order for Jacob's guardianship. The Children's Court granted Michelle monthly contact with her baby while she was in prison, as well as once she was released.
Without that legal assistance, Michelle may have been cut off from contact with her child. That forced separation could have had a very damaging psychological impact on the entire family, and affected Jacob's cultural identity as a young Aboriginal person.
Solicitors in LEAP work hard to restore relationships, disrupt the care-to-criminalisation pipeline, and support women to remain connected with community and family. The program prioritises access for First Nations women, in recognition of the importance of kinship and culture and the disproportionate rates of incarceration.
"Our work with each woman depends on what they want and need," said Carolyn Jones. "Sometimes it may be getting family members to send them photos and updates about their kids. Other times it's helping people to file complaints, or obtaining financial and therapeutic support through Victims Services. We've assisted women to reconnect with children they haven't spoken to for years. We've also helped a number of pregnant women to keep their babies, or to find someone safe in the community to care for them until their release. We have also represented women in adoption proceedings in the Supreme Court."
All of the LEAP lawyers and community workers are women, and they provide a culturally safe, holistic, domestic, family and sexual violence and abuse informed, trauma informed, and gender-specific service.
"Because community legal centres aren't a part of the government, we find that we're able to establish trusting relationships quite quickly. Women are able to speak to us frankly, with the confidence that we don't have mandatory reporting obligations", said Kathryn Farrar.
Since the program began in 2009, LEAP has assisted hundreds of women in custody and post release. While the program delivers significant benefits to women in prison and their broader communities, it has never received government funding.
"As an unfunded service, we are continually under pressure to keep up with demand for our service," Christine Robinson added.
According to 2019 research by the Keeping Women Out of Prison Coalition, chronic underfunding is rife when it comes to support for women affected by the corrections system in New South Wales. While the cost of incarcerating one woman is approximately $110,000 per annum, the government spends just over $6,000 per woman, per annum on community-based services and support.
Louise Coady, Principal Solicitor of Western Sydney Community Legal Centre comments, "the women we meet generally have been survivors of family or domestic violence for decades. We know that survivors of domestic violence are ten times more likely than the mainstream Australian population to experience other legal problems. They have often been subject to misidentification or racism by police."
"Most clients that access the LEAP program have not had the underlying reasons that led to incarceration addressed. This is where the LEAP program steps in. We look to the systemic legal obstacles like debt, homelessness and complex family situations in an effort to alleviate the concerns that increase the chances of recidivism or leave them vulnerable to being re-criminalised," Coady adds.
A broader conversation that needs to be had is how many of those people needed to be incarcerated in the first place.
Do you have a loved one in a women's prison in New South Wales? They can make a free ten-minute call to request advice and assistance from LEAP. Wirringa Baiya Aboriginal Women's Legal Centre can be contacted by pressing #20 on CADL. Women's Legal Service NSW can be contacted by pressing #21 on CADL.
Further reading
Submission to the Inquiry into Support for Children of Imprisoned Parents in New South Wales - Community Legal Centres NSW
Profile of women in prison in NSW - Keeping Women Out of Prison Coalition
Submission to the Inquiry into Support for Children of Imprisoned Parents in New South Wales - Women's Legal Service NSW
The health and welfare of women in Australian prisons - Australian Institute of Health and Welfare
Family is Culture Review Report - Independent Review of Aboriginal Children in OOHC