Community legal centres in NSW are on the frontline providing legal help to those affected by the devastating bushfires. Specialist and generalist centres are working together, alongside Legal Aid NSW and other legal assistance services, to coordinate legal help for people in the worst affected areas, from Eden and Moruya to the south, Bathurst and Lithgow to the west and Port Macquarie and Coffs Harbour to the north.
This includes Financial Rights Legal Centre, which has been helping people in affected communities with their disaster insurance claims.
On 9 January, Financial Rights Legal Centre solicitor Jen Lewis and solicitor Naomi Delaney attended a Community Recovery Meeting at St Albans, a township in the Hawkesbury region. The area was hit by the Gospers Mountain fire, which started in the Wollemi National Park and grew to become one of the biggest forest fires in Australian records.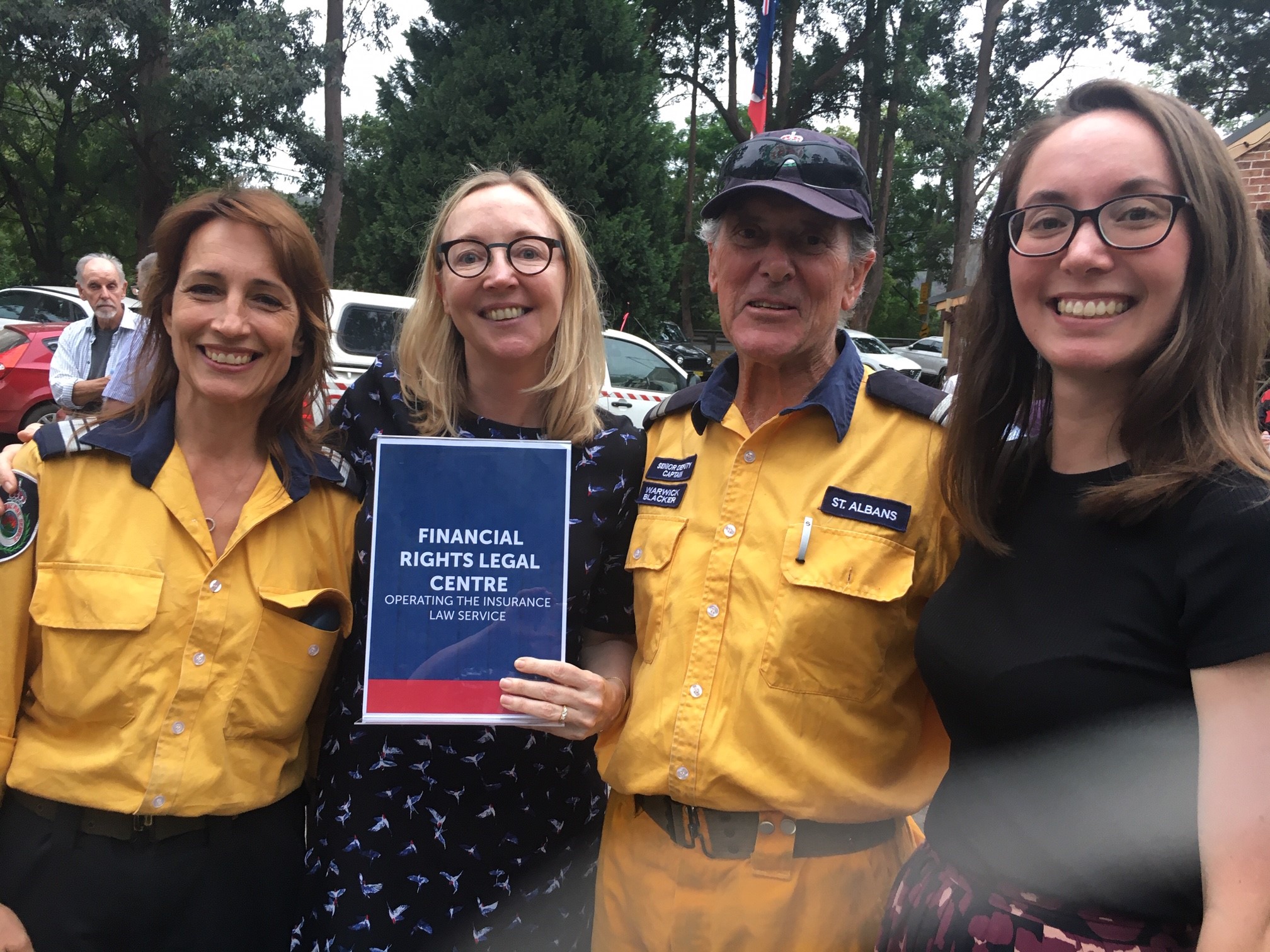 Photo: Financial Rights Legal Centre senior solicitor Jen Lewis (second from left) and solicitor Naomi Delaney (far right) with two members of the two members of the local St Albans Rural Fire Service.
The meeting was held in the local Rural Fire Service shed and was well-attended by members of the local community who have been having a tough time with bushfires burning all around them. There is no mobile phone reception in the town and fires have taken out all the landlines, so the locals have felt pretty vulnerable. Jen and Naomi were able to talk to people about insurance issues, and spoke with other local service providers about referring people to Financial Rights Legal Centre for free legal advice and financial counselling.
Financial Rights Legal Centre's Insurance Law Service is helping those affected by the bushfires with insurance claims issues.
The Centre can be contacted on 1300 633 464 (Monday to Friday, 9.30am to 4.30pm).
They have also published these useful online resources about disaster insurance claims: