Article by Rachel Walmsley and Cerin Loane (Environmental Defenders Office).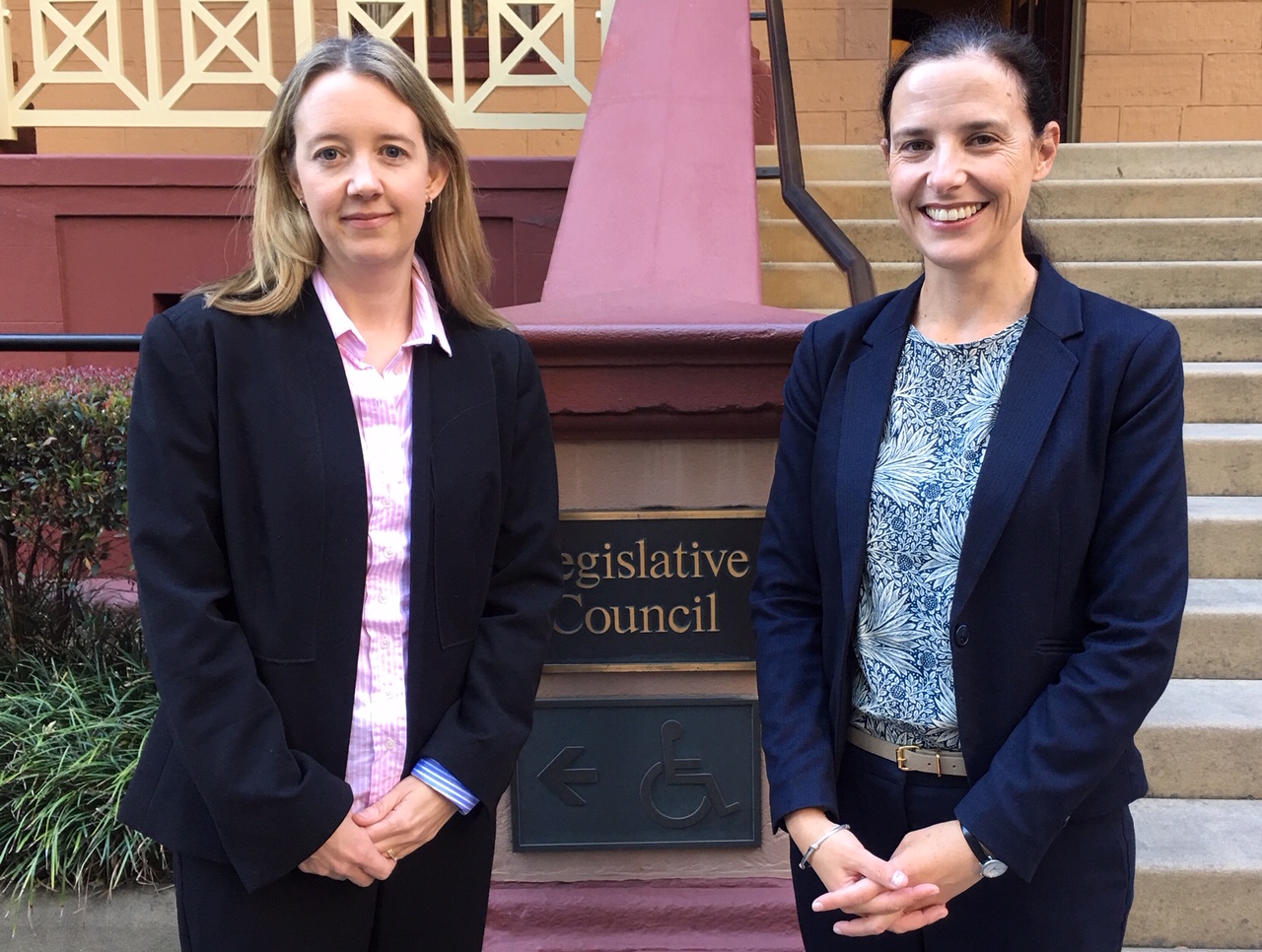 Photo: Rachel Walmsley and Cerin Loane (Environmental Defenders Office).
It sounds preposterous – given the ongoing climate crisis and recent bushfire emergency besieging communities across the state – but the NSW Government is actually proposing to restrict consideration of greenhouse gas emissions and prevent decision-makers from putting conditions on fossil fuel approvals relating to their downstream emissions. This is a retrograde step that would undermine the ability of decision-makers to properly assess and regulate the climate impacts of coal mines on the environment and local communities in NSW.
This article looks at two current threats to the way greenhouse gas emissions and climate change are currently considered in fossil fuel development assessments in NSW:
proposed legislative changes to restrict decision-makers' ability to consider the climate change impacts of proposed coal mines; and
a review of the Independent Planning Commission which may result in its jurisdiction and capacity to seek independent legal advice being limited (amongst other things).
Climate change, 'scope 3' emissions and coal mine approvals
Like all jurisdictions across the globe, New South Wales faces the very real threat of climate change and the challenge of how to manage its impacts. Planning and development decisions made now will affect our capacity to reduce greenhouse gas emissions and prepare for the predicted impacts of climate change, which include warming and acidification of oceans, sea level rise, decreased rainfall in southern parts of the country and increased rainfall in the north, more extreme heat days, longer dry spells, and harsher fire weather.
Environmental assessments of greenhouse gas emissions are divided into the following categories.
Scope 1 emissions: Direct emissions released to the atmosphere as a direct result of an activity, or series of activities at a project level.
Scope 2 emissions: Offsite GHG emissions associated with generation of electricity, heat or steam purchased by the project.
Scope 3 emissions: Indirect GHG emissions (other than scope 2) that are generated in the wider economy. They occur as a consequence of the activities of a facility, but from sources not owned or controlled by that facility's business.
When considering a proposed coal mine (or any new development's) greenhouse gas emissions, it is not logical to differentiate climate change impacts based on a distinction between scope 1, scope 2 and scope 3 emissions. Once released into the atmosphere, carbon dioxide becomes both a local and a global problem. That is, all greenhouse gas emissions from projects in NSW, whether they be scope 1, 2 or 3 emissions, and whether they occur in NSW or somewhere else, increase greenhouse gas levels in the global atmosphere and cause impacts both globally and locally in NSW.
In 2019, the NSW Land and Environment Court and the Independent Planning Commission made a number of key decisions, which considered the impacts of greenhouse gas emissions from projects in NSW. These included:
The NSW Land and Environment Court's historic decision to refuse the Rocky Hill coal mine proposed near the town of Gloucester due to its significant and unacceptable planning, visual and social impacts as well as the project's greenhouse gas emissions and their likely contribution to adverse impacts on the climate system, environment and people;
The Independent Planning Commission's equally significant decision to refuse a new open cut coal mine in the picturesque Bylong Valley, in part because of ongoing problems associated with the project's greenhouse gas emissions;
The Independent Planning Commission's decision to refuse a 5-year extension of the Dartbrook underground coal mine in the Upper Hunter Valley on public interest grounds, including that the project's proponent failed to consider greenhouse gas emissions and their impacts; and
The Independent Planning Commission's decision to approve the United Wambo mine in the Hunter Valley, but with a condition requiring coal from the mine to be sold only to countries that are signatories to the Paris Agreement, or that have equivalent policies in place.
These recent decisions flow naturally from the application of the best available science on climate change to well established principles of law in NSW. When decision-makers applied contemporary climate change science and policy to existing laws, the unacceptable climate change impacts (amongst other environmental and social impacts) of the relevant mining projects led to them being refused or approved with conditions aimed at addressing those impacts. This is an entirely appropriate and orthodox application of existing NSW laws having regard to the impacts of those projects.
The 'scope 3' Bill: an attempt to wind-back the clock
The NSW Government introduced the Environmental Planning and Assessment Amendment (Territorial Limits) Bill 2019 to the NSW Parliament in October 2019. It has been presented as a minor technical amendment and touted as a necessary legal clarification.
However, the Bill is actually part of a broader retrograde policy response to overcome the increasing relevance of climate considerations to fossil fuel developments (like the Land and Environment Court and Independent Planning Commission decisions noted above, where consideration of climate science and policy were a key factor in developments being refused or granted only conditional approval).
The Bill's introduction to parliament coincided with lobbying to government by vested interests in the fossil fuel industry and there has been no community consultation on its potential impacts. As such, the community has rightly perceived it as special legislation designed to overcome recent development application decisions that went against coal mine companies.
The Bill seeks to unnecessarily and inappropriately restrict the consideration and regulation of scope 3 emissions from fossil fuel projects by:
prohibiting decision-makers from imposing conditions on mining approvals aimed at mitigating the impacts of the greenhouse gas emissions produced when coal from those mines is burnt overseas; and
removing an explicit requirement for decision-makers to consider downstream emissions when determining whether or not to approve a coal project.
Our planning laws are about regulating impacts that occur within NSW. It is absurd (and insulting to traumatised people and communities across the state) to suggest that the impacts of climate change are not relevant locally. Climate change is both a global and local problem. Global emissions leading to climate change clearly create impacts in NSW as well, as we have seen with the recent devastating bushfires. NSW decision-makers must be required to consider and ameliorate those impacts.
The Independent Planning Commission review
Another part of the government's policy response has been to conduct a review of the Independent Planning Commission (the Commission), the body that makes decisions to approve state significant projects such as coal mines.
Similar to the Bill introduced to the NSW Parliament, the Review of the Commission, which was required to report on whether it was in the public interest to maintain an Independent Planning Commission and make recommendations in relation to the Commission's operations and the mechanisms by which State significant development is assessed and determined, was seen as a response to lobbying from vested interests.
While the review report released by the NSW Productivity Commission confirms the importance of an independent decision-making body for contentious projects, it is unclear how some of the recommendations will be implemented.
As the government looks to implement the 12 recommendations from the report, the degree to which the Commission will be reined in by government policy – such as a new policy on consideration of greenhouse gas emissions – is yet to be seen.
Lawyers from the Environmental Defenders Office will be meeting with the Minister and Department to engage constructively on guidelines to clarify how greenhouse gas emissions should be assessed and considered (as confirmed in the Rocky Hill decision), and on how the recommendations on the IPC should be implemented.
For example, while the Environmental Defenders Office welcomes recommendations to retain and reinforce the independence of the IPC (e.g. Recommendations 1 and 2), a number of subsequent recommendations have the potential to undermine that independence, particularly in circumstances where the Minister is able to direct the performance of the IPC (e.g. Recommendation 3), or influence policy or legal advice (e.g. Recommendation 12a and 12b). The Environmental Defenders Office is also concerned that recommendations to change the threshold for projects referred to the Commission (e.g. Recommendation 8aii) are problematic and contrary to the public interest, for example if they exclude certain projects such as mine modification applications. The Environmental Defenders Office is continuing to push for improvements to the public hearing process to ensure improved procedural fairness and interrogation of expert evidence.
Special legislation and reviews vs actual reform
Special legislation to overcome individual project decisions, or on behalf of specific industry sectors, is the opposite of what is needed from this parliament in terms of planning law reform.
Instead, when this parliament resumes later in the year, it should be considering amendments to ensure:
planning laws are climate-ready;
decisions are made for the benefit of healthy and resilient communities; and
decision-making bodies like the IPC are truly independent, resourced and have a full remit to consider all relevant climate considerations and local impacts.
As our clients from mine-affected communities passionately told public hearings held as part of a parliamentary inquiry into the the Environmental Planning and Assessment Amendment (Territorial Limits) Bill 2019, the people of NSW are already experiencing the impacts of climate change, including extreme drought and bushfires.
NSW should be implementing sensible laws, based on science, that plan for a just and rapid transition to low carbon economies and that ensure the proper, long-term protection of the people and environment, including a safe climate for current and future generations. Failure to do so will mean the people of NSW will continue to suffer the devastating impacts of climate change, including longer and more intense bushfire seasons, as experienced the past summer.
Further reading