During the course of the Early Intervention Referral Project sector development sessions it became apparent that ongoing and sustained community education was required in utilising the referral tools. This was not only to assist clients overcome the barriers they experience in accessing early intervention legal services, but also to address the barriers that service providers have in referring clients to legal services.
Service providers working with families often reported to us that they did not refer clients to legal services because families already had enough to do in regards to FACS requirements and that service providers were reluctant to refer to legal services if they themselves were the mandatory reporters.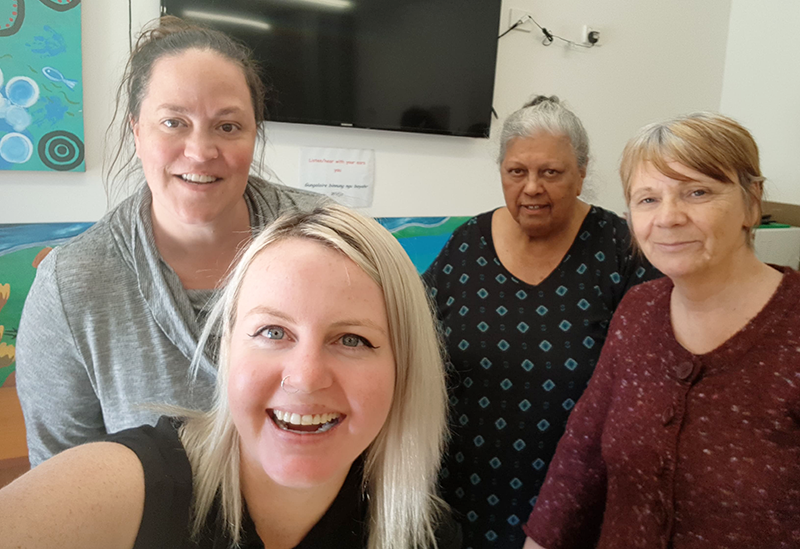 Above: Charlotte Buckton; Auntie Nancy Walke (Bunjum Aboriginal Corporation); Zoe Deray (Child Protection Solicitor from the Aboriginal Legal Service); and Karin Ness.
As the project has evolved, we have developed a greater awareness of the potential of the Early Intervention Referral Project map as a tool for assisting service providers to facilitate early access to legal services for their clients. The Project has been funded by Legal Aid NSW's Cooperative Legal Service Delivery program since its inception and a small amount of new funding to continue sector development has been promised for the next eighteen months.
The Project's sector development sessions will place a greater emphasis  on discussing and documenting the barriers to accessing early intervention legal services for service providers and families and identifying and documenting strategies to better facilitate access to child protection early intervention legal services.