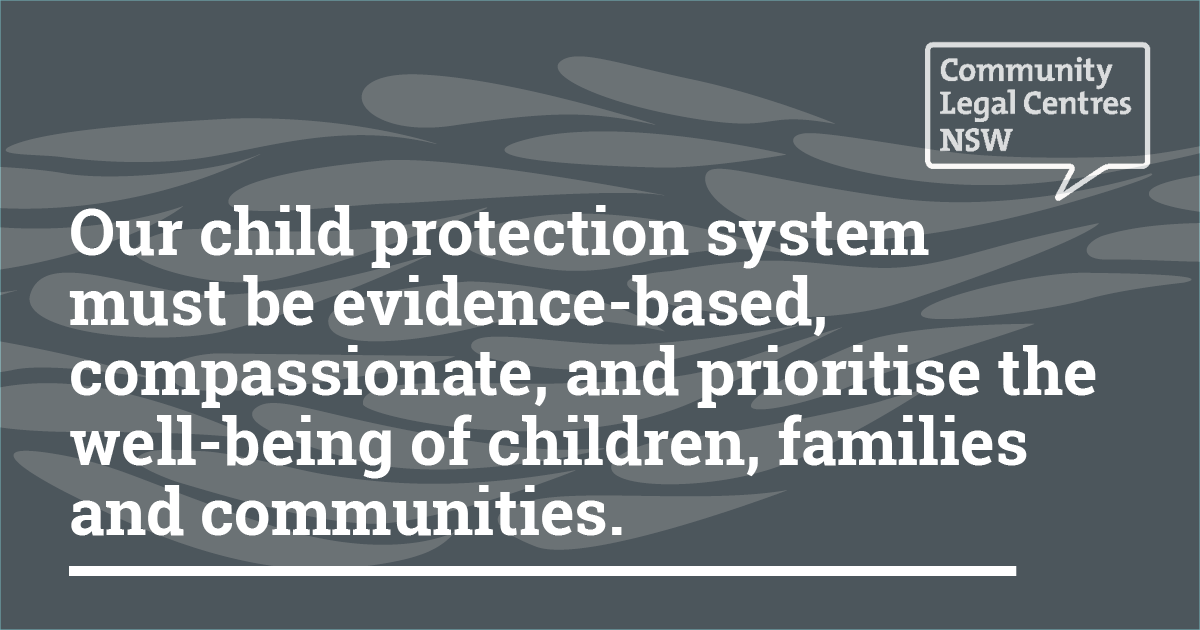 The NSW care and protection system requires reform. Recent legislative changes by the NSW government took the system in the wrong direction - against the advice of the community, Aboriginal and legal sectors, the NSW government implemented provisions which will fast-track adoptions and unnecessarily separate children from their families. 
As NSW MP Greg Donelly said in the  2017 NSW Legislative Council General Purpose Standing Committee review of the system:
"Unless and until we as a society make a determined effort to find and examine the reasons behind why so many children and young people need protection provided by the state, we will not have started to come to terms with what is before us, let alone find ourselves in a position of developing policy responses that will work."
The body of literature around care & protection indicates that unresolved and ongoing trauma and loss, past and current child welfare policies, socio-economic disadvantage, substance abuse, domestic violence and mental illness, are key to understanding the crises within our current child protection system.
Collectively, the 2017 Legislative Council Review and the literature tell us that early support services are pivotal to providing better outcomes for all stakeholders. In practice, this requires additional funding for evidence-based prevention and early support services, including legal assistance.   
Community legal centres work in the network of early intervention services, frequently collaborating with the Department of Family and Community Services (FACS), the Legal Aid Commission and Aboriginal Legal Services (ALS) to deliver child protection legal services and casework. Amongst the NSW network of nearly 40 community legal centres, only twelve are currently funded as care partners.
As the peak body for community legal centres in NSW, Community Legal Centres NSW advocates for additional funding to the sector in order to expand the Community Legal Centre Care Partner network and to strengthen existing Community Legal Centre Care Partners.
Links and Resources:
Rosa (not her real name) is a 45-year-old mother and grandmother from a CALD background. She is married and works as a health professional. Her daughter and her daughter's boyfriend have a 9-month-old daughter, Eva. There are substance abuse and domestic violence issues in their relationship.
Rosa and her husband attended Macarthur Legal Centre (MLC) after being advised  that FACS had taken Eva into Out of Home Care (OOHC) after a medical examination had determined that she had a second break in her leg (the first break had been undetected). The father is suspected of causing this harm.
Rosa was very distressed because her granddaughter had been seriously injured and was now in the care of strangers. Rosa was completely unaware of the Child Protection system and her right to request to be assessed as the primary caregiver for Eva.
Rosa was concerned that her request to be approved as a carer would be rejected as she herself had been sexually abused as a child. MLC solicitors advised Rosa about her merits as a carer for her own granddaughter and her strengths as a carer (supportive stable relationship, own home, employment as a health professional).
Rosa left MLC with a plan to contact the FACS caseworker and request an immediate assessment of her and her husband as carers for Eva. Within 48 hours Eva was placed in Rosa's care. Parental Responsibility orders for Eva were then applied for with the consent of Rosa's daughter. Eva remains in Rosa's care and the mother and father have supervised contact with Eva whilst they sort out their individual issues.
Jacquie is under eighteen and had just given birth to a healthy baby who she was breastfeeding. When she was younger and living in another state she had to live with a relative for a while because of safety concerns in her family.
The day after she gave birth FACS came to the hospital and told her they were placing the baby in the care of the Minister and that she could not take her baby with her when she was discharged. FACS indicated that they had no concerns about her capacity as a mother, but they did have safety concerns about her family.
Jacquie had not had any contact with FACS prior to this time and nor had she been referred to early support services throughout her pregnancy. Further, no one had ever told her that they were concerned about where the baby would be living.