The University of Newcastle Legal Centre recently launched the Older Persons' Legal Clinic as a response to the many elder law issues that arise. The service offers free legal advice and assistance to people aged 60 years and over, to people of indigenous descent aged 50 years and over, their families and carers.
The Clinic is a community legal service staffed by lawyers and law students and can provide information, referrals, advice and representation on legal issues such as:
wills and planning for the future;
family law;
neighbourhood disputes;
tenancy issues;
disputes with government departments; and
aged care facilities.
Eligible people can drop in to the Legal Centre at the University of Newcastle (New Space, 409 Hunter Street, Newcastle) on Wednesday mornings between 9am-12pm during University semesters.
Appointments are available outside university semester times and for evening clinics. Appointments are also available both during and outside University semesters at the Gosford clinic.
For all enquiries and appointments, phone 1800 314 792 (toll free) or email legalcentre@newcastle.edu.au.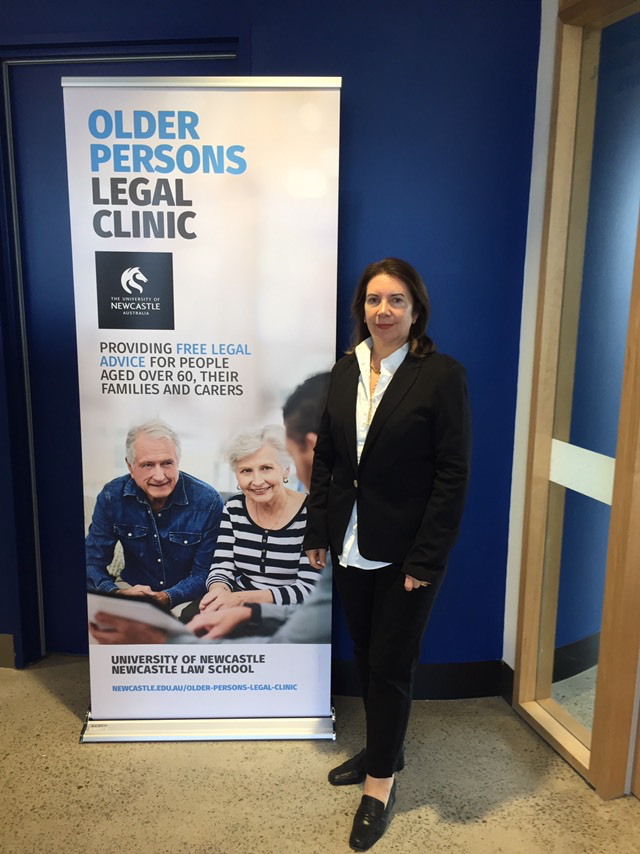 Photo: Margot McAlary, Legal Practitioner at University of Newcastle Legal Centre.
Since opening, Older Persons Legal Clinic has been warmly welcomed at various community events such as the recent Seniors Expo held in Belmont and the Lake Macquarie Interagency Meeting. Responses to-date have been very positive in the current environment where elder abuse issues seem to be increasing at an alarming rate.
The team at the Older Persons' Legal Clinic are pleased to be part of the drive to address this growing problem in society.