Our thoughts go out to the individuals, families, and communities impacted by the devastating bushfires that have destroyed or damaged a staggering number of homes and properties, and taken too many lives, in NSW and around Australia.
Alongside their overwhelming physical and psychological impacts, disasters can also throw up serious legal issues, which can escalate quickly if not addressed. These can include problems with:
insurance claims
housing and tenancies
Income and social security (including disaster relief payments)
credit and debt
family violence and family law
destroyed documents and wills
Legal advice for people affected by the fires and experiencing issues like these is a critical part of response and recovery efforts.
Community legal centres across NSW are at the forefront of local responses to the state's bushfire emergency. Specialist and generalist centres are working together, alongside Legal Aid NSW and other legal assistance services, to coordinate legal help for people in the worst affected areas, from Eden and Moruya to the south, Bathurst and Lithgow to the west and Port Macquarie and Coffs Harbour to the north. 
This page includes information about the legal assistance available to people affected by the bushfires through community legal centres and other legal assistances services across NSW.
Community legal centres operating on the ground in affected communities
Community legal centres operating in regions affected by the bushfires are providing generalist and specialist advice to local communities, including financial counselling and tenancy advice.
Specialist legal services supporting the bushfire response
As well as local services, specialist centres can help with specific legal problems arising from the bushfires, including insurance claims, tenancy, and social security.
Tenants' Union of NSW
For those who may have lost rental accommodation to the fires or had accommodation damaged, the Tenants' Union provides some useful resources and links here
Insurance Law Service — Financial Rights Legal Centre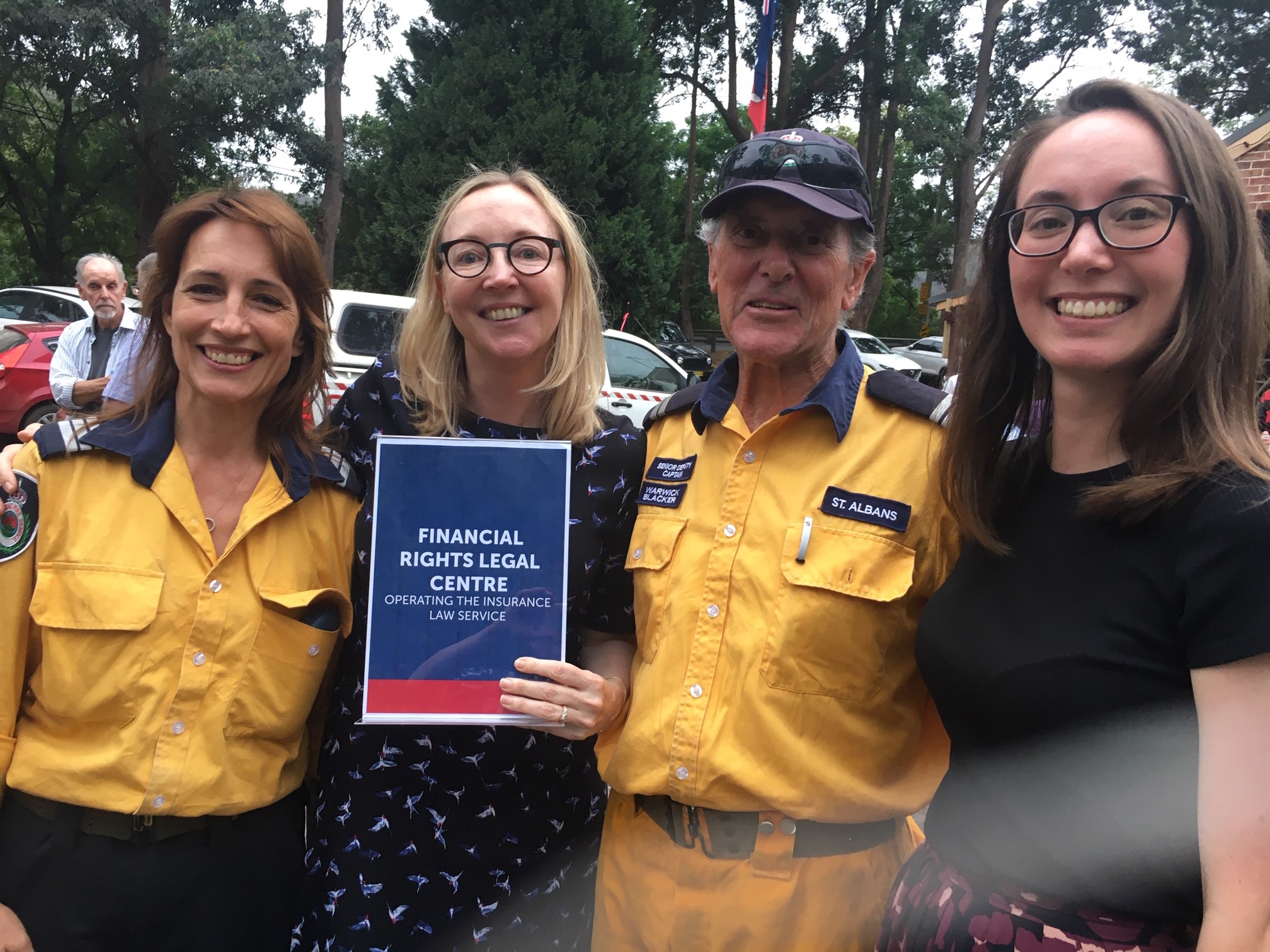 The Financial Rights Legal Centre's Insurance Law Centre can help with insurance claims issues.
Contact: 1300 633 464, Monday to Friday (9.30am to 4.30pm).
The Centre has also published these useful online resources about disaster insurance claims:
Welfare Rights Centre
The Welfare Rights Centre can help with social security issues, including disaster recovery payments.
This includes advice on recently announced payments for people impacted by the bushfires:
Disaster Recovery Allowance (paid at the same rate as the Newstart Allowance)
Disaster Recovery Payment (a lump sum of $1,000 per adult and $400 per child).
More information about the payments and how to apply is available from the Department of Human Services: https://www.humanservices.gov.au/individuals/subjects/nsw-bushfires-september-2019.
A fact sheet setting out what Centrelink can do if you have been affected by the recent bushfires is also available here.
Disaster Response Legal Service NSW
Legal assistance is also available through the NSW Government's Disaster Response Legal Service NSW, operated by Legal Aid NSW: https://www.legalaid.nsw.gov.au/get-legal-help/legal-help-for-victims-of-natural-disasters.
Contact the helpline on 1800 801 529.
A call out for volunteer lawyers to support local community legal centres  
Community Legal Centres NSW is also supporting response and recovery efforts by helping to coordinate pro-bono services from private sector lawyers.  
Our member centres urgently need people on the ground to support the local response in affected communities. They're looking for secondees or volunteers to work locally for a minimum of two weeks full-time or one day per week for at least six months.   
Ashurst has very generously seconded its pro bono manager Jilly Field to CLCNSW to help coordinate supports to community legal centres working at the frontline of the bushfire response. 
Private sector lawyers looking to help out in bushfire affected communities can register via Justice Connect's online portal. Through the portal, lawyers and law firms can offer expertise and ongoing casework and will also be asked to consider offering time on the ground in one of the four community legal centres listed above.