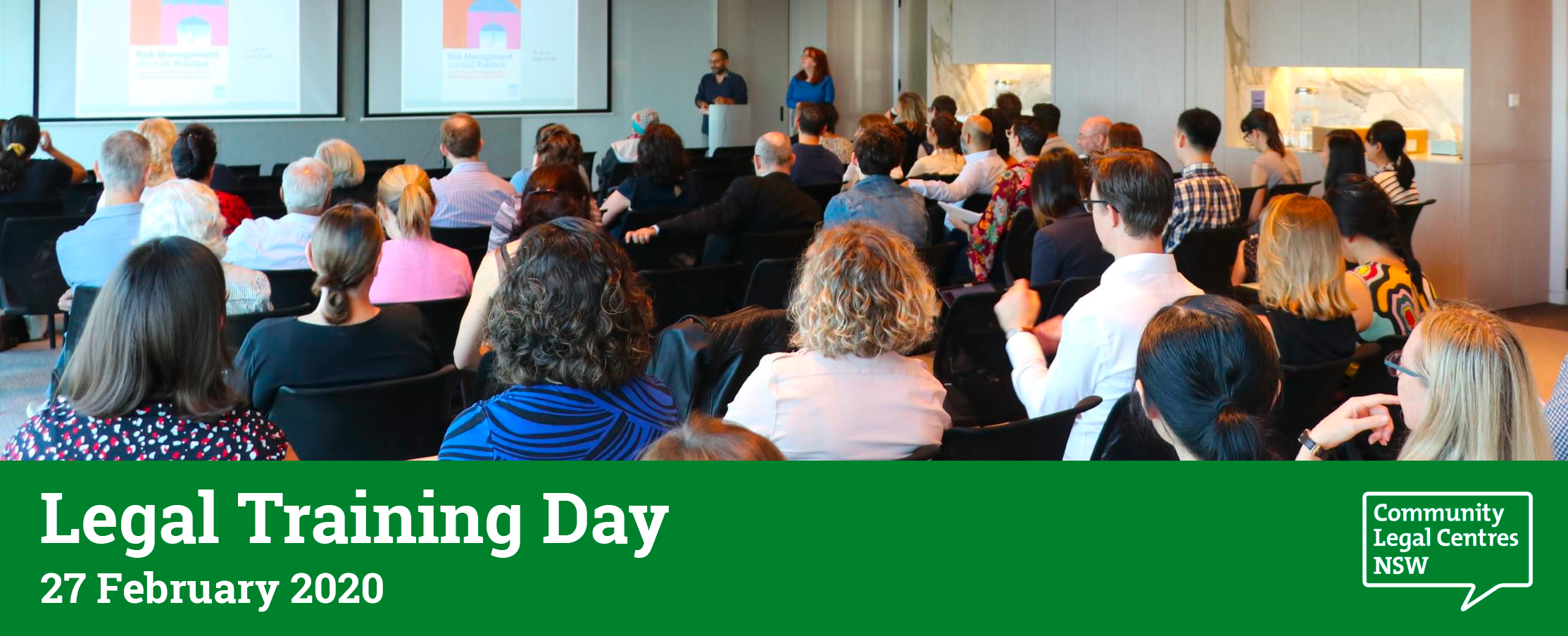 The Legal Training Day is open to staff from Community Legal Centre NSW member centres only as an opportunity for staff to access CPD points*. Please ensure your registration clearly indicates the centre you are associated with to secure your place at the training.
Places are limited and registration is required. Register here.
When:
Thursday, 27 February 2020, 8:30am–4:15pm
Venue:
State Library of NSW,
Macquarie Street, Sydney.
Program

Immigration Law
Ben Lumsdaine
Supervising Principal Solicitor, Refugee Advice and Casework Centre
Ali Motjahedi
Principal Solicitor, Immigration Advice and Rights Centre
An update and review of current Immigration Law and legal cases.
Possible CPD*: Substantive Law.
Strategic Litigation
Michelle Cohen
Principal Solicitor, PIAC
Public Interest Litigation: looking beyond the Big Test Case.
Possible CPD*: Substantive Law; Advocacy.
Disability discrimination, mental health law and more
Ben Fogarty
Barrister, Denham Chambers Law
Ben Fogarty is a barrister at Denham Chambers, with expertise in discrimination law (specialising in disability discrimination), administrative law, criminal law, guardianship and mental health law, employment and industrial relations laws.
Possible CPD*: Substantive Law.
Legal Ethics Panel and Q&A
A panel of Principal Solicitors from the community legal sector share their experience and strategies for managing issues or situations that have challenged ethical obligations and/or professional conduct. There will be an opportunity for an open discussion to further explore shared experiences.
Pip Davis
Assistant Principal Solicitor, Women's Legal Service
Natalie Ross
Principal Solicitor, Welfare Rights Centre.
Possible CPD*: Legal Ethics.
Community Legal Centres NSW indicates whether a session may be appropriate to attract Continuing Professional Development (CPD) points but takes no responsibility if the content does not meet CPD requirements. Sessions are not accredited by the NSW Law Society. Community legal centre solicitors should make their own assessment of whether the session meets their CPD requirements and maintain their own records for meeting CPD requirements. Further information about CPD requirements are available on the Law Society NSW website.