1 February 2019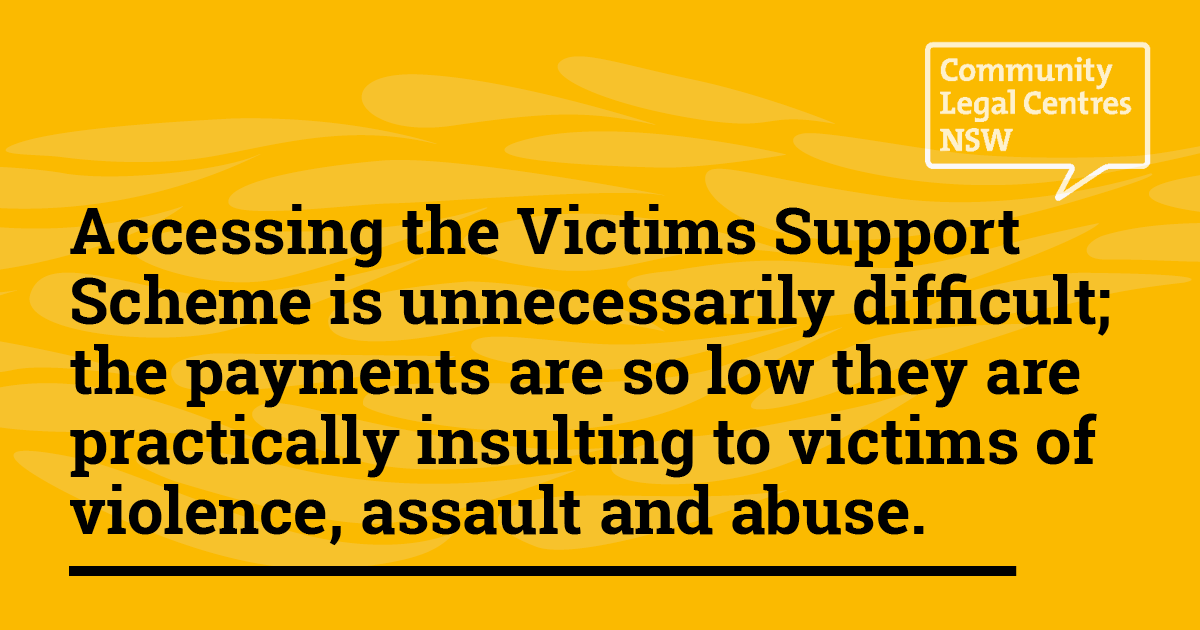 Victims of child abuse, child sexual abuse, sexual assault and domestic violence are being failed by the NSW Victims Support Scheme ('VSS'), which replaced the NSW Victims Compensation scheme ('the old scheme') in June 2013.
Here are some of the key problems with the VSS.
Significantly smaller payments
Victims get significantly smaller payments under the VSS than under the old scheme. Under the old scheme, victims could have received $30,000-$50,000 for chronic and severely disabling psychological injuries sustained as a result of domestic violence. Under the new scheme, victims can only receive a recognition payment of $1,500 and if they can prove grievous bodily harm they are eligible for a recognition payment of $5,000.
Domestic violence victims treated less favourably
Under the new scheme, domestic violence victims are treated much less favourably than victims of one-off physical assaults outside the home. An experience of domestic violence involving multiple assaults over months, years or decades is treated as a single assault.
Strict time limits
Under the VSS, time limits are also much stricter.
No recognition of financial losses
The VSS also does not recognise other financial losses by victims besides actual loss of earnings.
We advocate that there needs to be:
Higher recognition payments that better recognise the pain and suffering experienced by such victims;
Acknowledgement of the cumulative impact of ongoing and continuous violence, assault and abuse. 
Removal of time limits for such victims for all aspects of the scheme; and
Acceptance of wider forms of evidence of an act of violence and injury.
Yvonne (not her real name) has been receiving counselling through the approved counselling scheme. She recently decided that she was ready to apply for compensation in relation to a complex history of emotional and sexual abuse as a child. Throughout her childhood she was exposed to domestic violence and as a child she was sexually abused by a male family friend.
Yvonne suffers from post-traumatic stress disorder, severe anxiety and due to the trauma she experienced has been unable to work. Yvonne has never reported the child sexual abuse to police or any other government agency because as a child she learnt to fear the police and government. She does not want to report to the police or a government agency now, many decades after the event. Under the previous scheme, the Community Legal Centre she contacted may have been able to prove the acts of violence on the basis of statutory declarations and psychological evidence.
Without the stipulated documentary evidence (report to police or government agency plus medical evidence). Yvonne is denied access to financial assistance for economic loss and a recognition payment.
Yifei was in a relationship with William for 5 years. The relationship was violent from the beginning with William constantly subjecting Yifei to verbal and physical abuse at home. Yifei did not report this early abuse to the police or to her doctor as they had a young child together early in the relationship and she felt that the she did not want to split up the family.
On one occasion William was so enraged that Yifei was socializing with old friends that he punched her in the abdomen at home and smashed her mobile phone against a mirror. A neighbor called the police and an apprehended violence order was taken out to protect Yifei. Yifei and William remained together for another 6 months. William began to physically assault Yifei again causing bruising to her face while they were on an interstate holiday. Yifei left the family home with the child shortly afterwards.
Yifei received a Category D recognition payment of $1500. The only injuries she could prove were the bruises that resulted from the incident attended by the police. The assault took place interstate could not be taken into account as it happened outside NSW.