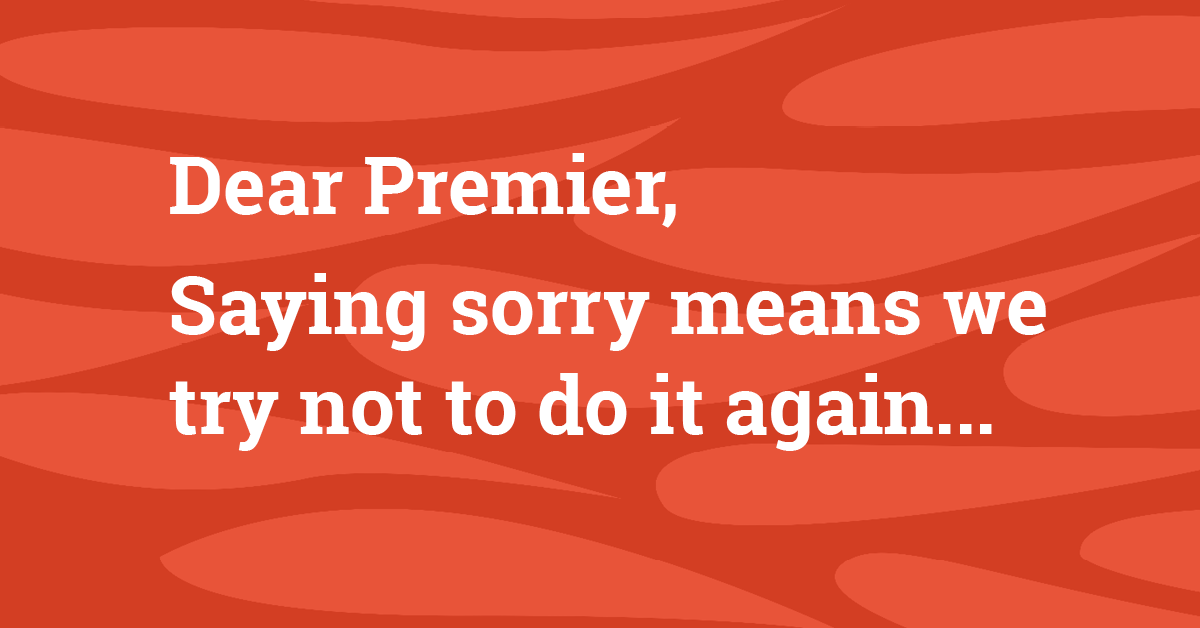 Dear Premier,
We are writing to urge the NSW Government to act in the interests of children and communities in NSW, by turning away from the path of forced adoptions and avoiding the mistakes of the past.
Forced adoptions played a central role in the trauma that led to the National Apologies to Survivors of Institutionalised Child Sexual Abuse, the Forgotten Australians, and the Stolen Generations. It is our collective responsibility to learn from these mistakes and ensure that children are safe and families have the supports they need to be part of creating strong, safe and healthy communities.
Dear Premier,
We are writing to urge the NSW Government to act in the interests of children and communities in NSW, by turning away from the path of forced adoptions and avoiding the mistakes of the past.
Forced adoptions played a central role in the trauma that led to the National Apologies to Survivors of Institutionalised Child Sexual Abuse, the Forgotten Australians, and the Stolen Generations. There was also a specific national apology to victims of forced adoptions in 2013 and a NSW Government apology in 2012. It is our collective responsibility to learn from these mistakes and ensure that children are safe and families have the supports they need to be part of creating strong, safe and healthy communities.
The NSW government is on track to repeat these mistakes, with potentially devastating consequences for children and their communities. The Care and Protection Amendment Bill (2018) is currently being rushed through NSW parliament without genuine input and engagement with Aboriginal communities and other organisations that work with the children and families who will be impacted by these reforms.
Decades of research, and multiple Royal Commissions and inquiries have provided strong recommendations about meeting the needs of children and young people. Reducing the number of children in out of home care requires community development and the provision of early support services that families need when they are going through hard times. The NSW government is ignoring this advice and returning to the failed policy of forced adoptions.
The NSW government is on a dangerous path to ruining lives and tearing families apart. The legacy of these reforms will be another government apology for traumatizing another generation of children. 
We urge the NSW government to put these reforms on hold and engage in genuine dialogue with all stakeholders, including Aboriginal communities and community  organisations supporting children in families in this area. 
Regards,
Organisations
Community Legal Centres NSW

AbSec – NSW Child, Family and Community Peak Aboriginal Corporation

Jumbunna, University of Technology, Sydney

Kinchella Boys Home Aboriginal Corporation

Domestic Violence NSW

Platform Youth Services

Grandmothers Against Removals

Elizabeth Evatt Community Legal Centre

Homelessness NSW

Community Restorative Centre

Animal Defenders Office

Western Sydney Community Legal Centre

Taldumande Youth Services

Immigration Advice & Rights Centre

Mountains Community Resource Network

Western NSW Community Legal Centre

Women's Health NSW

Mid North Coast Community Legal Centre

Binaal Billa Family Violence Prevention Legal Service

Family Inclusion Strategies in the Hunter Inc

Australian Lawyers for Human Rights

Women's Legal Service NSW

Bunjum Aboriginal Corporation

Katungul Aboriginal Corporation

AbCare – Coffs Harbour Aboriginal Community Care Centre Inc.

Burrun Dalai Aboriginal Corporation

Link-Up NSW Aboriginal Corporation

Woomera Aboriginal Corporation

Yindi Community Services

Shoalcoast Community Legal Centre

Australian Services Union NSW

Belong Blue Mountains Community & Neighbourhood Services

Intellectual Disability Rights Service

Redfern Legal Centre

Redfern Youth Connect

Northern Rivers Community Legal Centre

The Women's Cottage

Calm Assist

Carrie's Place Domestic Violence and Homelessness Services Inc.

Hunter Community Legal Centre

Lou's Place

Maari Ma Health Aboriginal Corporation

ANTaR

National Tertiary Education Union NSW

Alliance for Family Preservation and Restoration

Women's Domestic Violence Court Advocacy Services NSW
The Shopfront Youth Legal Centre
The National Justice Project
Kingsford Legal Centre
SNAICC - National Voice for our Children
YWCA Australia
Adoptee Rights Australia
Justice Connect
Baabayn Aboriginal Corporation
No To Violence (NTV)
Soroptimist International
Equality Rights Alliance
ID Know Yourself
Western Sydney Community Legal Centre
Good Shepherd Australia New Zealand
Just Reinvest NSW
National Aboriginal & Torres Strait Islander Legal Services
Public Interest Advocacy Centre (PIAC)
Aboriginal Legal Service NSW/ACT

Armidale ANTaR

People with Disability Australia

Koolyangarra Aboriginal Family Centre - Penrith

Tenants' Union of NSW

NSW Council of Civil Liberties

Southern Youth and Family Services

Grata Fund

Mums4Refugees

Tumut Regional Family Services Inc
Ngaran Goori Pty Ltd 
The Healing House Network 
InterCountry Adoptee Voices (ICAV)
Solidarity
Public Sector Association of NSW
Wirringa Baiya Aboriginal Women's Legal Centre
Individuals
Teresa Libesman, Associate Professor, Law - University of Technology, Sydney
Dr Nicola Ross, Senior Lecturer, Law - University of Newcastle
Maureen McQuillan, Carer
Ali Kim, Community Outreach Officer
Kerry Laws
Eunice Kizmaz, CEO, International League of Women
Patrice Moriarty
Dr Holly Doel-Mackaway. Macquarie University Law School
Marie Hume
Sharon Srarle
Lisa Fawkner, Social Worker, Pittwater Counselling
Shelley Galbraith
Hannah Gillard, Researcher, University of Sydney
Renata, Domestic Violence NSW
Elizabeth Evatt
Monique Dam, Domestic Violence NSW
Roberta Burke
Samantha Marsh, Western Sydney Community Legal Centre
Jodie Bell
Pam Owers
Eileen Haley
Amelia, Social Worker, Legal Aid NSW
Ana Gabriela Laverde, Professionals Australia
Sue O'Connor, Foster Carer
Leona Deveau
Lauren Stinson
Kasey Hilderson
Thea Deakin-Greenwood, Solicitor, Elizabeth Evatt Community Legal Centre
Jessica Bratina, Western Sydney Community Legal Centre
Connie Lin
Katherine Zheng
Glendra Stubbs
Adjunct Professor George Newhouse, Macquarie University
Nathan C Sentance, First Nations Project Officer
Bernadette Wauchope
Rachel Evans, Journalist
Terrance Pritchard, Director, Gun Gula
Amy Thomas, Community Research Fellow, University of Sydney
Joanne Walker, Mental Health Social Worker
David Fagg
Allison
Dinusha Wijesuriya
Chris Woods
Hilary Kincaid, Principal Solicitor, Inner City Legal Centre
Ali Wardill, Cre8tive Solutions
Joanna Alexandris, Support Worker, Kamira Alcohol & Drug Treatment Services
Ainsley Bryant
Sally Fitzpatrick, Research Fellow, Western Sydney University
Robin Banks, Director, Equality Building
Karin Ness, Northern Rivers Community Legal Centre
Paige T, Women's Community Shelters
Brianna Attard
Courtney Bellemore
Ben John, student, University of New South Wales
William Szaraz
Georgia Battin, student, University of Sydney
Andre Bosch
Janet Wilson, Councillor, Kyogle Council
Mick Barrett, Belong Blue Mountains
Kate Sinclair
Linda Ryle, CEO, CALM - Cultural Advocacy & Legal Mediation
Lisa Keith, Community Mum
Russ Hermann
Venetta Lee
Hawa Arya
Anne Yang
Elizabeth De Freitas
Avril Nadin
Elisabeth Baulch
Lynne Pritchard
Agnes McMillan, retired Clinical Psychologist
Megan Williams, Senior Lecturer, University of Technology Sydney
Deanne Dale, Child Protection Social Work Consultant, Social Work Wise
Judy An
Therese Bloxsome
Nicki Elkin
Noeline Bell, Grandparent/Carer
Kate Lee, Foster Carer
Elly Chatfield
Cheryl Henken
Rachel Ulrick
Erin Bell
Kerry Reed-Gilbert, Wiradjuri Elder
Sherie Hulme
James Anderson
Lydia Alexander, Teacher, DEC
Toni Smith, Principal Aboriginal Health Worker, Sydney Local Health District
Amanda Rose, SLSO for Disability and Aboriginal Students, Department of Education NSW
Jen Seyderhelm, Lecturer, AFTRS
Emma Druett
Damiya Hayden
Laurie Matthews, CEO, Caretakers College
Belinda Greentree
Nareen Young, Professor, University of Technology: Jumbunna
Kristy
Elizabeth Smith, Family Day Carer
Jenny Holmes, Case Manager. Lou's Place
Margaret Haumono, Managing Director, Redfern Youth Connect
Sigrid Herring
John and Denise Calligeros
Lisa Roberts, University of Technology Sydney
Charlotte Dent
Steve Byrne
Pagan Kael, Access Sydney Community Transport
Emma Hearne
Pamela Herring, Grandparent
Kirilee Luxford
Elkyrra Glass, Duty Manager, National Centre of Indigenous Excellence
Adrian Doyle, School Chaplain
Lester Lualua
Sharon Youngberry
Cath Dunn, Health Clinician
Donna Ingram
Shini de Silva, National Australia Bank
Ella Parkes-Talbot, Student
Liz Willis
Zoe Miller, Teacher
Sherri Hilario
Anais Menounos, Legal Caseworker
Jessica Chapman
Hannah Davis, Diversity and Inclusion Officer, University of New South Wales
Jade Pyle, Elder Support Coordinator, Blue Mountains Aboriginal Culture and Resource Centre
Katherine Bennett, Program Officer, Aurora Education Foundation
Cheryl Adams
Deborah Peters, Education Support Staff
Dr Sharlene Leroy-Dyer, Program Coordinator - Yapung, University of Newcastle
Raymond Weatherall, Aboriginal Educator, Kildare Rd Medical Centre Blacktown
Bella Mcleod
Joshua
Raymond Weatherall, Educarer, Kildare Road Medical Centre Blacktown
Shian Barket
Jariah Kaissis
Vivienne Martin, Community Worker, Connect Marrickville
Yvonne Olive, Grandparent
Majidi Warda, Department of Education
Kata Japuncic
Jeannette Walsh, Research Associate, University of New South Wales
Linda Taula, Stay-at-home mum
Amy Harper, Youth Counsellor
Breanna Barr
Brendan Wylie, Australian Council of Social Service
K. Kendrigan
Karen Anderson, Wathaurong Aboriginal Cooperative
Lloyd, Early Childhood Educator.
Less Gray
Ruth Ling, School Principal
Georgia Page
Mareese Terare, University of Sydney
Ash Wymarra, Youth Advocate, Weave Community Services
Jayne Christian, Lawyer
Terry Mason, Lecturer, Deakin University
Crystal Hoare
Denzel Jahnke
Renaye O'Brien

Hayley Foster, Director, Women's Domestic Violence Court Advocacy Services NSW

Gwen LaGreca, Foster Carer

Alice Schulz, More Legal

Nicola Clarke, Disability Support Worker

Sacha Street, Student

Anne Junor, Associate Professor, University of New South Wales

Valmai Edwards

Kascha Nicholls

Shauna Ross

Kascha-Lee Nicholls

Shauna Ross

Bev Grant Lipscomb, Nurse/Teacher

Janis Denman

Greg Morris

Barbara McLeod, OoHC Program Manager

Kim Sattler, Domestic Violence Workers, Illawarra Women's Health Centre

Jaime Attard

Leslea Baker, stay-at-home mum

Laura

Robert Connor

Mary Moore, Convenor, Alliance for Family Preservation and Restoration

Sharyn Byrne, Business Services Teacher, TAFE NSW

Olivia Rousset

Suzanne Ross

Danielle Mossman

Toni Symes

John Hartley Karranjal, First Peoples Cultural Foundation

Perkins Lui, Student, University of New South Wales

Leanne Tobin, Teacher, Education TAFE

Maria Losurdo, Manager, The Women's College

Morgan Martin

Leilani McGrath

Emily Fuller

Lynn, Adoptee

Frances Woodridge

Terence Armstrong

Akina Button

Jeanene Booth

Martin Hadfield, Paramedic

Dianne Ussher

Isabel Goolagong

Joanne Howard

Troy Dunn, Case Manager

Bethany Golles

Joanne Faulkner, ARC Future Fellow, Macquarie University

Pan Pemberton

Holly Herring

Merekai Bell

Monique Ferguson, Field Education Coordinator, University of Wollongong

Alison Barnes

Michelle Ah-See, Nanna

Lily Arthur, Director, Origins Support People Affected by Adoption

Brent Reihana

Lou Ellen Cormick

Lynn Crotty, Kinship Carer

Rachel Austin, Student

Anthony C

Shaquille

Bev Henwood, retired Social Worker

Jennifer Swan, Grandmothers Against Removals NSW

Stevie Wilder

Kianey Harland, The Alliance

Louise Brown

Lyn Bevington, Manager, Mountains Outreach Community Service

Sissi Ervasti, Child Carer

Helen Dodds, Aboriginal Embassy Lore and Constitution Office

Taryn, Domestic and Family Violence Specialist, WDVCAS

Kerriann Caelli, Ladingo

Judith Hawkes, Community Development Worker, Mountains Outreach Community Service

Zoe Gross

Lilli Barto, Support and Development Officer, Baabayn Aboriginal Corporation

Alev

Andrew Mason

Rilka Laycock-Walsh

Olivia Cook

Gillian

Francesca Emily Lander-Mcleod, Student, Australian Catholic University

Ella Haber, Youth Worker, The Reach Foundation

Fiona Sutherland

Vanamali Hermans, Student, Australian National University

Maya Eswaran 

Sara Petkantchin

Nina

Jasmine Terwei-Nicholls 

Pasindu Himath Siriniwasa, Student, University of Sydney

Mark Bosch

Katarina, Student, University of Newcastle

Ashwin Thomas

Raymond L. Barto, Jr.

Pola Cohen 

Jade Court-Gold, Disability Support Worker, Hire Up

Paula Farouqi, Care Worker, Australian Unity

Zoe McMillan

Frances Deed

Alison Palmer

Ashton Brenton

Jack Rawlings

Ruby Wawn

Darren Smith

Liam Robinson

Jenny Davidson, CEO, Council of Single Mothers and their Children

Jonathan Moylan

Lawrence

Wendy

Sarah Barron

Liz Snell

Bernice Zhu

Adam Champion

Natalie Gain, Social Worker

Lisa Ashton

Grant Saunders

Alastair Lawrie

Alice Jones Rabbitt

Alec Sassano

Robyn Kapeen, Founder, Gus Aboriginal Services

David Williams, Teacher

Sharon, Surf Camp Coordinator, AST

Jenny

Kylie Charnock

Jolene Doherty

Donna, Nurse

Katharine Cooke

Huon Wilson, Surveyor

Winnie Fu

Mark

Mark Higgins

Nigel Howard

Isabell Collins, Former Director of Victorian Mental Illness Awareness Council

Shankari Nadanachandran

Amanda Mann

Anne Marie Powell

Lesley Mitchell

David A Rourke

Emily Morison

Allanna Smith, Child Advocate

Simeon, The Safari Team

Jasmine Shipp

Rachel Kylee

Mrs Colleen Fuller, Aboriginal Elder

Richelle Leaney

Julie Mcintosh, Personal Carer

Ronelle Goodwin

Debbie Garratt, Executive Director, Pregnancy and Parenting Resource Centre

Lisa Carr

Merilyn O'Neill, Grandparent Advisor

Shaan Peeters

Dr Catherine Lynch JD, Lawyer, Adoptee Rights Australia

Savita Sanderson, ACWA

Justine

Helen Dunstan

Dr Peter Chen

Kylie Paulson

Karren Coles, Foster Carer/Kinship Carer

Dee Iglesias

Peter Capomolla Moore

Dianne, Mother

Melisa Menzel, Director, The Individual Tree

Carolyn, Support Worker, Family Preservation Network

Fiona Cowlin

Linda Bryant, Director, Origins SPSA

Lisa Harvey

Trish Wilkins

Nina Hassall, Nanny

Louise Tattersall, Former Caseworker, Biripi Aboriginal Children's Service

Emerald Dunn Frost

Lila D'souza

Arun Dohle, Director, Against Child Trafficking

Cathy Gill, Teacher

Jessica Chaffey

Priscilla Wightman, Gmar Lismore

Anerleigh Simms

Kirsten Gibbs

Cesarina Fitzgerald, Student, Curtin University

Maggie

Maddison Costello

Kristy Proudlock, Student

Lily Longman, Student

Antony Lewis

Kylie Dowse

Anna Kerr, Principal Solicitor, Feminist Legal Clinic Inc.

Patricia

Andrew Saunders, TAFE NSW

Michael Porter

Amanda Owen

Dr Linda Steele, Senior Lecturer in Law, University of Technology Sydney

Sasha Rose

Sue Booth

Annie Rogers, Executive Director, Sydney Pacifica

Gloria Larman

Stephanie Ng

Carolyn Jones

Michelle, Senior Solicitor, Public Interest Advocacy Centre (PIAC)

Tracey Ashton

Maria Nawaz, Law Reform Solicitor, Kingsford Legal Centre

Lianne Davids, Western NSW Community Legal Centre

Bella Lee Roche, Social Worker

Sue Salthouse, Director, Didactic Enterprises

Spider Redgold

Olivia Dunn Frost

Ballyn Teagle

Christine Robinson, Coordinator, Wirringa Baiya Aboriginal Women's Legal Centre

Teresa Adams

Christine Robinson

Joan Garvan, Manager, Maternal Health and Wellbeing

John Barnett

Sophie Loy-Wilson, Lecturer in Australian History, University of Sydney

Amanda Wilkie, Assistant in Nursing

Drew H

Rebekah Radic

Paul Smyth, Lawyer

Nathan

Lesley Pearse

Caryn

Imogen Brackin

Kim Sedick, CEP. SNAICC - National Voice for our Children

Dolie Ufi, Aboriginal Support Worker, Kildare Road Medical Centre

John Burton, Manager (Social Policy and Research), SNAICC - National Voice for our Children

Rhys Bourke

Vivi Germanos-Kotsounadis OMA

Darelle Duncan

Janice Tangye

Amy Evison, Case Worker, Project Respect

Eva Cox, Adjunct Professor, University of Technology Sydney

Jenna Dunwoodie, Solicitor, Wirringa Baiya Aboriginal Women's Legal Centre

Elly Hull

Vivi Germanos-Kotsounadis OMA, Chairperson, Multicultural Disability Advocacy Association of NSW

Helen Taranto, 

Solicitor, Wirringa Baiya Aboriginal Women's Legal Centre

John R Brodie JP, Counsellor

Justine

Alexander Biscu

Cameron Thornton

Ruby Lew, Student

Lanz Priestley, Homeless Advocate

Christine Gibson, Flinders University

Ellen Godthelp

Terese Edwards, CEO, NCSMC

Marie Coleman AO PSM DUniv, Chair (Social Policy Committee), National Foundation for Australian Women

Storme Burton, ABSEC

Thalia Anthony, Associate Professor, Faculty of Law, University of Technology Sydney

Jessica Shaw, Student, Monash University

Wendy Hermeston, Researcher, Faculty of Law, University of Technology Sydney

Bobbie Trower. Head of Advocacy and Development, YWCA Australia

Lis Tannt

Mel Zahra

Pamela Knox, Grandmother

Elly Hull                      

Vivi Germanos-Kotsounadis, OMA, Chairperson, Multicultural Disability Advocacy Association of NSW

Helen Taranto, Solicitor

John R Brodie JP

Justine            

Alexander Biscu                     

Cameron Thornton                

Ruby Lew, Student     

Lanz Priestley, Homeless Advocate   

Christine Gibson, Project Manager

Ellen Godthelp           

Terese Edwards, CEO, NCSMC

Marie Coleman, AO PSM DUniv, Chair, Social Policy Committee, National Foundation for Australian Women

Storme Burton, ABSEC

Thalia Anthony, Associate Professor, Faculty of Law, UTS

Jessica Shaw, Student

Bobbie Trower, Head of Advocacy and Development, YWCA Australia

Lis Tannt         

Mel Zahra       

Pamela Knox, Grandmother and Business owner     

Sheldon Whittaker, Baker     

Ian Graves, Pensioner

Dylan, Teacher

Kathleen Shirley Owen, Retired Physiotherapist      

Kelton Muir de Moore, Administrate Assistant

Jess Mackay, AIN Aged and Disability Carer

Mattias Branch-Maksvytis, Student  

Elizabeth May, Caseworker, FaCs

Kylie Froome, Social Worker, Continuum Consulting

Emile Westerman, Practice Manager

Grace Johnston                      

Annette Moisy, Accountant  

Katherine Karavelatzis, Cleaning       

Will Edgar, Student    

Cheryl Lavis, Taxation clerk   

Fiona Probyn, Academic        

Kerrie Miller, Retired 

Natalie Moss, Manager, NSW Health

Ashleigh Dyer             

Jed Wolki                   

Lucy Sullivan, Teacher

Annie              

Kelly Barton, Office Manager, Artefact

Vicki Barton               

Egenie Wilondjam, Child, Youth and Family worker, All Care Australia

Cristy Clark, Legal Academic, Southern Cross University School of Law & Justice

Joanne Howard, Carer, Joannehoward1964@hotmail.com

Lorena Weaver, Care Service Employee, Baptistcare

Alexandra Long, Executive Officer, Multicultural Youth Affairs Network NSW

Natalie Johnson, Team leader Aboriginal portfolio, ECAV

Amanda Stephens, Carer       

Sienna Aguilar, Young Women's Advisory Group of the Equality Rights Alliance

Sharon Warman, Service Administrator       

Madelyne Norris, Intern, Westpac

Cathy Gill, Group member, Stop The Intervention Collective Sydney

Janelle Morrissey                   

Lucy McGarry, Research Consultant, Social Compass

Geraldine Menere, Lawyer, Justice Connect

Angel, Early Childhood Educator       

Tiffany Flynn              

Tracey Cook, Admin, Lukes Army Support Sydney NSW

Jacob Cumberland, Admin, Lukes Army Support Sydney NSW

Anna Corbo Crehan               

Michelle Fydryk, Parent of child in out of home care seeking s 90 application

Paul Fydryk, Parent of child in out of home care      

Jesica Varela, Children and Youth Development Officer, Blacktown City Council

Ashley Bates, Volunteer Driver          

Rose Wilson               

Sophie Ervasti            

Joshua Blefari            

Janis B Ryan, Retired Teacher

Will Conly                   

Ngaire Matthews, General Manager, Dunghutti Elders Council

Petrina Reichman                  

Samantha, Teacher

Helen Smith               

David Muir, Clinical Psychologist, NSW Health

Juliette West, Shop Assistant

Lydia               

Jenny Johnson Teacher, Sacred Heart College

Penny Mackieson                  

Shane Blackwell, Trainer assessor, Eip

Laura Box                   

Diana Semaan, LEAP Australia

Jennifer McAuley       

Rosalind Leslie           

Wendy Bryan-Clothier                       

Abby Claridge             

Benjamin De Angel                

Baabayn, Aboriginal Corporation

Lisa Ervasti                 

Sally Mansfield, Music Teacher, Education Queensland

Janika B                      

Kristina Hollestelle, Nelly's Healing Centre, Grandmothers Against Removals

Julie Jones                  

Scott Reichman, Electrician, ETU

Judy Vachon               

Alison Elizabeth Russell Ingram, PhD candidate, Monash University

Joe McDonald Wharfie, CFMMEU

Joanna Scriven                       

Gerald Fisher, Managing Director, Affect

Jose Ballesteros                     

Antonietta Sanfilippo, Teaching Associate, Monash University

Rosalba Paris, Teacher, Filef Sydney

Alice Beauchamp, End forced adoptions      

Michelle Kelly            

Jacynta Krakouer                   

Bianca Campbell, Art Director, Bauer Media

Gabrielle short, h/d, Forgotten Australian Survivors of Institutional and Foster Abuse

Suzanne Davis            

Ken Diacono               

Deb Henry                  

Mandy Henningham, Associate Lecturer, University of Sydney

Lynell Crowther, Victims of Crime advocate 

Glenys Rose               

Carol Maney, Teacher, Education Department

Anna Karavelatzis      

Wafa Chafic               

Renee Ibraim             

Prue Adams               

Matthew Copas, Owner, Snowys Aussie Cleaning

Wendy Antoniou, Retired      

Amanda Middleton                

Lois Longley, Aged Pensioner

Jacky McDonnell, Retired      

Christine Barton, Homebody, Barton Household

Margaret Lee, Retired Social Worker

Ruth Maginness, Community Member         

Sharon Flahive, Home Duties

Rose A Kearney, Mother        

Katherine K    

Marjatta Salonen, Master of Nursing; Paediatric and Neonatal Intensive Care Certificates

Patricia Dolan            

Adrienne Warnock                 

Anne De Rosa            

Te Horanga Waikato              

Rebecca Ghee Paralegal, Legal Aid

Chelsea Brooks, Social Worker          

Leanne Pannowitz, Support Worker 

Yvonne Williamson, Grandparent Carer       

Margaret                                            

Eddie Cubillo, Student , UTS

Jennifer Stone, The Kings Cross Sting

Tracey Wilson, Service Assistant, Target

Jules, Advocate, FPN

Joyce Earnshaw, Retired        

Nicole Sonneman                   

Ellen Bolan                 

Kylie O'Gorman                      

Jim O'Gorman, Grandfather  

Catherine Chalk                     

Dawn MacMillan                    

Alia Bjad, Student, University of New South Wales

Helen Dunstan , Broadway-Glebe Catholic Social Justice

Maggie Hall, Lecturer, Western Sydney University

Lisa Torpey, Teacher  

Allison Copas, Consultant, M Global / Jamberry

Ariana Grabrovaz, Postgrad, UNSW

Linda Clancy, Disability Support Worker       

Sara Rosenman, Freelance

Janet McDonald, General manager, Carrie's Place Domestic Violence & Homelessness Services Inc.

Margaret Walker, Home duties         

Linda McDonald, HIPPY Coordinator, Aboriginal CatholicCare Social Services

Mandy Williamson, Adoptee Assist Facilitator, Self-funded

Emma Carstens, Yoga Teacher          

Marney Macdonald, Alecomm          

Brittany Wood           

Simon, Clubs and Projects Officer, NUSA

Andrew Puckeridge

Emma Dorge, Midwife           

Kristy Bell                   

Rhomany Rayment                

Sue Rauchle               

Shelley Aquilina                     

Kate Lithgow, Teacher           

Jan Tree, Exercise Consultant, City of Greater Geelong

Sol Libesman, PhD candidate, University Class Tutor , UNSW

Lesley Strickland, AOD & Mental Health Counsellor, Marrin Weejai Aboriginal Corporation

Gloria Larman, CEO, Women's Justice Network

Peggy Morgan, French teacher         

Jesmine Coromandel, Safety Action Meeting Coordinator, Riverina Women's Domestic Violence Court Advocacy Service

Johneen Graham                   

Cheryl Jackson, Coordinator Aboriginal Family Planning Circle, Marrin Weejai Aboriginal Corporation

Khoa Tran, Marrin Weejali Aboriginal Corporation

Catherine Dennis, Counsellor, Marrin Weejai Aboriginal Corporation

Shannon Richardson              

Robert Gorodn, Social and Emotional Counsellor, Marrin Weejai Aboriginal Corporation 

Janell Cockburn                      

Lauren Weinstein, Principal, The Australian Centre for Social Innovation

Lakkari Pitt                 

Catherine Limon, Welfare worker     

Ingrid Rikkert, Regional Accreditation Coordinator, Community Legal Centres NSW

David West                

Susan Hamilton, Psychotherapist      

Lauren Anseline                     

Jillian Salz, Retired Community Development Worker         

Danielle Heskin, Student of Community Services, Strategix

Jazleen, Student, QUT

Tony Wright               

Josephine Morgan nee Pickett                      

Rose Mcrory, Community Education, Cairns Regional Domestic Violence Service, CRDVS

Helena            

Clare Lienesch            

M Fielding, AIEO        

Gemma Evans            

Robyn Read, Retired  

Patty Hansen, Grandmother, Family Forward Foundation

Ash Jepson, Student  

Graham Barr, Training Services Manager, ACWA/CCWT

Gabrielle Bishop

Tangi Tawa, Mother

Karen Lizasoain, Family Support Worker

Katherine Gribble, National Representative Australia, Soroptimist International

Natalie, Advancement Manager,

University of Technology Sydney

Rodney Gale, AOD and SEWB counsellor,

Marrin Weejali Aboriginal Corporation

Brett Moran, Mental Health Support Worker,

Marrin Weejali Aboriginal Corporation

Gemma MacMillan, Program Manager, Luna

Naomi Smith, Volunteer Admin, Baabayn Aboriginal Corporation

Vicki Lennon

Ailsa Piper, Freelance Writer

Catrina Sturmberg, Physiotherapist

Gemma F

Carolyn Moreno

Mark Douglas Hartley, Consultant

Loretta, Artist Counsellor

Monica, Mother

Shannon Day, Student

Rose Dooley, Disability Support Worker, Hire Up

Shae-Tennelle Mumford, Support Worker, Hire Up

Rhiannon Leskiewicz

Shelby L Allred, Nurse Aide

Angeliou Scerri

Natalie

Corinna Nowland

Kerry Rauchle, Team Leader, ATO

Nathan McMillan

Ann Maree Puckeridge

Emma Wooldridge

Erin Snelgrove

Hannah Gissane, Project Coordinator, Equality Rights Alliance

Rhonda Balzan Bastow, Teacher

Jasmine

Laurel Briggs, Mother and foster carer

Marion Donovan, Aged Care Support

Julian Cleary

Liam D

Lynda Lee, Retired Pension

Daniel McKinley

Ben Harper, Carer

Owen Hooper

Anna Livsey

Alison Whittaker, Research Fellow, Jumbunna Institute

Tarni Tompos

Isaiah Llewellyn Dawe, Founder, ID Know Yourself

Mikayla, Early childhood educator

Bea Bleile

Dominie Kelly

Melanie Melilian

Georgia Pekin, AEU VIC

Alec Mallia

Billie Henderson

Aaliyah Maharaj

Kahlia Mumbler

Clementine Griffin

Anne Parbury

Rhonda Ryan, Aboriginal Specialist Trauma Councillor

Jameelah Naven

Veronica Coffey

David Ross

Diana Eades

Leah Cruickshank, Coordinator, Western Sydney CLC

Kristie Osborne

Huyen Hac Tran

Chloe Quayle

Ellen O'Brien, UTS

Coral Gibbs Toomey, Domestic Worker and Carer, Self employed

Lily Shearer, Cultural Arts Leader, Moogahlin Performing Arts

Wendy Hawkes, Communications Officer, Arts OutWest

Sahra Hawkins, Receptionist/Community Support Worker, Marrin Weejali Aboriginal Corporation

Paula Tennent, Student, Conservatorium High School

Annie Pettitt, General Manager, Advocacy and Strategic Partnerships, Good Shepherd Australia New Zealand

Sandra Pearce

Sahra Hawkins

Lynda Andrews, DFV Statewide Educator, NSW Health Education Centre Against Violence

Olivia Campbell

Beryl Smith

Sarah Yiannoutsos

Jamie Burns

MeeWun Lee, Family Dispute Resolution Practitioner

Isabelle Reinecke, Executive Director, Grata Fund

Jarod Kingston-Brown, Teacher

Carly

Elizabeth Hunter

Alice Scott-Wells, Primary Teacher

Warren Maurer

Karen Maber

Bianca L Jones, Environmental Science Student, SCU

Dora Magana, Mother

Kathrine Reynolds-Addo, Aboriginal Education Support Officer, TAFE NSW

Judith Ewer

Craig Osmond, Casual Academic, University of New England

Joanne Camilleri, Admin, NCNS

Daniel Craig Sengstock

Monia, Customer Service

Stephanie, Student, UNSW

Alexa Slater, Nutritionist, Marrickville Wholistic Health

Kathleen O'Connor, Play Therapist

June Wilson, Executive Officer

Nadya

Alison (Stella) Topaz, Sexual Health Nurse/Bodyworker

Rachael Hannan, Counsellor

Melinda Bonham, Team Leader, Marrin Weejali Aboriginal Corporation

Kristin Wilson, Care Worker, Australian Unity

Casey, Registered Nurse

June Lennon

Gemma Trevorrow

Katie Schaefer

Kaela Hill

Emma Baxter, Manager, Resourcing Inclusive Communities

Marie Flood

Taliya-via Tuiono, Ability Linker, Kinchela Boys Home Aboriginal Corporation

Shannon Anima

Peter White, Chairman, Wiradjuri Culture and Environmental Rangers

Lindy Robb

Jennifer Swan, Grandmother's Against Removals

Ray Goodlass, Retired

Britney Cook, OOHC Caseworker, Wandiyali

Jacqueline Dutton

Ellen

Sally-Anne Hurley

Ben Garber, Clinical Psychologist

Nancy Barton, DPS Black Hills Works

Jane Grant

Elvira Walsh, Trainor and Assessor

Allison Wright

Editha A. Planes, Case Manager, Mission Australia

Natasha Brunhuber

Kim Collins, Senior Administrator, The Healing Foundation

Shiffi Blustein

Michael Coan

Megan Weier, Research Associate, UNSW

Tamika Morgan

Jonathan Jones

Elizabeth R

Isabella Johnstone, Community Support Worker, The Haymarket Centre

Tanya Sinha, University of Queensland

Tahlia Palmer, Student, Murdoch University

Loretta Brunhuber

Byron Brunhuber

Gabrielle Hodgson

Johanna Reid, Transcriptionist, Rapid Type

Tahlia

Jacinta Parmeter, Teacher

Haley Papasavvas, Waitress

Jennifer Balaam, Retired Teacher, NSW Education Department

Elizabeth O'Hara

Cass

Jessica Tosh

Megan Wilson

Jacqui Thorburn

Monique Filet

Brenden Willis

Laura Harris, Paediatric Occupational Therapist

Justin Garber, Neurologist

Richard Weston, CEO, The Healing Foundation

Ros, Carer

Jason Lovett

Helen Evans

Deb McCarthy, Pensioner

Madeline Dell, social work student

Marynne Barry

Dr Wendy LeBlanc, Northern Links NSW

Mick

Alana West, PHD candidate

Judith Murray

Lauren Ironmonger

Tamina Pitt

Ana Gabriela Laverde, unionist, APESMA

Louise Greenwood, Physiotherapist

Brooke Greenwood, Solicitor, PIAC

Paul Dutton, Indigenous Engagement Consultant, NORTEC

Joanne Preece

Paul

Josephine Mills

Margaret Sky
Rebecca Stpehenson, Mother
Kellie Vale
Allan Ricci
Junior Time, Client Service Specialist
Steve Riethoff, Director, Reservoir Network
Claire G. Coleman, Author
Jacqueline Wiley, Mum
Ann Bishop, Retired
G. Borady
Nancy Williams
Lisa Langman
Omar Sakr, Poet & Doctoral candidate
Karen Lawler
Philip Martin
Kain Von
Mira Schlosberg
Josephine Bailey
Eddie M
Simon Jackson, songwriter
John Pike
Emma Kersey
Warren Wilson
Alex Strapa
Taliessin Clark
Eugenie Thorn, teacher
Catherine Frieman
Daryl
Danika Hadgraft
Anna Denejkina, Academic
Chris Woods, journalist
Patrick McMahon
Maria Hayes
Mardi Free
Kate Mildenhall
Keren Lavelle
Fiona, paralegal
Suzanne McMaster
Lisa van den Berg
Angela Lee
Jannine Graham
Larissa Lima-Smith
Shane Laing, disability support worker
Stephen Wright
Alex Summerfield
Marina, Educational Agent
Lee Abrey, Author
Kat Sherwin
Sarah Holloway
Ros
Sam Dyson
Chris
John Cooper, retired
Jenny O'Mara
Marion Bryant
PINKY, internet personality
Sharyn Hall
Wendy rhodes
Amy Mahoney
Ty Quinn
Therese June O'Donnell
Wendy Collins, homemaker
Tracey L. Baglin, Creative Director, Level Playing Field graphic design
Jason Zwoerner
Catherine Dart
Luke Hitch
Robert Sullivan
Kraina
Gabrielle Carey
Narelle Cuickshank
Mark Riboldi
Peter Simpson, PCA
Dan Andrews, technologist
Joyce O'Brien
Ali Drummond
Sean Wagenaar
Olski
Eleanor Carless, teacher
Zav Ostrowski
Kay Orchison, artist
Emma Barrett, ECT
David James
Peter Faull
Imogen Bunting, student
Prudence Wawn, former teacher
Valmai Mulhall
David Kehoe
Helen TyackDr Sofia Bartlett, Adjunct Associate Lecturer, UNSW
Gigi Liu
Chloe Sutcliffe
Janine Symons, Architect
Pauline Ventuna
Angela Gates
Hayley Cleary
Tamara Grant
Paul Gray
Narelle, Teacher
Natasha Newell
Jasmyn Sheppard
Katherine Collins, Executive Assistant to CEO, Ability Options
Sheri Davis-Hall
Kimberley Crofts
Ella Parkes-Talbot, student
David Romeo
Emma Hale, out of home care investigator
Roze, social worker
Indica Flower, UNE student
Robyn Dyhr
Susan Steel
Jed Wolki
Daryl Max Gibson
Cyndi Tebbel
Darcel Russell
Kylie Robinson
Kalee Cook
Suz Omundsen
Glenn Taylor
NSW Labor Shadow FACS Minister Tania Mihailuk
Greens NSW Justice Spokesperson David Shoebridge
Catherine Burke
Jodie, business development manager
Suzanne Redman
Tanya Mukerjee
Lindsay Gonano
Amrita Tarr
Jennifer Hussy
Michael Jumpertz
Zoya Bibay, Library Technician
Hugh Bunks
Rebecca Spong
Zack
Skieanne Whitton
Anne Shelley
Gary Groeneweg
Ava Duncan, florist
Toni Taylor, early child educator
Vivien Atherton
Melinda Mann, Deputy Director, Student Life and Wellbeing
Jade Nichols, mother of a child in care
Valerie Kennedy
Lee Walton, taxi driver
David Bruce
James Eoghan Roberts
Sue McGorlick

Lisa Prospektiba

James Radford

L. Woolford

Phoebe Wilson-Lee

Brenda Kellaway, Teacher

Robert Maxwell

Stephen Jones

Meg Dunley

Michael Andrew

Katrina Boyle

Elizabeth McMinn, Community Development Worker

Kit Herma, Disability Support Worker

Warren Gibson

Rebecca

Mahalia Williams, young Aboriginal mother

Graham Nicholls

Luke

Marie Scholes

Gabrielle Andrews, stay-at-home mum and carer

Klaus Frohlich

Anna Eves

Jeremy Vassallo

Evonne Dunne

John

Crystal-Lee Summer Madden

Tim Chambers

Jennifer Green, Academic

Andrew Le Roy

Elizabeth Marr

Jennifer Wilson

Leandra Ford

Adrian Cobb

Henry Pawlaczyk

Chris Ogilvie

Ewen Bell

Ash Lenton

Kim Davison, Executive Director

Pauly Be, Advocate

Patricia Shumack, Retired Health Worker

Lindy Saville, Owner/Operator

Daniel Jones

Amanda Simpson

Bob McDougall

Georgia Rhodes

Allie

Ashley Purkiss

Kaye

Andrew Aiden

Bindimu

Tessa Randles

Lynne Halpin

Kerry Klimm

Christine Dalas

Rhonda Shaw

Jamie Rylance, Teacher

Karen Dool, Social Worker

Maryanne Lia

Ann McKinnon-Baker

Miriam Gregory

David Swords

Vikki King

Lyn Bender, Psychologist

Etienne Flory

Meagan Edwards

Andrew Gregory

Michele Scarcella, Aboriginal Health Management Advisor

Susan Knowles

Gerri Donaldson

Michael Mackenzie-Shreenan, CEO

William Ives, Student

Penny Smits

Kimberley Mackenzie, Solicitor

Brian Jones

Janine Roberts, CEO

Hala Kurban, Social Worker

Robin Evans Dinh

Andrew White, Registered Nurse

Chris Lovelee

Kylie Taylor

Shaye Harding

Nicholas Higgins

Vesna Boglev

Sharon Ung

Rowan Hethey

David Smith, Teacher

Miree Le Roy

Kirsten Gray, Research Fellow

Kate Sullivan

Chantelle King

Aleks Rinon, Student

E. Hendriks

James Lightowler, HR Manager

Nikki Page

Kristy Bell, Doctor

Catherine Greenhill, Associate Professor in Mathematics

Erik van Keulen

Katie Price, Academic

Jag Bola

Robyn Dunphy, Founder, Limberation

Faith March, Director

Peter Hodgson

John Paterson

Tony Ansell

Danya Luo

Tymeka O'Kane, Mother

Frances Wilmore

Beryl Smith

Jodie Roberts, Medical Receptionist

Elizabeth Conroy

Karen Dyhrberg

Daniel Robinson, Student

Jack Collard, Student

Narelle McKie, Teacher

Pattie Hobbs

Pam McPherson

Stefanie Flowers, Student

Kevin Shillingsworth

Kim Taylor, Mother

Vincent O'Donnell, Retired Social Worker

Robin Goldwasser, Adoptee

Eleanor Trinchera

Diane Cachia

Rebecca Fowler, Aged Care Worker MSC

Shanna Robinson, Academic

Harold Hodson

Nancy Langham-Hooper

Stuart Tomlinson

Donna

Greg Andrew

Nareen Young, Professor, University of Technology Sydney

Sue Dodd

Chantelle King

Kathryn Barton, Journalist

Rachel Foster, Manager, Boorndawan Willam Aboriginal Healing Service

Peter Sinclair

Helen Potts

Amanda Walsh, Registered Nurse

Alex Cain

Peter Buchanan

Pip Byrne

Mel Ewart, Specialist Counsellor 

Amy Focic

Mark Asser

Alexander Rendel, Lawyer

Celia Karpfen

Neil, Community Development

Laurie Wall

Kirke Godfrey

Tracey Kennedy

Kassandra Hall, Educator

S. Pathirage

Kelly Tubb

Barbara Lowning               

Catherine McCredie

Gabrielle Herbert, Senior Analyst

Kylie Holmes, Social Worker and Mother

Caroline Falshaw

Michelle Fiedler, Caseworker

Stephen Wootten

Rachael Werner

Steven Penrose

Don King

Lisa Morgan

Bronwen Hodges

Pat Orr

Kristy Bowman, Nurse

Simone Stafford

Shannon Speechley, Counsellor

Roslyn Jackson, Counsellor and DV Specialist

Catherine Dennis, Coumsellor

Michael Lanigan

Marilyn Richards

Brian Iselin

Fiona Shelley

Anahita de Kretser, Registered Nurse

Valerie Kay

Russell Hopkinson

Tracey Ellis

Dr Louise Boon-Kuo, University of Sydney Law School

Pauline Carr

Rhonda

Talia

Gerald Mellor

Joy Impiombato, Managing Director, Nepean Community & Neighbourhood Services

Jahan Tyson

Robynne Burchell

Mari Kain

Kathy Bannister, Australian Red Cross

Julie Cook, Student

Shane Brown, Community Consultant

Rodney Matthews, Nepean Community & Neighbourhood Services

Dr Susan Green, Psychologist

Julie-Anne Collins, Nepean Community & Neighbourhood Services

Erika Aligno, Inner City Legal Centre

Bridget Oag

Rodney Matthews, Nepean Community & Neighbourhood Services

Michelle Wood

Catherine Knight

Kathie Chappell

Douglas McCloskey, Policy Officer, Public Interest Advocacy Centre

Maddy Humphreys, Public Interest Advocacy Centre

Michael Higgins

Yasmeen Kotb, Social Worker

Lucy Kaldor

Ali Jane Smith

Rudolf Holwerda, Marrin Weejali

Harry Knowles

Raema Behrendt

Emily Valentine Bullock

Eloise Grills, MacKillop Family Services

Jola, Student

Adele Perovic

Jo Lewis

Susan Olson

Rachael

Armidale ANTaR

Jade

Azlan Martin

C&A Fowler

Simone Bingham, Education Consultant

Janice Yeung, Tenants' Advocate, Marrickville Legal Centre

Skye Taylor-Aaron, Library Assistant

Beck

Anne de Smet

Raylene Weldon, Aboriginal Education Officer

Lisa Godwin

Carolien Pinxt

Rick Hoyle-Mills

Elissa Nguyen

Kayla

Kaley Freeman

Matthew Avard

Janine White, Nurse

Evangelia Bahas

Erika Langham

Patricia Hansen, Solicitor, Hansen Legal

Alice Gifford, Broadcaster

Karan Boseley

Sarah Vanderfield

Amanda Hutton

Louise Brown

Katelyn Jones

Kirra Hampson

Brendan

James Elhindi

Garry Ryan, Teacher's Aide

Jordan Kettle

Ben Murdoch

Abbie Harman

Melissa Cox

Laura Jones

Sarah Bergmann

Madeline Lucre, Student

Meeghan Oliver, Legal Research Specialist, Dentons

Charlotte Robinson, Student

Ray

Michaela Vaughan, Legal Services, Supreme Court of the Northern Territory

Clara, Teacher

Nadine Krejci

Prateek Shorey, Student, University of New South Wales

Jenna Sten, Finance Coordinator

Caroline Hartley

Jennifer Davies, Teacher

Jannene Hartman, St George Family Support Services

Claudia Armiger, Paralegal

Elena Sheard, Tutor, University of Sydney

Ruby King

Megan Lutton

Alison Vaughan

Kathleen

Alec Scott

Siobhan Daysh, Corporate Affairs Advisor

Elsa Tuet-Rosenberg, Social Work Student

Elizabeth O'Hara, New England Greens

Samar Abdo

Paris

Chloe Duncan

Jane, Choral Conductor

Manon

Laura Wigzell, Student

Laura Thomas

Jasmin H., Personal Trainer

Gaynor McGrath

Caitlin James

Tess Gifford

Lara Smal

Helen Murti

Lauren Beatty, Law Student

Caitlin Liddle

Melanie Cooke, Clinical Psychologist

Kieran Butler

Rhiannon Derrig, Research Assistant, University of Technology Sydney

Emily Mercurio

Jasmine White

Taree Caldwell-Thorpe, Canteen hand

Alyssa Pearce

Christina Gordon

Ann Pryosusilo, Retired Teacher

Joel Murray

Julian Smith

Justyna Stanczew

Jessica MacDonald

Nicole Crotty

Marney Phillips

Megan Rapeport, Student

Hettie Lynch

Adele

Emma Davies

Nicole Saunders

Lauren

Ruby Rowat

Stacey

Christopher James Walker, Carer for Out-of-Home Care

Simone, Early Childhood Educator

Indigo Dunphy-Smith

Amber, Anthony Brown Psychology

Heron Robinson

Chloe Williams

Elena Macdonald

Jessica Shen, Postgraduate Student

Lydia Jupp

Louise Clark

Megan Ridgeway, Family Support Worker

Razel Foster

Sharon Domingue

Brooke

Tamzin Stewart

Zoe Blome, Aftercare

Ruth Bell

Jade O'Brien

Rebecca

Sophie Rickard

Zoe Hinton

Leila Kint

Michelle Pipino

Ross Eldridge, Occupational Therapy Assistant

Erika E. Brinsmead, Case Manager. Iccare

Vasiliki Franco-Klothos

Georgie Proud

Sarah

Alexandra

Eden Smith, Student

Stephanie Rickard

Van Badham, Columnist, Guardian Australia

Bridget Thurn, Student

Claire Fletcher

Emma Sydes

Rachel

Natalie Yabuka, Bookshop Manager

Stephen lynch

Tessa Sparks

Noely Neate

Phil Jenkin

Ben Baker, Public Servant

Michelle Xu, Student

Marion Trabe

Catherine Jensen

Jacqueline Kelso, Library Assistant

Jessica Buchanan

Diana Lyons

Karen Wellington

Maggie Fechtel, Student

Druscilla Morgan

Kate Krueger

Daisy Gibbs

Isabella Saunders, Researcher, Centre for Social Impact

Alina Olivares-Panucci

Indiana Kortegast, Student

Susan Gubbins

Alex Vondra

Ian Power Lawrence

Nick Schwanck

Julie Leitl

Nicole Robinson

Angela Thompson

Sophie Corbett, Australian Childhood Trauma Group

James Ferguson

Stephen Mitchell

Margaret Opie

Jeff

Michelle Lin

Tina Ramsdell, Single Mother

Emily Duncan

Maddison Marano

Chelsea

Rachael McTaggart

Jonathan Hochman

Kate Murphy

Finola Lynch

Simon Martinus

Jennifer Matthews, Registered Nurse

Ben Kreunen

Earth Waratah

Daphne

Mel Paku

Riley Stradling

Robyn Lynette

Stephanie Gibson

Benjamin Turnberg

Hannah White

Carol Adams

Claudia Crowther

Chloe Genion, Primary Teacher

Elaine Talbert, Retired Teacher

Georgina Zyka

Marie Navara

Sara Brentnall

Laura Cashman

Crystal-Lee Chipperfield

Katerina Lagan

Daniel A. Smith

Chris Shortt, Bush Regenerator

J. M. Melville

Leggett Joe

Hannah Fordham

Kate Greenaway

Richard Williams, Civil Construction

Matt

Sarah Bruce

Ako Schwenke

Luke Bodley, Communications Officer, University of Sydney

Christopher White

Lynn Crotty, Kinship carer / foster carer

Deni Sevenoaks

Leila Normoyle

Eliza Lester

Andrew Gregory

Christina Wright, Social Worker

Robert Harcourt

Nell Feneck

Cara Whelan

Anna Birch

Brian Patrick Cleary

Sarah Fird

Esmeralda Herrera

Elizabeth Maxwell

Simone Flanagan

Charles Warda

Amelia Coutts, Legal Project Manager

Aine

Lou

Tanya Sobiesiak

Alison Raco, Interpreter

K. Bloomfield, Pilates Instructor

Michelle Saleeba, Counsellor

Jessica Stott, Violence Prevention Project Coordinator, WIRE

Isobel, Lawyer

Madeleine Holmes

Jennifer Tomlinson

Michele Thomas

Warren Ramsay

Micheal Broadhurst

Miriam Wicks-Wilson

Belinda Hodgkins

Megan Brown, Registered Nurse

Sue Bate

Sean Pieper, Teacher

Tess Manolis

Louise Watsford, UNHCR

Susan Lorraine Maclean, Social Worker

Rhyll Tonge

Terence Armstrong

Aisyah Sumito

Rani Lyons

Richard

Katrina Blow, Carer

Sophie Priebbenow

Bekki Spratford, Nursing Assistant

Rebecca Loader

Carol Page

Rebecca Thornley, Social Work Student, University of New South Wales

Brooke

Laura La Rosa

Brett Cole

Ingrid Vaughan

Laura Stephens

Vicki Tiernan

Jacilda Refalo

Alyson Gale, Family Lawyer

Cin Webb, Small Business Owner

Felix Ratcliff

Olympia Maselos, Student

Rory J. Cole, Editor

Madeline Ridgeway-Clarke

Jessica Kay

Adam Sundin

Joanna Williams

Rochelle, Registered Nurse

Lynne Brundle

Scarlett Thorby-Lister

Marcus Whale

Bronwyn Haller

Zoe Matthews

Alexandra Jonscher

Jill Walker

Lisa Kelly

Susan York

Kathy Vickers

Catherine Delaney, Nanny

Julie Briggs, Economic Development Officer, Narrandera Shire

Davina Italiano

David Brown

Cristian Jimenez

Lola Jennings-Edquist

Eleanor Bonanno

Nicole, Disability Support Carer

Renee McNab

Frederick Tebbutt

Belinda McColl

Luke Cracknell

Toni Said

Ashley Crow

Kristin Burton

Alyce Fox

Shaun Organ

Peta Thames

Simon Sherry

Jasmin Kang, Consultant, Ernst & Young

Rhonda Debney

Sharon Gruenert

Jess

Rosalind Gillespie

Phil Long

Kate Berry

Caitie Gutierrez

Leah Boyd, Mother

Lisa Hanssens

Martha Kleist, Social Worker

Natarsha Lee Wrensted, Dramatherapist, Open Doors Youth Centre

Emma Pearl Trindall

Tenille Rogers

Michael Borusiewicz, Founder, Luke's Army

Amber Loomis

Simon Kumar

Kaija

Shellie Williams

Rachael

Alanah

Sam Crosby, Educator and Community Consultant

Rose Wilson

Milly Haddrick, Journalist, Pacific Magazines

Rachel Fitzpatrick

Jennifer Ford

Julie McCarthy, Librarian, University of New England

Aaron Lucas

Josh

Alison Dolek

Evan Hughes

Matt W.

Simone

Angela Hale

Karla Muir

Myalla Weazel

Dora Koops

Sheila, Social Services

Pauline Hammett

Craig Shortie Llewellyn Sutton

Anna Heldorf

Caitlin Bambridge, Policy & Research Officer

Harrison Sarasola

Marcus Knight

Kati Ohmeyer

Stuart Christie

Kellie Vella, Researcher, Queensland University of Technology

Renee Baxter

Ley Edgecombe

Toni Grange

Sheridan Burnett

Ashley

Sarah Ratcliffe, Researcher, University of New South Wales

Paras Christou, Community Development Officer, Local Government

Jan Idle

Danielle

Cerys Drennan

Katherine van Ekert

Tameka, Child Carer

Rebecca Charlton

Nicholas Reader, Phillip Boyle & Associates

Bethany Moore, Victorian Convenor, Australian Lawyers for Human Rights

Jean Hagan

Linsey Hart

Christina

Natasha Greenwood

Senator Mehreen Faruqi, Greens Senator for New South Wales

Jessica Bradley

Margaret Scott, Consultant

Sophie Alder

Suzie Gold

Dean Price

Chris Gentle

Pat Schultz, Mental Health Case Worker

Tyr Quinlivan-Scurr

Patrice Moriarty

Cheyenne Russell

Shananther Wong

Vanessa Sim

Jane, Youth Advocate

Hannahj Weeramanthri

Mia Kidis

Monique Harvey, Associate Producer, Djuki Mala

Simone O'Brien, Director, SeedArts Australia

Thomas Martin, Swimming Tutor

Sharni Chan

Alexander Watson

Brett R. Paine Esq.

Jessica Mudditt, Journalist

Mirjam Haffer

Eleanor Malbon, Research Fellow

Ana Boado

Jesmine Coromandel, Linking Communities Network

Anne Robinson, Social Worker, Family Referral Service

Leanne Stevens

Catherine Bessant

Hannah Macklin

Sarah Priestley, Coordinator, Central West Women's Domestic Violence Court Advocacy Service

Claire Parfitt, PhD candidate, University of Sydney

Katherine Moten

Angie Deloraine

James Kelvy

Angella Hill, Family Partnership Coordinator, The Smith Family

Michael Swan

Marianne Wiseman

Richard Tamplenizza

Grace Walshe

Siobhan Hannan

Simon Gregg

Andrea Elliott

Sarah Greenwood

Lauren Brannigan-Onato

Emily Daenell, Mental Health Support Coordinator

Timothy Gray

Gavin Boyd

Ruth Macklin

Annabel Anderson, Student, Macquarie University

Laurie Ormond

Hudson Whitlock

Jacqueline Withers, Student

Jemma Hollonds

Harley Barnes-Roos

Kristin Berardi

Elena Gomez

Kelly Bevan

Tessa Marsden, Student

Yusuke Akai, Darebin City Council

Amy Williamson

Mehna

Jamil Zacharia

Milan Milov

Jaimee

Shan Kornfeld

Megan Russell

Terese McHugh, Isaac Regional Council

Geoff Walker, Student, University of New England

Kate Green, Youth Support Worker

Brooke Morley, Case Manager

Tneka Springett

Andrew

K. J. Webster

Saba

Sarah Parker, Mother/Carer

Karen, Health Worker, NSW Health

Daryl Max Gibson

Caitlin H.

Sally Grimsley-Ballard

Lily Munroe

Robyn Degotardi

Erika Marshall

Nick Carey, Law Student, University of New South Wales

Asha Roberts

Maeve Scannell, Librarian, Darebin Libraries

Lara Jash, Student, Western Sydney University

Tim

Kelly Gadd, Early Childhood Development Worker, Tharawal Aboriginal Corporation

Maru Nitor

Michael Forrester, Student

Emily Benck

Gyorgy Bernard

Amity Lynch

Lisa Crump

Christine Sukkar, Youth Worker

Kathryn Ardler, Kinship Carer

Lefa Singleton Norton

Miriam Catherine Greenwood

Renay Tregellas

Rob Wilson, Professor of Philosophy, La Trobe University

Kitty

Diane

Patricia Hooker

Kia Walker, Melbourne University

Darren Jones

Keira Vincent

Valerie Russell, NSW Health

Janine Neden, Teacher

Skye, Stay-at-Home Mum

Jordan

Nina von Stebut, HR Manager

Renee Thomson

Emily O'Driscoll, Student, University of Wollongong

Camilla Strand

Alice Tims

Vanessa Pagett, Professional Development Officer, University of Wollongong

Annalise Marshall

Ryotaro Noshiro

Adi Hope, Educator

James Fleming

Christine Peni

Angel Scarf

Daniela Nomelini Yuba

Nick Wilson

Melanie Wojtas

Sophie Holland, PhD Student, University of New South Wales

Cheryl Clarke

Amy Wakley 

Robert Rowsell, Labourer 

Charles Calogero, Marrin Weejali Aboriginal Corporation

Lillian Maimoun 

Troy Johnston, Pensioner 

Nicola Mackenzie

Mia Marlowe 

Henry Jenkins

Michael Wade, Social worker, Jesuit Social Services 
Genevieve Elliot, Fighters Against Child Abuse Australia 
Joshua Maguire 
Dulce Munoz
Emma Fleming 
Trish Holl
Keusch Alexandra, Teacher 
Kate Dennard 
Ian Carey, Youth Worker
Sylvia Hadden 
Paula Gleeson 
Olivia Rousset 
Sara Kootbaully, Account Manager, Juntos
Jana Austin 
Cassandra 
Rebecca Simon
Tracey Carlson 
Caine, Youth Worker 
Owen Atkins, PIR Support Facilitator, Challenge Community Services 
Peta Daley, Case Worker 
Kayla Johnson 
Meredith Raymonde, The Healing House Network
Tully Rosen, Deputy CEO, Homelessness NSW
Debra Swan, Grandmothers Against Removals NSW 
Rachael Stanic, Family Worker 
Danielle Lakau
Charlene Gatt
Lorraine, Carer 
Jasmine Drew 
Denise Odea 
Kalina Kelly
Geraldine Gimenez
Shanell Whitton
Dianne
John 
Michelle Bryant 
Geraldine Blinco 
Tom Dean William Whitton 
Simone Whitton
Susan Rolph
Rachel Bell
Skieanne Whitton
Janna, Student 
Kerliesha Leonard
Jeneyah Ingrey
Julie Pardey, Carer
Carly Eaton
Shania Tarrant 
Denyse Rose 
Maureen Lewis
Monique Wiseman, Senior Aboriginal Project Officer, NSW Homelessness 
Aurora 
Jason Shepherd 
Katie, Founder, His Grace is Amazing
Paul Kitsi, Consultant 
Beau Johnston, Operations Coordinator, Awabakal Ltd
Cheryl Price
Mary Kitsi
Tiffany Tregenza
Rebecca Dellavadver
Leanne Eldridge 
Celestine Casey
John R Brodie JP, Volunteer Counsellor 
Claire McMahon, Senior Women's Transition Worker, Community Restorative Centre (CRC)
Carla Daly
Vince Calvi
Sonia Theos 
Carol Robertson
Joan Harcourt 
Bella Hu-Collins 
Julie Bell-Williams
Jeanette 
Michelle, Clinic Coordinator, Awabakal Ltd
Scott Stanbury
Jeanne Hill
Tracey Mccutcheon, Kinship carer, FACS
Narelle Clay, CEO, Southern Youth and Family Services 
Diane Dell 
Ceiarn Graham
Simone Jordan, Community Engagement Manager, Awabakal Ltd 
Nicholas Plionis
Jessica Ramsbottom 
Linda Day 
Kenneth Knox
Kathryn Barnes 
Sophie Nebl
Bastian Phelan
Frances Deed
Regina, Community Worker, Catholic Community Services 
Amanda, Teacher 
Mark Rose 
Lynn 
Vanessa Peterson 
Emma Briggs, Nurse 
Nicole 
Carol Cassar 
Jack 
Dianne 
Dallas Baumgartner
Amelia Caley
Kathleen Galwey
John Calligeros 
Denise Calligeros 
Angela Robinson 
Dee Iglesias 
Shane 
Philippa Gemmell-Smith
Debbie Sturt, Manager, Tumut Regional Family Services Inc 
Louise Brennan 
Jeanine De Almedia, Project Manager 
Annie Dennis 
Kim, Student
Sharnna Davey
Leeanne Hudson, Cultural Liaison Officer 
Melanie Mitchell 
Danielle Lakau, Employment Consultant, Global Skills 
Tim Newman, Mechanical Engineer, Hullbot
Amanda Harding
Margaret Keane 
Dannielle
F. Elland 
Tracylee Jessop
Lyn Morris, Aboriginal Family Counsellor 
Alex Ferrara
Annette West, Mental Health Educarer 
Tatiana Lozano, Lecturer, Macquarie University 
Lillian Saunders, Educator 
Susie Hearder
Gwenneth Mitchell 
Inga Lie
Gavin Melhuish
Katie Molden
Tanya Smith 
Emma Brooks
Tannous Gittany, Chef 
Michael Gittany, Lebanese Embassy Australia 
Rose Li 
Abby Douglass, Student 
Shirin Harvison 
Luana Barrett 
Lee
Oliver Kelly 
Gabrielle Lee 
Lucy Allen, Child and Family Therapist 
Vicki Brady
Donna Gaye 
Aimy Marshall, Hospitality Assistant 
Deborah Magee, OOHC Case Worker, Barnardos Australia 
Kerrie Ann Bruce
Lucia McDonald 
Breena Furbee, Social Worker 
Jenny Martinus 
MJ O'Neill 
Adam Rothwell 
Areka Quinlin
Cheryl Wagg 
Charlie, Hospitality Management 
Lana Laham 
Denise Langman, Stop the Intervention Collective Sydney 
Chad 
Judy Marsh
Teresa Mir 
Merradean Pettit
Alice Nason 
Kristy Thomas 
Audrey
Josie Gale, Retired FACS Senior Caseworker 
Tracey Onus 
Abbey
Faye Adams 
Laurel Draffen 
Anne Gazzard 
Mandy Marsters 
Julia 
Christopher Calligeros
Caitlin Liddle, Student 
Imogen Lilywhite
Katherine Thornley, Psychologist 
Pa Allmand, Teacher 
Renae Ewings 
Mariah 
Emilie Taillardat
Gillian Brannigan
Phoebe 
Jamie, Community Services TAFE Student 
Georgia Walker, Paralegal 
Bella Lee Roche, Social Worker 
Rosalie Bryant-Willis 
Damiano Dentice
Edward Wardle 
Georgia Digger 
Nicole Sonneman 
Col Farrar, Teachers Aide, NSW Education 
Karen Stevenson 
Andrew 
Jade Cruse
Bente Ross
Alex Fuller 
Lauren 
Jessica Read 
Dayle Sumner, Kinship carer and Social Work Student 
Jess 
Jackie Johansen
Pamela Gay
Matthew 
Andrea Lantis, Solicitor
Melanie Campen 
Karen Harris 
Jessica Keogh
Danielle Anstee
Monique Widders 
Nardi Simpson 
Carolyn Sheridan 
Blake McGee, Case manager, CatholicCare 
Tristram Davies 
Peta 
Melissa McConnell
Kaleen Crothers
Jacqueline Cope, Clinical Psychologist 
Francesca Sidoti 
Shakeel 
Lynette Shaw 
Andrena Simpson 
Claudine Leslie 
Braden Nolan 
Maree Myors, Home Care Worker, Anglicare  
Kim Khatri 
Zoe Blome 
Emma-Lee Montgomery-Rosaia
Tully BC 
Van Allen 
Leanne Kitchener 
Judy Kowalski
Kris Tyers
Genie Kim 
Lynne Wibberley
Jamie 
Shelly Hill 
Patricia Campbell 
Barbara Williams 
Ryan Cole 
Ruby Quirk 
Klaus Kaulfuss
Dr Melissa Petrakis, Senior Lecturer, Monash University 
David Harris, Aged Care Worker 
Julie Haselgrove
Angela Zammataro
Matilda Fay 
Sean Brannigan 
Susan Peterson 
Paul Fydryk
Rosemary Dunworth 
Michelle Bui 
Kylie Simmons 
Carolyn Lee 
Fiona Katauskas 
Linda Kirkman
Lualhati Hopkins 
Kira, Aboriginal Health Worker, Awabakal Ltd 
Teelah, Medical Receptionist, Awabakal Ltd 
Vicki Sciulli, Medical Receptionist, Awabakal Ltd 
Sue Wilkinson, Nurse, Medical Services, Awabakal Ltd
Maddson, Awabakal Ltd 
Rosalind Fuller, Teacher 
Meryl Williams 
Alan Mitchell 
Jill Furmage 
Mark Wild 
Zana Fraillon 
Jan Mahyuddin
Ben Scerri, Writer 
Rohan Domwille-Lewis 
Ray Cx
Krysten, Senior Programme Officer, King's College London 
Anita, Teacher 
Darleen Delaney, Assistant Manager 
Penny Edmonds 
Skylar Lingenfelser, Student 
Amanda Graham 
Lorna Johnson 
Avi Moore 
Jacqueline Pascoe 
Amelia Paxman 
Sally Notias, Teacher 
Kellie Reid, Juvenile Justice NSW 
Alison Laird 
Terry Keyes 
Yasmin Stein, VET Administration Officer, Association of Children's Welfare Agencies 
Louisa Bonner, Ngaran Goori Pty Ltd 
Yvonne Wilson, Awabakal Ltd 
Kristopher Coonan
Peter Crowfoot
Ahmad Akram
Vivien Tuckerman
Kerry Strauss
Gail Bennett 
Cheryl Kaulfuss
Astrid Officer McIntyre 
Angela Smith 
Jo Higgins 
Pauly Be 
Kate Macleod 
Joanna Mendelssohn 
Katherine Zarb 
Rose-Maree Hill 
Bryan Ward, Department of Education
Odette Stevens 
Jemima Mowbray, Policy and Campaigns, Tenants Union NSW 
Lyn Bender, Psychologist 
Andrew Wallington 
Lisa Newey
Melissa Ryce
Kylie Jacques 
Lyla Wessels 
Alyce Weatherall, Womens and Youth Wellbeing Worker, Awabakal Ltd 
Cheryl Ryce 
Janice Catherall 
Anita Rose, Student 
Natalie Newton 
Theo Mitsios 
Jo-Anna Makamaka
Jennifer Scott 
Ruby Quirk, Student 
Ann Cleary, Author 
Peter Read, Adjunct Professor, ANU 
Mark Judge
Hadyn 
Fiona Marsden 
Maureen Donnelly, Carer 
Natalie Ross, Solicitor 
Lynelle Long, InterCountry Adoptee Voices (ICAV)
Rowena Murray 
Anna Cavanagh, Clinical Psychologist 
Michelle Blake, Caseworker
Rachel Reilly, Executive Director, Project Respect 
Pamela Nicholls, PjN Enterprises 
Judythe Riley 
Julia Hall, Early Childhood Educator and ESL Teacher 
Niamh O'Connor, Foster Care Assessor 
Zane Webster 
Sharon Broady 
Chace Robinson, Student, University of Melbourne 
Ingrid Crossing 
Tamara Asmar 
Susan Steel, Librarian 
Kat 
Sian Mansell, Graphic Designer 
Roseanne Byrne 
Bronwyn Benn 
Nell Butler 
Cathryn Murdoch, Indigenous Social Justice Association 
Tamsyn Hinksman 
Sarah Henderson 
Daryl Thompson 
Mike Collins 
Tahlia 
Alan Ric Barker, Software Team Leader 
Andrew Rickert 
Doc Wight, Artist 
Jonathan Symons 
Katherine Collin, Ability Options 
Emily Higginson 
Sarah O'Brien 
April Roberts, Administration Coordinator, National Centre of Indigenous Excellence 
Corey Hibbert 
Savva 
Stella Rae Lucas 
Sue Ballantyne
Emilia Leonetti
Trinka Kent, Social Worker, The Rainbow Lodge Program 
Sara El Sayed 
Eilish Fitzpatrick 
Emma Ryan, Lawyer, Justice Connect 
Emma Dunphy, Justice Connect
Stacey Jamieson, Aboriginal Community Education Officer, Teacher and Psychologist 
Molly Anderson 
Tracey Clancy
Brian Standlick, Physiotherapist
Ahyoun Lee, Student
Will you add your name to this open letter?