Article by Sarah Dale (Centre Director & Principal Solicitor, Refugee Advice and Casework Service)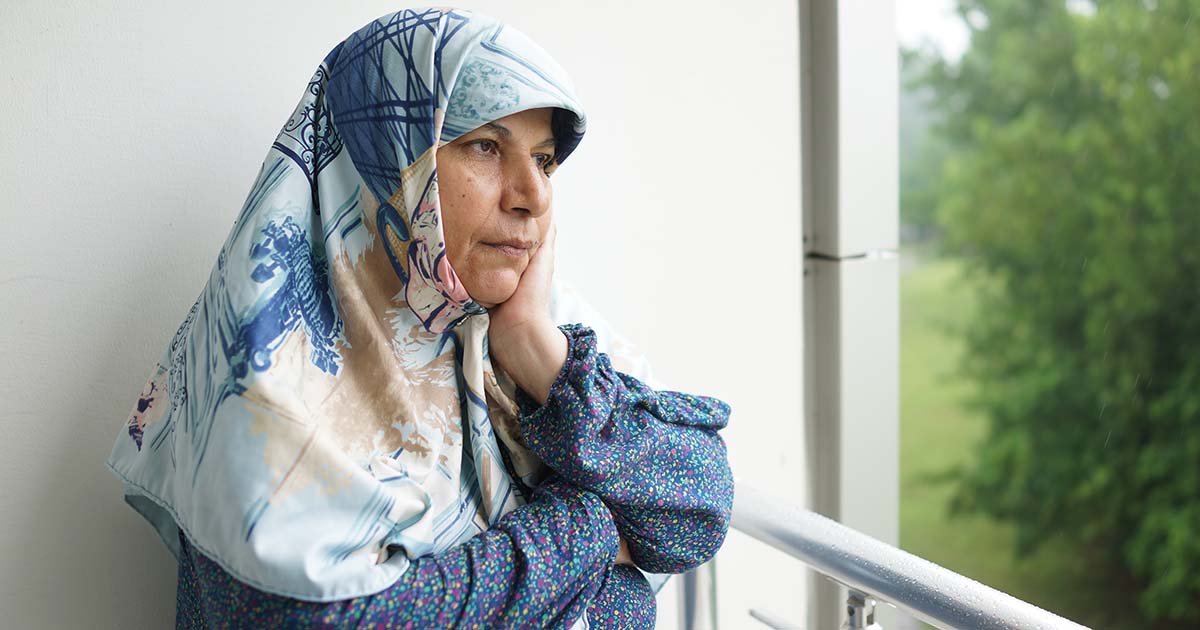 COVID-19 is impacting all of us around the world, it knows no borders. Despite the recent easing of lockdown measures, some of the most marginalised people in our community will be feeling the impacts of the pandemic for many months, perhaps years to come.
In Australia, the Federal Government has implemented policies to protect public health and support businesses, their employees and people who have lost their jobs. However, refugees and people seeking asylum on temporary visas have not been afforded the same protections and are unable to access the same support.
For some; They can't receive JobKeeper or JobSeeker support if they lose their job. They can't adequately social distance or protect themselves from infection if held in immigration detention. Many can't access Medicare if they get sick, and despite the complexities caused by a global pandemic they must continue to adhere to strict visa conditions and deadlines.
Thousands of refugees and asylum seekers denied access to government support face destitution.
People seeking protection and refugees on temporary visas remain excluded from JobKeeper and most can't access JobSeeker support, despite the recent announcement of a $60 billion  saving in the JobKeeper package, due to administrative errors by many businesses completing the forms. Thousands of people are facing destitution and fear for their health – a situation which is not likely to change anytime soon.
The people affected by this huge exclusion came to Australia seeking safety, after being forced to flee their homes due to a fear of persecution. They come from places like Syria, Afghanistan, Venezuela, Uganda and Myanmar, to name a few.
At last count, there were roughly 13,000 people who arrived in Australia by boat and are now on bridging visas. They have been held in detention and since released on temporary visas while they wait for an outcome in their case.
Australia will never offer these people permanent protection, purely because they arrived in Australia by boat. This is devastating for thousands of people who have fled serious harm and violence.  It is particularly devastating for the many people  who arrived in Australia before this change in the law was enacted and so ought to have been afforded permanent protection, but had it applied to them retrospectively.
Instead, people who arrive by boat are ultimately recognised as a refugee and granted a Temporary Protection Visa (TPV) or a Safe Haven Enterprise Visa (SHEV). There are currently about 8,400 people on TPVs and 16,000 people on SHEVs in Australia. They must re-apply for these temporary visas every three or five years to demonstrate they still need protection. This process is stressful, traumatic and contravenes the fundamental purpose of the United Nations Refugee Convention. It also means they will always be excluded from supports offered to permanent residents and citizens in times of economic downturn or hardship.
Finally, about 24,000 people arrived in Australia by plane and made an application for protection last year alone. People in this group may hold different kinds of temporary visas. Some will have a bridging visa, some a student or other visa. If they are recognised as refugees, they will be given permanent protection visas. Until then, they remain ineligible for most forms of government support.
It's also important to remember that there are many more people who came by plane and lodged applications for protection before last year, who are still awaiting a decision. So, it's likely the number of people living in the community without access to any form of support is significantly higher than this. Maybe double, or even triple.
That's more than 61,400 people all at different stages of the protection process – facing destitution.
JobSeeker and JobKeeper payments must be extended to community-based refugees and asylum seekers
For the Australian community at large, COVID-19 has meant loss of income, separation from friends and family, lack of certainty and isolation. This is felt tenfold by the people we support at RACS.
Refugees and people seeking asylum in the community are facing increasingly heightened financial vulnerability. Many were already living day-to-day. Now we are hearing that these people have lost their jobs, because they have worked mainly in industries which have been forced to close.
Just recently, on 3 June, the NSW government announced a $6 million package for not for profits to provide basic support to multicultural communities, including refugees and people seeking asylum.
While this is a step in the right direction, it likely won't be enough to cover the thousands of people who will remain desperately in need for many months to come. Many people will continue to be reliant on charities, already stretched and even at risk of closure as donations decline, to cover basics such as food, medicine and rental payments.
This leaves people in unnecessary uncertainty, which an extension of JobSeeker or JobKeeper could alleviate.  It is apparent the States are taking strides to support those most vulnerable in their jurisdiction, however the same cannot be said for the Federal Government who time and time again take steps to make life harder for those seeking asylum.
For the thousands of people awaiting a decision on their application for protection there is some hope. A visa grant could mean the difference between support and literal destitution.
It's because of this that RACS have been calling the Department of Home Affairs almost every day asking for urgent updates on individuals and families awaiting an outcome on their applications for protection.
Just a couple of weeks ago a family with two young children were told they had been recognised as refugees. They may now be able to access some level of government support, simply because one of our lawyers asked the Department for an update.
Despite the lack of government support, we are grateful that the community has stood with us and the people we assist, and we continue to receive signatures to our petition to Treasurer Frydenberg and Senator Ruston to extend support to those on temporary visas.
Government must release people from immigration detention and provide proper support to those in the community
We have recently seen growing community support for the release of people held in immigration detention.
There are huge concerns for the health of people that remain there, from members of the public and organisations like RACS, but also from infectious disease specialists.
The Australasian Society for Infectious Diseases and the Australian College of Infection Prevention and Control have both called for the release of people in immigration detention, on the grounds that it's not possible to practice social distancing in closed and dorm-style accommodation. In fact, the government itself, through the Department of Health, has flagged people in any kind of detention facility as being at increased risk.
As lockdown measures are eased, the fear of a second wave reaching detention centres will continue to play on the minds of those held there, especially as we have seen waves of infection erupt in environments like these in many places across the globe. I recently spoke to an older man who has chronic health issues and is desperate to protect himself from this pandemic, but he is forced to share a room with another man and accesses communal areas for food every day. It is just not compliant with any of the health directions that have been issued since the beginning of this pandemic.
Of course, there is also now an additional concern for the people held on Papua New Guinea and Nauru. Australia owes these people a duty of care, which cannot be adequately delivered if their circumstances remain as they are.
Strict visa conditions must be eased to reduce risks faced by temporary visa holders
The SHEV visa, given to some of the refugees who arrived by boat, asks you to work or study in a regional area, without receiving financial support through Centrelink. So, if a SHEV holder loses a job in a regional area or can no longer travel across a border to access a job, it could have implications for what visa they may be entitled to moving forward.  
This is exactly what has happened to Layla* a young woman I've been speaking to who lost her job in a café. She now faces the huge uncertainty of not knowing whether this will affect her visa prospects and her future safety.
Unless the government announces an exception for these circumstances, RACS will need to advocate even harder for the people we support. None of this would be an issue if we had simply afforded refugees who arrive by boat permanent protection, as we already do for people that arrive by plane.
Despite the added strain and complexities of a pandemic, there are also strict deadlines that people must continue to meet, or face the very real risk of being returned to danger.
People on temporary protection visas must continue to reapply before their visas expire. Failing to do this leads to an expectation they must depart from Australia. The only exception to this is where personal Ministerial Intervention can be sought. In a recent Senate Inquiry into Ministerial Intervention enquiries, it became abundantly clear that the current Minister for Immigration rarely, if ever, intervenes in such cases.
People seeking protection must also still attend adapted interviews and Tribunal hearings, some by phone or video. Despite all efforts made, these are not adequately respectful of a person's right to be heard. Nor do they offer applicants any real dignity, particularly where they have waited up to 8 years to tell their story to their ultimate decisionmaker. It's also made more complex with the need to use interpreters.
A lot of the work RACS is currently doing is helping people to meet all of their deadlines and to effectively engage in processing to ensure they can remain in safety.
Government must extend access to other forms of support to asylum seekers and refugees
Health wise, thankfully, most states and territories have confirmed that visa status will not affect a person's access to medical care should they be suspected of COVID-19 infection. However, many still remain without access to Medicare because they are on temporary visas or their visas have expired and are awaiting renewal. This ultimately means a person on a temporary visa might be able to access a COVID-19 test, but not access treatment for their chronic asthma, or mental health support.
People waiting for a decision in their application for protection – such as those on bridging visas – are not eligible for any Centrelink benefits. They can attempt to access government support through the Department's Status Resolution Support Service (SRSS), but this program has been significantly cut over the past two years, with changes to the eligibility criteria making it even more difficult for people to access support.
People who have been held on Papua New Guinea and Nauru, but who are now in Australia (including those that were transferred due to needing urgent medical assistance) and people appealing protection decisions at the courts, are ineligible to apply for SRSS or COVID-19 support. They are left with literally nothing unless they are able to access support from charities.
Refugee support services must be adequately supported to meet clients' needs
What this all means is that many people seeking asylum and refugees have little to no stable safety net. They are being left highly vulnerable and at risk of destitution, and are forced into reliance on charities, already inundated with demand.
The refugee sector at large has been under constant threat in recent times, with federal funding decimated. RACS does not receive any federal funding to deliver services and we are the only dedicated organisation providing free legal advice for people seeking asylum and refugees in NSW.
Despite COVID-19, at RACS we have avoided closing our services, but the changes we have had to make come at a cost. We can't meet with our clients face-to-face, as we ordinarily would and have moved all our services to be via phone. This has significantly increased costs for telephone interpreting services for instance. Unlike other community legal centres in NSW, RACS is unable to access Government funded telephone interpreting services. We remain dependent on donations and philanthropic support when everyone is tightening their belts.
It's a difficult time, but our community needs us now more than ever and we will remain by their side as we have done for the past 30 years.
We cannot keep repeating the Government line of 'we are all in this together' until we know all people are able to access support and protect themselves, and that harsh policies allowing our most vulnerable to suffer are reformed.
We must continue to challenge this broken system to ensure that nobody is left behind.
Further Reading