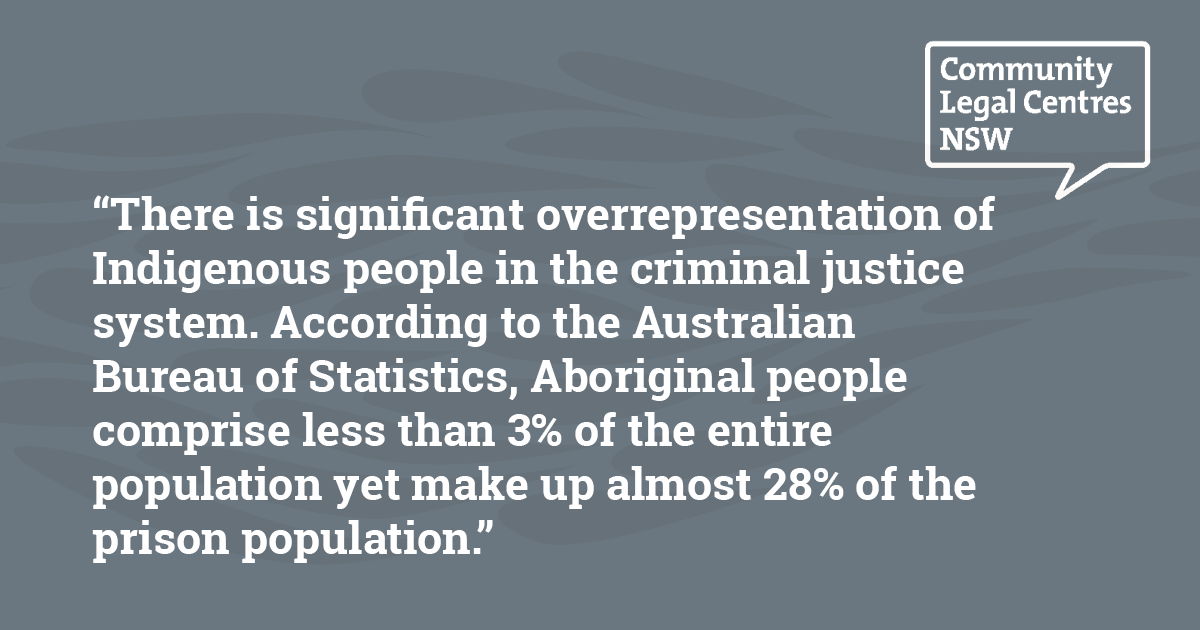 There are many legal and social barriers currently effecting Aboriginal and Torres Strait Islander communities. One of the most pressing is the over-representation of Aboriginal and Torres Strait Islander peoples in our prisons. The Australian Law Reform Commission was asked to examine the factors that contribute to this and to consider law reform that would address this crisis.
Community Legal Centres NSW and the CLCNSW Aboriginal Advisory Group have identified these Indigenous incarceration rates as a significant issue in Indigenous communities and the criminal justice system.
There is significant overrepresentation of Indigenous people in the criminal justice system. According to the Australian Bureau of Statistics, Aboriginal people comprise less than 3% of the entire population yet make up almost 28% of the prison population.(1) Systematic changes are crucial in addressing this issue to close the gap in incarceration rates and ensure that there is greater equality within the criminal justice system.
The CLCNSW Aboriginal Advisory Group is comprised of Aboriginal staff who work in community legal centres across NSW. These staff members were asked: 'What systematic changes need to be made to stop our mobs from getting caught up in the criminal justice system?'. They commented on a range of issues involved in Indigenous incarceration rates, which has led to a range of recommendations listed below.
The CLCNSW Aboriginal Legal Access Program involves Aboriginal Legal Access Workers and operates across the entire state. It seeks to provide better access to legal services and increased awareness of legal rights for Aboriginal people. The Program works to increase the effectiveness of community legal centres and promote the role of cultural safety in non-Aboriginal legal assistance services.
Community Legal Centres NSW's submission included recommendations for:
the diversion of funding to community programs (especially for Indigenous youth);
increased involvement of Aboriginal workers in the criminal justice system;
the removal of data collection barriers;
adequate funding for legal services like NGOs;
the development of culturally appropriate programs for young Indigenous offenders;
changes to policing and complaints processes;
the representation of Indigenous women in custody; and
alternatives to court ordered fines.
The recommendations are set out in full below.
A copy of our full submission is available here.
Recommendations
Divert funding from prisons to community programs designed to build resilience and decrease criminal behaviour. Money spent on keeping Indigenous people in custody could be more effectively spent on culturally sensitive programs including rehabilitation programs, programs that promote behavioural change and education, and family and support programs.

There is an emphasis on having more Aboriginal people working within the criminal justice system, with evidence demonstrating the efficacy, effectiveness and influence Aboriginal professionals, scholars and skilled workers have when it comes to intervention with the Aboriginal population in custody. Thus, cultural awareness training for non-aboriginal staff is also crucial.

Data collection barriers to be removed to allow succinct research to be carried out on initiatives that support indigenous people in contact with the criminal justice system.

Recommendation for the Commission to liaise directly with Aboriginal and Torres Strait Islander community-controlled organisations to provide a sense of transparency.

Adequate funding for legal services like NGOs, to support Indigenous services operating within mainstream and non-indigenous controlled organisations.
Culturally appropriate programs for young Indigenous offenders are important in reducing recidivism rates as youth and children tend to listen and embrace cultural practices more effectively.

Changes to remand, bail and policing are crucial in addressing Indigenous incarceration rates. Offensive language provisions should be abolished or at the very least, reviewed. There needs to be an urgent review of police powers and racial profiling, compliance checking for bail matters including documenting reasons for arrest for breach of bail and increased access to rehabilitation programs that are culturally sensitive while offenders are on remand.

Police be required to publish data on the use of the Suspect Target Management Plan and publish police powers statistics.

Review complaints process and system in regard to police misconduct.

Focus on domestic violence as an underlying cause of female indigenous incarceration and respond with increased assistance early to victims of sexual and/or family violence to prevent criminal offending.

Flexible and accessible, non-custodial alternatives to prison should be available to pregnant women or women who care for children and an increase in funding for specialist women's programs is needed.

Alternative penalties to court ordered fines to reduce the number of Indigenous people in custody.
Endnote
1. 'Prisoners in Australia, 2016 ', Australian Bureau of Statistics.