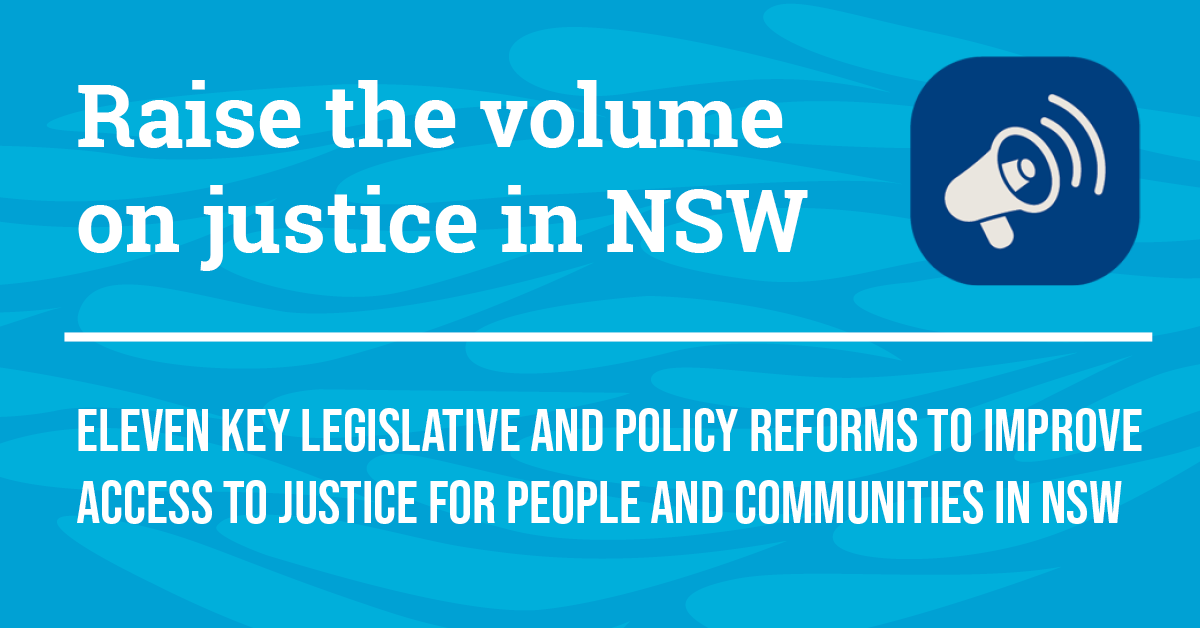 Launch a public and community education campaign around consent: Tinkering with the legal system is not enough to address this driver of sexual and family violence and general inequality for women. We need government-led cultural change in the community, police, judiciary and beyond. Read our briefing paper about this issue.

Guarantee legal help for families in the child protection system: the system relies too heavily on the discretion of overworked FACS caseworkers. Families need guaranteed legal and community support as soon as they enter the system, to keep families together and children safe. More about the child protection system in NSW.

Address punitive and unfair justice system practices: at present these disproportionately impact Aboriginal communities and people with disabilities. Bail practices, remand and overly complicated orders punish rather than support vulnerable populations. More oversight of police and increased community support programs can ensure people understand their conditions and that people have adequate housing and financial support to avoid being remanded unnecessarily.

Reform the Victims Support Scheme: long delays in reviews and payments are just the tip of the iceberg with this unfair scheme. Increased resources, increased payments for survivors and better recognition of the impact of long-term abuse are required. More about the issues around this scheme.

Remove abortion from the Crimes Act: complement safe access zone legislation by scrapping this little used law, sending a signal of support to women across NSW. More on this issue.

Raise the Age of Criminal Responsibility to 14 (minimum): troubled children need support and better services, not incarceration which is well established to lead to poor social outcomes.

Make renting fair: Address the power imbalance between landlords and tenants by scrapping 'no grounds evictions'; ensure community housing providers have high standards of accountability. The Make Renting Fair campaign website.

Support justice reinvestment: the solutions to problems facing communities need to be community-led, place-based and data-driven. Government needs to resource an independent NSW justice reinvestment body and fund communities who want to lead justice reinvestment initiatives. The Just Reinvest NSW website.

Review the impact of fines and penalty notices: the current system criminalises poverty and disadvantage. A thorough examination of the purpose and impact of policies such as garnishees, offensive language provisions, and the role of police is urgently required.

Champion a strong community sector: Focussing on secure, ongoing funding, genuine engagement in the policy development process, and protection of government and community services from corporate, for-profit and discriminatory providers.

Conduct a public inquiry into a NSW Human Rights Act: a community-led public discussion on the role and function of a legislated human rights mechanism. NSW is lagging behind the rest of the country. More on this issue.