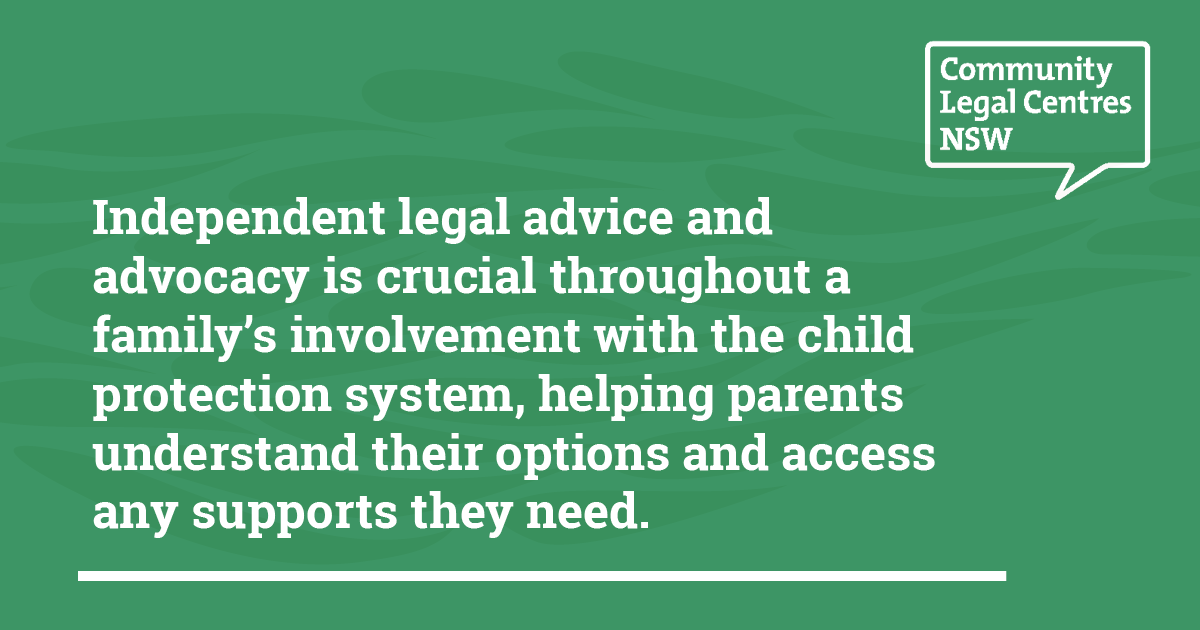 Community Legal Centres NSW has warned that a Legal Aid NSW decision to cut funding for Community Legal Centre Care Partners and the sector's child protection work could have serious impacts on children and families in NSW, including the number of children placed in Out of Home Care.
This story featured on ABC News on Thursday 29 August (access the report here).
"Community legal centres have been given two months' notice that their already limited child protection funding from Legal Aid NSW will be cut from 31 October. We are seriously concerned about the impact this decision will have on the families in NSW that rely on our services to create safe environments for their children," Community Legal Centres NSW Executive Director Tim Leach said.
"Legal Aid NSW reviewed the CLC Care Partner Program and made the decision about its funding without actually consulting the organisations that deliver these services in communities day-to-day. We have to question whether Legal Aid NSW had the information necessary to make an informed decision , and whether the government understands the impact it will have," he said.
Affected community legal centres: Wirringa Baiya Aboriginal Women's Legal Centre, Women's Legal Service NSW, Intellectual Disability Rights Service, Northern Rivers Community Legal Centre, Western Sydney Community Legal Centre, Central Coast Community Legal Centre, Macarthur Legal Centre, Western NSW Community Legal Centre, Shoalcoast Community Legal Centre, Hume Riverina Community Legal Service, Redfern Legal Centre, Elizabeth Evatt Community Legal Centre.
Helen Campbell, Women's Legal Service NSW Executive Officer, said "community legal centres combine this tiny amount of Care Partner funding with other sources to ensure that our child protection work can be strategic and holistic. This decision puts that under threat and will result in staff and service reductions."
"Many families that we work with have had negative experiences with government agencies, including FACS. They need advocates who are on their side, and that includes community legal centre care partners," she said.
Tim Leach, Community Legal Centres NSW Executive Director, said "The Tune Report, finally released in 2018, found that the NSW child protection system was crisis-driven and ineffective. In late 2018, the NSW government rushed through child protection legislation without proper consultation with Aboriginal, community and legal organisations. These changes are likely to increase demand for community-based support."
"With limited funding of $423,000 a year across the state, NSW community legal centres are able to help over 800 families every year through legal advice and case work, which doesn't even take into account the various discrete legal and non-legal supports that CLCs provide families needing help."
"The Tune Report highlighted that keeping a child in care outside their family costs between $27,000 and $41,000 per year. Even on conservative estimates, helping one family through the CLC Care Partner Program costs the government $500 per client. That's a tiny investment in potentially keep families together." Mr Leach said.
"We are calling on Legal Aid NSW to reverse its decision and for the government to release urgent funding to extend CLC Care Partner funding for twelve months and conduct a serious review of the impact of early legal assistance on keeping children safe with their parents and communities.
Rachael Martin, Wirringa Baiya Aboriginal Women's Legal Centre Principal Solicitor, said "Independent legal advice and advocacy is crucial when a family is engaging with the child protection system. We help parents understand their options and access any supports they need to ensure their children can remain with them in a safe environment.
"Losing this funding will seriously impact our ability to provide effective support to families who need our help. People with complex needs often don't seek advice directly. They might instead talk to community or health service workers about a range of issues. Without this funding, it will be so much harder to maintain these community-based connections," she said.
More information:
Background information including correspondence between Community Legal Centres NSW and Legal Aid NSW online here: https://www.clcnsw.org.au/community-based-child-protection-legal-help-under-threat>.
Media spokespeople:
Tim Leach - Community Legal Centres NSW
Helen Campbell – Women's Legal Services NSW 
Rachael Martin – Wirringa Baiya Aboriginal Women's Legal Centre 
More information and other sector contacts:
Mark Riboldi – CLCNSW Advocacy & Communications Manager