Up to 70% of domestic violence victims-survivors report abuse of a companion or other animal by the perpetrator. Currently, laws in New South Wales (NSW) do not adequately protect human or animal victims-survivors of family violence. However, some NSW parliamentarians are in the mood for change. In this article the Animal Defenders Office considers options for reform to provide greater protection to those suffering abuse and domestic violence, both human and animal.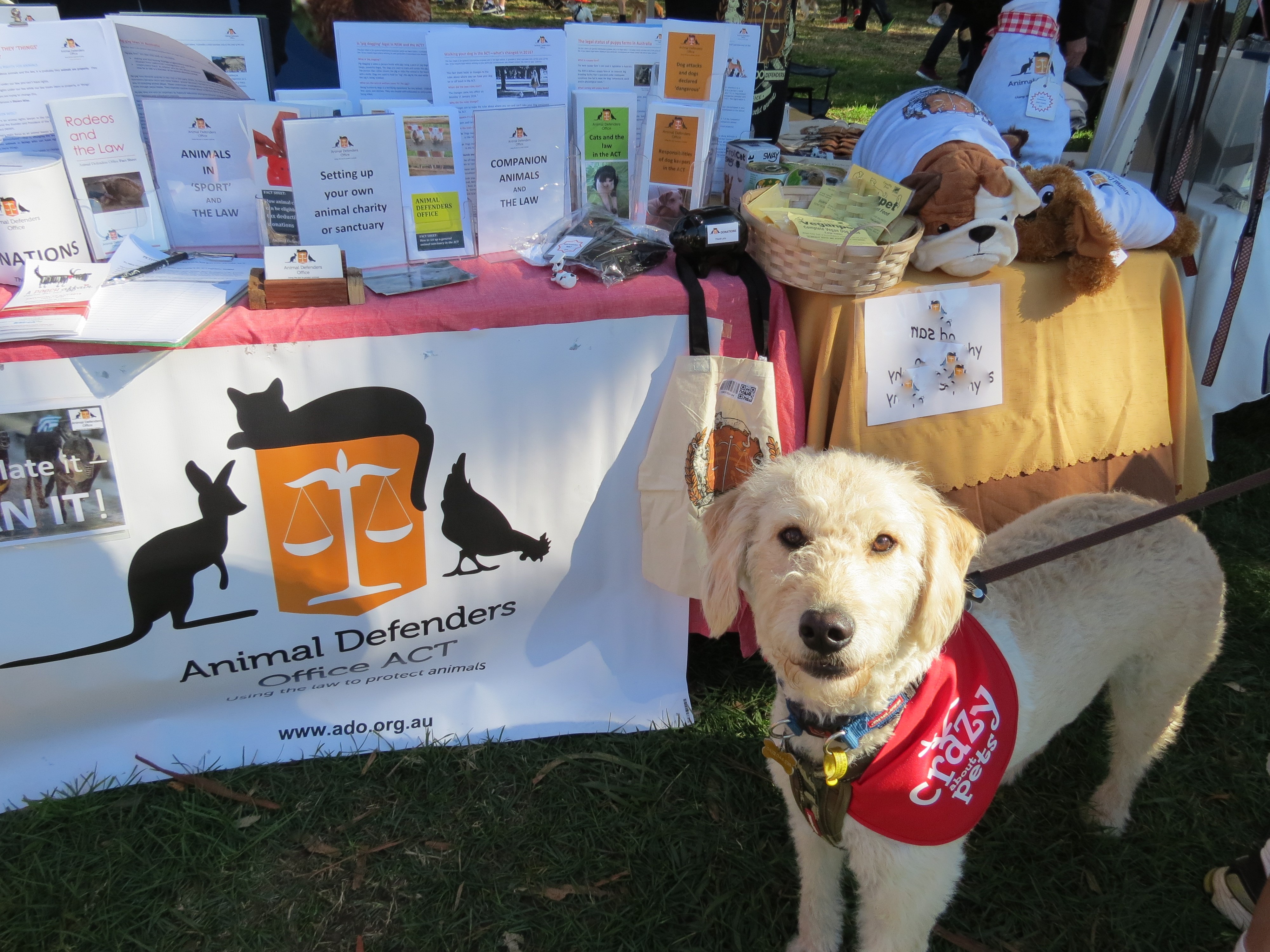 Animal abuse and domestic violence
There is growing recognition that animal abuse is a form of domestic and family violence. Australian and international studies suggest that animal abuse occurs in up to 70% of domestic and family violence cases. Companion animals provide emotional support, unconditional love, and stability for many victims-survivors of domestic and family violence. This bond can be exploited by perpetrators, who may inflict or threaten harm to animals as a strategy to intimidate, coerce or control human victims-survivors. Many victims-survivors describe the distress and grief of witnessing the perpetrator torment their beloved animal. Studies have shown that between 18-48% of victims‑survivors are so concerned for their animal's safety that they delay or avoid leaving abusive relationships. An even higher figure of 68% delayed leaving where the animal had already been abused. This ultimately leaves both human and animal victims-survivors vulnerable to long periods of abuse.
Animals can suffer the same terrible injuries as human victims-survivors of domestic and family violence. They can be physically injured or even killed. They can develop fear responses, a distrust of humans, depression, and anxiety. They can also display behavioural changes, such as aggression, as a result of their own suffering or seeing their human guardians suffer.
Given this significant link between domestic and family violence and animal abuse, better efforts to protect animals from abuse would not only benefit animals, but may also reduce the incidence of, and harm caused by, domestic and family violence to humans. One study has shown how victims-survivors are more likely to seek safety themselves, and are less likely to return to, or remain in, dangerous environments if their companion animals are safe and accounted for.[1] The study cites victims‑survivors who indicated that they delayed leaving the abusers because they were worried about their companion animals. One said she found out about a shelter (for women) but couldn't leave her abuser because she was afraid he would kill the victim-survivor's companion animal. She said that as soon as she found her companion animal somewhere to stay, she came to the shelter. Another said, 'I might have left sooner if I would have had a place for [my companion animal] to go – probably would've left quite a while sooner.' The study quotes another who waited 'about two months before leaving her abuser'. She said 'I just didn't know what to do with the cats or I would've been in here. If I didn't have those animals, I would've been here.'
The Animal Defenders Office has seen a rising incidence of victims-survivors presenting at our centre after their animals have been seized by authorities in the course of fleeing family violence. This is a time of extraordinary pressure, stress, and anxiety for the victims-survivors, and keeping control of animals, or finding secure shelter for them, can be difficult, resulting in the animals escaping from their temporary premises. To have their animals seized by authorities can exacerbate an already traumatic situation for victims-survivors. Having a beloved companion animal taken away is like losing a member of the family. It becomes the most important issue in the victims-survivors' lives. Other important matters, such as finding suitable alternative accommodation for themselves, obtaining medical treatment, or going into rehabilitation, are put on hold until the animals are saved. The Animal Defenders Office represents victims in these situations, including in negotiations with councils or in applications to Tribunals for review of government decisions to impound, or worse, to destroy, the dogs.
Emerald's story
Emerald's case clearly demonstrates the challenges human and animal victims-survivors of domestic violence face.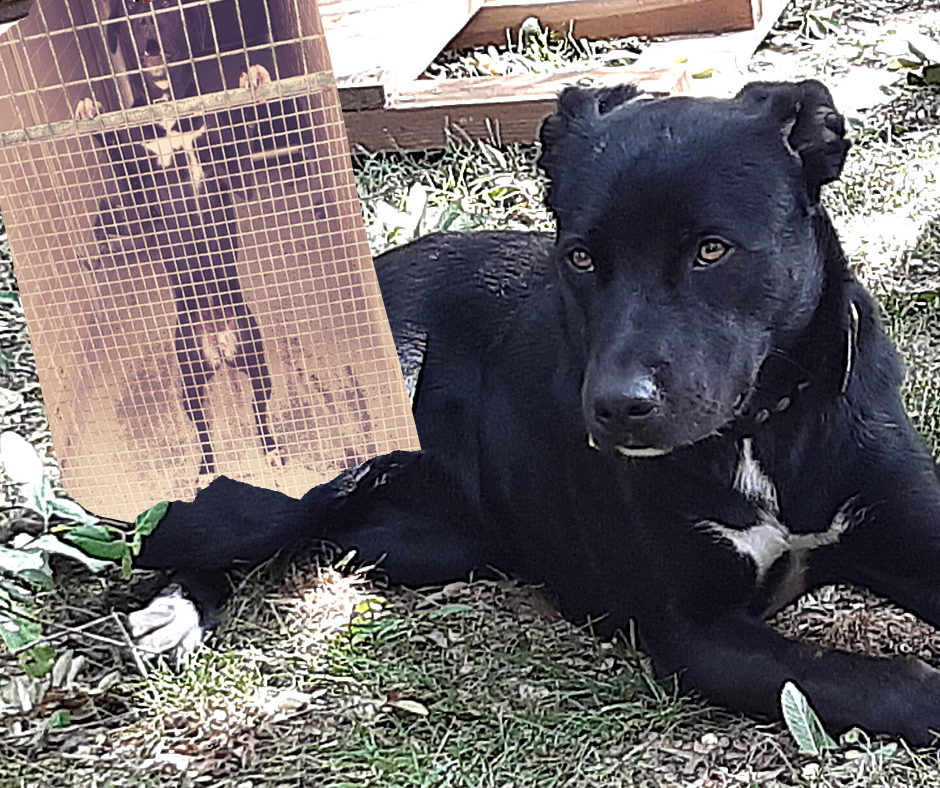 Pictured: Emerald, who was saved from death row.
Emerald's human guardian, Marie, was a victim-survivor of domestic family violence. Emerald was one in a litter of pups had by Marie's beloved family dog, Shassy. Marie's ex-partner (the perpetrator) had stolen Shassy when she was nearly at full term and kept the heavily pregnant dog at his residence, where she was attacked by other dogs. Marie managed to get Shassy back and get treatment for her injuries, but both Marie and Shassy were deeply traumatised by this event.
Marie's ex-partner was later arrested after another bout of violence towards Marie.
Soon after the arrest Shassy gave birth in Marie's residence to seven pups including Emerald. The experience drew Marie closer with her teenager son Leo, from whom she had been estranged as a consequence of the family violence they had both experienced. Living in the rural town without other family, Marie and Leo felt isolated and vulnerable after experiencing the violence. Looking after the newborn pups provided a sense of family, purpose and joy. Once they were old enough, Marie was able to find safe homes for some of the pups, leaving her with Emerald and two sisters.
After the perpetrator was arrested, Marie and her son continued to be harassed by the perpetrator's associates. One night one of the remaining pups was stolen by an associate of the perpetrator, but Marie was eventually able to retrieve the pup with the help of the police.
At around the same time, Marie was evicted from her premises. She had difficulty in finding alternative accommodation for her son and the four dogs now in her care, but was forced to move out when the sheriff arrived at her doorstep. Marie packed Shassy, Emerald, and Emerald's two sisters into the car along with all her belongings, and headed interstate to a safe destination.
That night Marie had to sleep in her small car with the four dogs and all her worldly possessions, as no shelter would take Marie and the animals. When Marie arrived at her destination, she had to leave the dogs with a relative as again she could not find accommodation for herself and the dogs.
It was not long, however, before Emerald and her sisters, now growing, boisterous young dogs, got out from where they were being kept and were caught roaming at large by council rangers. The young dogs were impounded and orders for their destruction were issued. Emerald and her sisters were now on death row. To make matters worse they were impounded in small outdoor concrete cells during the summer of 2019‑2020, when the region experienced its hottest days on record, with record levels of smoke and air pollution.
Marie was beside herself with worry and grief. She sought the Animal Defenders Office's help to try to save the young dogs. Over many months the centre's volunteer lawyers fought against the government's decisions to destroy the dogs, who by this time had spent more of their life locked up inside a pound than out. The impounding authority fought tooth and nail against the review, insisting Marie return to the town where she had experienced the family violence and harassment in order to get further evidence about the ownership of the dogs. Ultimately, the Animal Defenders Office's volunteer lawyers prevailed. The decisions to destroy the dogs were set aside, and the government pound allowed Emerald to be released to Marie and, with Marie's consent, her litter sisters to be adopted out to new homes.
Emerald is now a much-loved and well-behaved family dog. For Marie, at a time when the world seemed against her, winning her beloved dog back allowed her to believe in justice again, and gave her the strength to confront the numerous challenges she faced to get the rest of her life back on track.
Proposals for change
So, how can we better protect human and animal victims-survivors of domestic and family violence? In early 2020 the Honourable Emma Hurst, NSW Animal Justice Party MLC, convened a roundtable at NSW Parliament to consider exactly that question. Attendees included representatives from Women's Legal Service NSW, Women's Safety NSW, Tenants Union NSW, RSPCA NSW, NSW Police, the Education Centre Against Violence, People With Disability Australia, and the Office of the NSW Attorney General.
The Roundtable canvassed a wide range of issues and potential areas for reform, both legal and non‑legal. Some of these are now being considered in greater detail by the NSW Department of Communities and Justice, through its stakeholder consultation on Animal Abuse and Domestic and Family Violence. The consultation paper is seeking feedback from key stakeholders on the prevalence of animal abuse in domestic and family violence contexts, how well current legal protections are working, whether there is scope for more explicit protection for animals, and how current systems and services supporting animals and families experiencing domestic and family violence could be improved.
The remainder of this article sets out some of the key reform proposals supported by the Animal Defenders Office.
Protections for animals in domestic violence legislation
The Animal Defenders Office would like to see reforms to the Crimes (Domestic and Personal Violence) Act 2007 (NSW) ('CDPV Act'), which is the principal legislation governing domestic violence in NSW. For example, while animal abuse may constitute domestic violence under the existing legislation, the term "animal" does not actually appear anywhere in the CDPV Act. In order to highlight the link between animal cruelty and domestic violence, the Animal Defenders Office suggests that the CDPV Act should be amended explicitly to recognise animal abuse as a domestic violence offence. This would bring NSW in line with other states. For example, the Family Violence Protection Act 2008 (VIC) includes in its definition of 'family violence':
causing or threatening to cause the death of, or injury to, an animal, whether or not the animal belongs to the family member to whom the behaviour is directed so as to control, dominate or coerce the family member.[2]
Protecting animals in apprehended violence orders is another important component in protecting domestic violence victims-survivors. An apprehended violence order imposes legally binding restrictions on the offender's future conduct. In NSW, apprehended domestic violence orders ('ADVOs') have been shown to be effective in reducing violence, threats, and other forms of intimidation.[3]
Under Australian law animals are regarded as property rather than legal 'persons' or entities with rights. This means that in NSW they cannot be directly protected under an ADVO in the same way that human victims can. ADVOs can provide some limited protection to animals as 'property', but this indirect protection fails to recognise that animals are living, sentient beings who can be victims of domestic violence and family violence in their own right. Further, problems can arise where an animal belongs to or is possessed by the perpetrator, or where ownership or possession is disputed between the perpetrator and victim-survivor. This can result in animals remaining in dangerous environments and continuing to be at risk of being used as a tool of coercion and control. As noted above, this can also lead to victims-survivors risking their lives in order to stay with their animals, exposing themselves and their animals to danger.
One solution to these problems would be to amend the CDPV Act to recognise animals as victims of domestic violence (rather than merely the 'property' of victims) and explicitly allow for orders to be made for their care and protection as part of the ADVO. One way to do this could be to list "animals in need of protection" on the ADVO, in the same way that other "protected persons" are listed.[4]
This would be a progressive legislative reform for the NSW Government. It would demonstrate that the Government is keeping pace with community attitudes towards companion animals – many of whom are regarded as family members – and could also provide greater reassurance for victims‑survivors that their animals would be protected by the law in ADVO proceedings.
It would also follow a notable trend in the United States, where 35 states now allow animals to be included in protective orders. For example, California law provides that a court may:
include in a protective order a grant to the petitioner of the exclusive care, possession, or control of any animal owned, possessed, leased, kept, or held by either the petitioner or the respondent or a minor child residing in the residence or household of either the petitioner or the respondent.  The court may order the respondent to stay away from the animal and forbid the respondent from taking, transferring, encumbering, concealing, molesting, attacking, striking, threatening, harming, or otherwise disposing of the animal.[5]
Increased funding and training for refuges and shelters to accommodate animal victims of domestic violence
A significant increase in funding is needed to ensure that human and animal victims-survivors can be housed safely together after escaping violence.  As noted above, victims will often delay leaving violence due to concern about the safety of their companion animals – so it is essential that crisis accommodation for both humans and animals is readily available.
Very few shelters and refuges in NSW have the facilities to house animals. While services such as the RSPCA NSW Community Violence Program can offer temporary foster accommodation for animals, its capacity is limited. Separation from animals can be stressful for both the people fleeing violence and the animals.
Increasing funding and training to allow more shelters and refuges to become 'animal-friendly' would be a big improvement. Promisingly, the NSW Attorney General has announced temporary additional funding during the COVID-19 pandemic to allow 'companion animals to be accommodated in women's refuges or animal shelters so women can leave violent homes without worrying their companion animal will be harmed'.
On the other hand, some victims-survivors may not want or be able to leave their home when escaping from violence – for example, victims-survivors living in rural or regional areas with larger animals, such as horses, sheep or goats who may be difficult to relocate. The NSW Government's 'Staying Home Leaving Violence' program provides support for victims to remain safely in their homes, but it is currently only available in limited locations. The Animal Defenders Office would like to see this program expanded to provide victims-survivors greater options when they have animals in their care.
Reform tenancy laws to make it easier for victims-survivors and their animals to move into safe housing
In addition to crisis accommodation, it is also important to ensure that victims of domestic and family violence are able to find longer-term housing which is safe, affordable and suitable for animals. Unfortunately, in NSW it can be difficult to find rental accommodation that is 'pet‑friendly', as landlords can refuse to allow a companion animal to live in the property for any reason.
By contrast, Victoria has recently introduced legislation which provides that a landlord must not unreasonably refuse consent for a tenant to keep a companion animal on rented premises, and requires the landlord to seek approval from the Victorian Civil and Administrative Tribunal if the landlord wants to refuse consent.[6] When the new laws came into effect on 2 March 2020, the Victorian Government announced that 'Victorians will no longer be forced to choose between the pet they love and a place to live'.
Similar reform to tenancy laws in NSW would make it easier for humans fleeing violence with animals to secure longer-term accommodation.
Conclusion
Given the prevalence of animal abuse in domestic violence cases, and its implications for both human and animal victims, reform is urgently needed. Advocates across the spectrum are heartened to see the issue taken up by the Honourable Emma Hurst MLC, and now by the NSW Government through its Consultation Paper. While there is no simple solution, legislative reforms to recognise and protect animals as victims of domestic violence in their own right, and to make it easier for human victims-survivors leaving violence to access safe, affordable short and long term accommodation with their animals, will go a long way in improving the current situation. Change cannot come too quickly, for humans and other animals alike.
Article by Lauren van der Kraan and Tara Ward, volunteer lawyers, Animal Defenders Office.
The Animal Defenders Office is a community legal centre run entirely by volunteers. The centre specialises in legal matters involving animals. It provides free assistance to victims of domestic and family violence involved in ownership or property disputes with the perpetrator about their animals. The centre represents victims in these situations, including in negotiations with councils or in applications to Tribunals for review of government decisions to impound, or worse, to destroy, the animals.
Further reading
References
[1] Flynn, C (2000), 'Battered Women and Their Animal Companions: Symbolic Interaction Between Human and Nonhuman Animals', Society & Animals 8:2, p118.
[2] Family Violence Protection Act 2008 (VIC), par. 5(2)(e).
[3] Poynton, S., Stavrou, E., Marott, N. and Fitzgerald, J. (2016), Breach rate of Apprehended Domestic Violence Orders in NSW, Bureau Brief No. 119, Sydney: NSW Bureau of Crime Statistics and Research.
[4] CDVP Act, s 38 'Apprehended violence orders made by court or authorised officer can also protect persons with whom person seeking protection has a domestic relationship'.
[5] California Code, Family Code - FAM § 6320(b).
[6] Residential Tenancies Act 1997 (Vic), Part 2, Division 5B 'Pets'.